Many eBay shoppers know that sinking feeling only too well: The utter, absolute agony of de­feat that comes when your attempt to win the latest must-have doll or doll-related item is spoiled by a last-minute, deeper-pocketed bidder. You replay the depressing scenario re­peatedly and wonder why, oh why, did that auction have to end when I couldn't be at my com­puter to coun­terattack the down-to-the-wire bid blitz?
Heather Russell is aware that bidder disappointment is a universal condition that knows no boundaries, whether the foiled would-be buyer is in the U.S. or her adopted homeland of the Far East. So she figures she's meeting a perpetual need with Rinkya (www.rinkya.com /search.php), a Tokyo-based auction service that exists to make bidding a less stressful experience. Customers from virtually any country are able to enter proxy bids for a wide variety of auctions offered through Yahoo Japan, from American dolls to Asian Dollfies. (Countless other non-doll-related items also are available, of course.) For a percentage of the winning-bid price and handling fees, Rinkya handles all aspects of the buying experience, in­cluding language translation, payment provisions and delivery options and specifications.
Rinkya's extensive English-language search engine allows customers to find listings for a seemingly unlimited range of items. In addition to auto-bidding services de­signed to help prevent sniping, Russell's online offerings include Rinkya Stores service, which lets shoppers order from Japanese stores and BuyRinkya, a retail shop that also provides access to Japanese items. A variety of shopping guides, informational sections, a doll news blog and Super Dollfie newsletter round out Rinkya's menu of choices.
Since opening its doors in 2003, the company has become a multi-million-dollar operation that employs a 20-mem­ber staff—including Russell's brother, Scott, and sister, Laurel—that is split between Japan and the United States.
"In order to use Rinkya, you do not need to know any Japanese. We have customers from every part of the world and our staff even speaks Spanish, Italian and some French and German to help with our international customers," Russell says. "We have a large doll audience on Rinkya. Our doll collectors seek Super Dollfies, antique Hina Dolls, Barbies, Blythe, Jenny, Unoa and much, much more. I have learned so much about dolls and about how much happiness they bring to our customers!"
And that's a noteworthy result, given that Russell was never previously interested in dolls. As a youngster growing up in New York, she was wild about toy cars, stuffed animals and sci-fi films such as Star Wars and Godzilla. An early turning point came when her parents gave her a Toho Godzilla—complete with a movable flaming tongue and flying fist—for her fourth birthday. Russell's appetite for Japanese entertainment was further whetted when a friend later in­troduced her to the Japanese animation character Ranma, a cursed young boy who turns into a girl when he's exposed to cold water.  "My real passion for Japan started with Ranma because I wanted to really understand what the characters were saying and not just read the subtitles," Russell notes.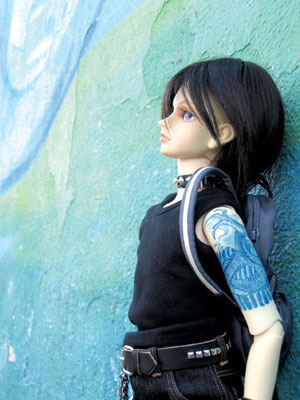 Russell later began collecting Ranma trading cards, which led to a deeper immersion in all things Japanese, as well as an unintentional career path. At age 18, she discovered a small community of Japanese-animation fans—and enticing, expensive Japanese-animation cels—on the Internet. In order to fund her wallet-draining hobby, she entered the cel-seller arena with her first company, Usagi's House. Soon, the Arizona State University student started studying Japanese in preparation for a planned trip to that country. She ultimately used a friend's frequent-flyer miles to visit Tokyo. An enduring love affair was born as soon as she reached her destination.
"I instantly fell in love with Japan. It reminded me so much of New York ex­cept the people were polite and things were a lot cleaner," Russell notes. "When I returned to Arizona, my Japanese studies continued, but I was frustrated with my lack of progress and got it into my head that I had to live in Japan in order to be fluent."
The big move to Tokyo oc­curred in 2000. "Seven years later and I speak Japanese with a Brooklyn accent," she says. "It was easy to come here and start a new life because Japan is safe for a large city. It was also fun and exciting to embark on a new journey in my life. I am adjusting every day, even after all this time because you can never learn enough about the language and the culture. I still collect Japanese animation cels!"
But when Japanese studios stopped producing cels about five years ago, Russell realized she would need another income source. A customer presented a programming model for Rinkya and asked Russell to build a business from the concept. She reluctantly agreed, and then quickly began to see the potential success for the proposed auction service. What began as a small-scale shipping service out of Russell's apartment escalated to a multi-employee operation that required expandable warehouse space. Then more warehouse space.
"There was an immediate demand for Rinkya, and there still is because Japan is the second-largest consumer market in the world. They pump out a brand-new type of you-name-it every week, and so the turnover here and amount of product and ingenuity is absolutely amazing," Russell says. "I wanted to share what was unfolding before my eyes with everyone else in the world to convince them that Japan is the place to be! Since many people cannot physically come to Japan, Rinkya brought to their living rooms what I was experiencing everyday outside my house."
Part of Russell's prevailing goal is helping expose other cultures to the vast array of Japanese beauty and creativity that proved such an irresistible attraction to her personally. "The Japanese have created a miniature world for each of their collectibles, and Rinkya helps people cross that bridge to the amazing Japanese design capability. Rinkya is not about just purchasing these items but also about helping people learn and broaden their horizons," she says. "Many of our doll customers have branched out into collecting similar items beyond their doll interests. For example, one customer would purchase Japanese bolts of cloth to make clothes for herself and her doll. Another customer started to collect kimonos since she really liked the one that one of her dolls came with."
Expanded boundaries, horizons and doll play options? It's no wonder that Rinkya has struck a responsive chord with doll collectors, both U.S. and abroad.