Instead of scanning the runways for the latest in haute couture, dash to the doll shop and check out the newest luxe looks from Fashion Royalty—the Glamorous Collection, Integrity Toys' line of cutting-edge fashion dolls.
"We're going back to glamour," says Alain Tremblay, Integrity's executive marketing director. "Our entire theme is jewels or minerals."
To that end, designer Jason Wu has crafted dolls with cheekbones as sharp as their styles. The poseable runway models are bedecked in glamorous, scandalously short metallic frocks and teetering high heels that wouldn't be out of place in a Gucci showroom.
"Jason has his own line of clothing, so we're always closely following the fashion industry," Tremblay says. But they're also channeling their own inspirations. "I'm a child of the '80s, and so is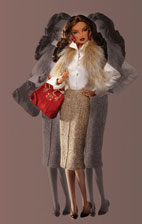 Jason, and we're working what we grew up with: lots of color. We don't have to reinvent the wheel."
In a sense, though, they are. "Jason traditionally does many muted tones, but this year the colors are far brighter," Tremblay says, naming dolls like blonde ice queen "Eugenia Perrin Frost," who's wearing a lightning-blue gown. Then there's fire-haired "Vanessa Perrin," looking dashing in a classy chartreuse frock. Tremblay's most excited for Bollywood actress "Isha."
"She's absolutely phenomenal," he says of the jewelry-adorned ingénue. "We usually have all
of our dolls made in China, but for Isha, we had the garment handmade in India. It's real Indian embroidery, so the gown is heavy with metal embroidery. She's a stunning showstopper."
Fashion Royalty's most stunning news, however, may be someone's unexpected return: "We brought back one of our retired characters, 'Natalia Fatalé,'" Tremblay says of the severely stylish doll, wearing fur and a knee-length skirt. "It was a difficult decision. We thought, 'Would this be realistic or not? Would people buy it?' So we came up with a solution. We basically said she went to Switzerland to have a facelift, which would explain her new face. And people got a giggle out of that," Tremblay says, laughing.
He adds, "We have a dedication to quality and design that excites us, as well as our customers. The results speak for themselves."