Emerging from the bleak reality and sobering horrors of World War I, Americans during the 1920s were bursting with the need to celebrate life. Diversion became the order of the day. Established social mores were shed in favor of fun and frivolity. Rebellion and the desire for change were in the air. Americans—chafing at restrictive social traditions and laws such as Prohibition—became intoxicated with the idea of breaking loose. Jazz music thrilled the ears and stirred the soul; Art Deco reached its zenith; modern appliances and inventions added to leisure time; the automobile brought increased freedom and mobility; women won the right to vote; and social roles were redefined.
The era impacted women in particular. The '20s ushered in the age of the free-spirited flapper, and her fashions mirrored the radical social changes sweeping through the country with cheeky defiance and a sense of feminine emancipation. This Age of Wonderful Nonsense—with all its glamour, excitement, creative energy and effusive vitality—is the perfect backdrop for Tonner Doll Co.'s latest beauties: "Louise" and "Reneé Devereaux."
Hear them roar! The Devereaux sisters are coming on the scene and—faster than you can cut a rug doing the Charleston or the Lindy Hop—they're sure to set tongues wagging and imaginations soaring. Squired about town by the dashing and debonair Robert Tonner, the mysterious sisters have fashionistas, socialites, and other assorted girls and boys about town abuzz with speculation and excitement.
Whether they're spotted enjoying a leisurely weekend at East Egg with "old money" types like Tom and Daisy Buchanan, making an entrance at one of Jay Gatsby's over-the-top parties in his palatial mansion or being "naughty" at a riotous speakeasy scorning the no-alcohol mandate of Prohibition, the dishy Devereaux sisters command the scene, at ease in every milieu. And, of course, they're always dressed to devastate the competition. Glamorous, playful, exuberant, vivacious and not afraid to defy convention, they embody the heady spirit of the Roaring '20s.
Tonner was the first one caught in the sisters' alluring spell. They took shape in his mind late last year. Inspired by a Vogue fashion spread with a 1920s vibe, Tonner played with the concept of his latest doll divas. "I thought that the look and feel, or idea, would make a wonderful line and Joe (Petrollese) was eager to design in the '20s mode," Tonner explains. "I found a vintage painting of a flapper that I gave to two different sculptors we work with and had each do his take of the face.
"That was the first time I'd done something like that," Tonner says. "It was fun to see what happened." Tonner, faced with two similar looks and pleased with both head sculpts, thought: Why choose between them? Two beauties were better than one, he reasoned, and so the concept of the "sisters" was born.
"It was a pretty straightforward process," says designer Petrollese.  "Rob­ert came to me with this idea for a new group. He had the name and the direction he wanted to go with them. He then worked on the heads while I started working on ideas for silhouettes, colors, and fabrics. While I stopped short of actually putting on a flapper dress, I did do a lot of research into the period. I like to think the clothes we've designed reflect that period's feel and look, yet also have a bit of a contemporary flavor. The biggest challenge for me was coming up with ways to make them look different while still having them share a similar feel."
"Fortunately, the sisters have been good," Tonner notes. "Up until now, they haven't been much trouble. I think the biggest challenge involved the head sculpts—working to suggest features that depict another time.
"Tonner, knowing that every true femme fatale closely guards her air of mystique, remains vague about the ladies' background. "I can tell you they have this kind of French café society thing going on," he volunteers. Rather than flask-carrying, fast and "easy" flappers who hobnob with gangsters and rogues in smoky honky-tonks, however, Tonner characterizes the Devereaux duo as "more like high society ladies.
"Pressed for more particulars—What makes them special and unique? Is there a "bad" girl and a "good" girl? Is there a bit of sibling rivalry going on? Any man on the scene who might be causing tension and competition between the siblings? Are they rich party girls, or do they have careers?—Tonner does offer additional tidbits. "I don't think they work. … And they are rich (wait till you see their clothes!). Of course, they are highly sought-after and, as of now, they get along very well. But we're still getting to know them. You never know what surprises they might have in store. …
"Louise and Reneé are the same 16-inch size as "Tyler Wentworth" but with a smaller bust (perfectly suited for those divine '20s frocks); they are composed of vinyl and hard plastic. They both come in different hair colors. "They don't want to be cornered into one look," Petrollese says.
As of press time, there was no definitive word on edition size or pricing. "We'll do basic dolls, dressed dolls and outfits that can be purchased separately," notes Tonner, who adds collectors can see for themselves when the dolls debut in late summer.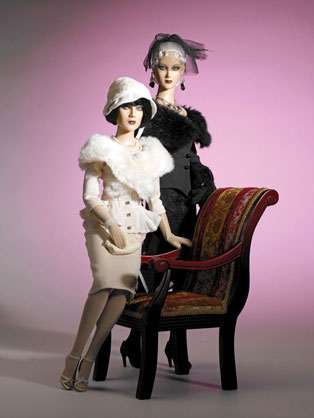 "There will be approximately 8 to 10 pieces all together," Petrollese says. "While each sister will have her own distinct personality and style, I think the clothes will be interchangeable. After all, they're sisters. Even if they don't want to share, they steal pieces from each other while the other is not looking.
"Particularly striking are the outfits on the dressed dolls. Both suits, they're adorned with fur accents and accessorized by complementary hats, gloves and handbags. Ladylike and refined, the ensembles have a similar look but are different, much like the sisters themselves. Reneé looks ultra chic in black while Louise looks equally sensational in elegant ivory.
"When collectors get a look at these dolls and their clothes, I hope they'll fall in love with them," Petrollese continues. "I'd really like to see them do well so the line can expand. These dolls have such a distinct look. They're romantic and hark back to a time I personally love."
"I'm bringing the same quality to Louise and Reneé as we do to our other dolls," Tonner states, "but I love that we're in another decade. I hope we've captured the beauty and decadence of the '20s and that collectors will see and respond to that in the dolls.  This is a line I'd love to build on, so I hope we get a positive response. It's like entering another world.
"With its je ne sais quoi appeal, it's a world into which collectors will likely clamor for entry. The Devereaux sisters are making a brief stop in St. Petersburg, Fla., at the 2008 Modern Doll Collectors Convention® Sept. 24-27 before returning to their beloved Paris.