The term charisma implies a certain magnetic charm or appeal, which is exactly how many doll enthusiasts regard Charisma Brands. Beginning with the merger of L.L. Knickerbocker and Marian, Charisma made a historic move in 1991 by ap­proaching Marie Osmond to endorse a line of dolls for QVC. Osmond responded by actually designing the line instead, and in 1998, she and her husband and a group of investors bought the company, taking it to a new level. Since then the company has gone through mergers and transitions, but the core remains true to its initial ideals.
"While the name has changed, many of the people have remained the same," notes Peggy Vicioso, vice president, marketing and product development. "Many of our dedicated employees have been with the companies through all of the transitions."
The result of such dedication can be seen in the broad line of dolls Charisma has produced and created throughout the years. The company continues to build the Marie Osmond Dolls. In 2003, it gained the licensing of the well-known Kewpie, created in 1909 by Rose O'Neill, the first to introduce porcelain bisque dolls and figurines in 1913. Throughout the years Charisma also produced collectible doll lines for Bob Mackie, Richard Simmons, Universal Studios, Edith Head, Walt Disney, Warner Bros., Candy Spelling, Willow and Daisy, Magic Attic Club and more.
Charisma's repertoire expanded again in 2006 when the company introduced three new collections—Candy Fashion, Lulla-My-Baby and Artista. Candy Fashion, a classic fashion doll originally produced in 1962, was "the dream of every girl." During the 1960s, she was readily available— complete with four ensembles and matching ac­cessories—in supermarkets across the country. Thanks to Charisma, Candy—as charming as ever—is once again on shelves.
Rather than a nod to nostalgia, Lulla-My-Baby—an affordable, interactive play doll for the next generation of collectors—is a look ahead. The dolls, made with baby-soft vinyl, can be rocked to sleep in their own cradle-shaped box to the sound of the five classic lullaby tunes featured on an accompanying CD. "This doll incorporates both the early learning importance of music in a child's development along with the innate nurturing aspect of life," Vicioso explains.
Both of these collections were created to push the envelope and "hook" younger collectors with a doll that was as artistically beautiful a piece as it was durable and high on "playability."
Sisterhood of Artists Charisma took the concept of an artistically designed play doll (or a playable art doll) to the next level with the Artista line, which was introduced at IDEX in January 2006. The idea behind it was to bring together gifted artists, designers and sculptors to collaborate on a line of dolls that could be incorporated into any home setting and used for "play and display."
The first collection featured eight dolls produced as a joint project be­tween artists Donna RuBert and Jane Pinkstaff. The line proved successful enough to warrant the addition of two baby dolls, this time designed by Rachel Scott, to the line in spring 2006. Kymberli Durden included two more dolls—preemie babies—last June. The small edition sizes of the dolls (each less than 500) ensured their appeal to collectors. Both "Winter Wonderland" and "Timeless Treasure" sold out quickly.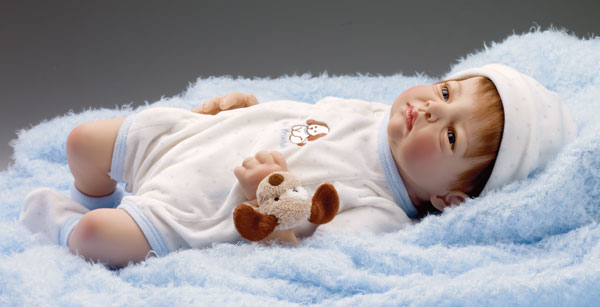 "I think using several artists within one collection is the epitome of what Artista was meant to be—a collection of some of the industry's most talented artists showcasing their work in trusted, fine-quality reproductions," Vicioso says.
Charisma actively works to find talent by visiting regional art, toy and doll shows, scouring the Internet and attending large industry shows. There's even an open invitation on its website—charisma brands.com—for new talent.
The updated collection for January 2007 features seven new dolls and highlights the talents of Pinkstaff, Durden, RuBert, Scott and Sandra Bilotto, all of whom bring a lifetime love of dolls and art to the table.  "This line is a perfect prototype of artists who share a common goal and can come together in unity to present a new doll line," says Durden, who created "Puppy Tails," "Pretty Kitty" and "Rose Petal." "As a part of the doll industry, we have to unify ourselves and be willing to give to one another. There are no disadvantages; we are all on the same team."
"The benefit is the obvious diversity of styles that emerge," concurs Pink­staff, who joined Charisma's Artista team in 2004. "Each artist's own interpretation of the defining characteristics offers collectors a broader selection to choose from. Yet collectors know all the pieces are based on the same quality, workmanship and overall desirability that's consistently achieved with the Artista line."  Bringing Baby Home Though Charisma markets its dolls in specialty doll and gift stores, the company remains dedicated to selling through QVC and other electronic retailers in an effort to "truly bring the dolls into the homes of collectors."
The "play and display" aspect of the Artista line is something all the contributing artists take seriously. Each doll has aspects collectors seek, yet it is also constructed to fit into a décor, made to be played with and designed to encourage young collectors. "When I sculpt dolls, I always envision how the doll may be played with, and try to sculpt it in that fashion," Durden says. "Plus I have three girls who help out with testing the play durability aspect."
Charisma rises to the "durability challenge" by using its proprietary Caressalyn vinyl, which has a hard, petal-smooth finish that emulates fine bisque por­celain while allowing them to stand up to vigorous play. Durden's dolls are made with human hair and a life-touch vinyl, ad­ding to their lifelike quality.  Other dolls in the line are made with high-quality wigs or rooted hair fibers de­signed to stand up to repeated combing and styling. Clothes are designed in better fabrics that can be taken on and off over and over again without becoming worn. "There is nothing to worry about when it comes to ruining our dolls," Vicioso assures.
"You don't have to be a doll collector to appreciate the warmth of an Art­ista doll," Vicioso adds. "Each doll is truly a work of art and can be displayed right alongside other types of 'traditional' home décor and artwork."
Just ask the artists, who are only too happy to offer suggestions on how to make their creations feel welcome in your home. Pinkstaff, for instance, recommends displaying them within easy reach, for frequent cuddling, of course. And instead of lining them like lifeless knick-knacks, make them come to "life" by creatively posing them in dynamic vignettes of babies grouped in realistic settings. Use accessories like baby buggies, strollers, bouncy seats and toys to inject a personal touch of joy and fun to your display.
Helping to add to their special quality, the dolls, which range in price from $49.95 to $149.95, are kept in low editions of 250 to 500 pieces. While the limited edition is sure to appeal to avid collectors, the line also seeks to attract individuals Vicioso calls "casual collectors and non-collectors."
"After selling dolls for 15 years, we have gotten to know our customers very well," Vicioso explains. "We wanted to reach those who have walls of dolls, those with dolls in every room of their homes and those who buy a doll because it evokes a memory, looks fabulous in a themed room or coordinates as an art piece in their décor. I see more and more young girls and mothers seeking out just the right magical doll that touches the heart. We believe Artista Dolls have that magic to touch the young collector's heart. Creating memories for them helps ensure they become doll collectors."
It is this sensitivity to the emotions and charm the dolls possess that gives this large company such a strong foot­hold in the industry. The company stands behind its artists, knowing it is the art­ist who brings the doll to life. Perhaps Durden says it best: "As long as there are companies like Charisma that care about collectors, there will be a doll industry strong and more united than ever before in history. How exciting it is to be a part of this new revolution of doll collecting."