Once upon a time, doll artist Paulette Goodreau (far left) of Goodreau Doll opened her e-mail, and her world was turned upside down. Like Lewis Carroll's Alice, who suddenly found herself spiraling down a rabbit hole, Goodreau discovered that she, too, was about to embark on a journey into Wonderland and beyond!
With a click of her computer mouse, Goodreau was immediately plunged into the backstage drama of "Tea Party," a song and video, conceived by recording star Kerli, which was tied into the Tim Burton Alice in Wonderland treatment.
"Kerli's manager, Bruce, sent me an e-mail and approached me to take part in her video. Then Kerli contacted me. She said she had read an article about me, and she had seen my dolls. She told me that she really admired me."
With this unexpected overture, Goodreau found herself launched into the hectic, crazy and absolutely chal­lenging world of designing for a video shoot. "The concept or theme of the video was vague to me, but I had 24 hours to make 'fairies meet lolita meets aliens meet punks meet freaks.' Kerli also sent me a couple of photos of people and gave me the name of an artist she likes: Natalie Shau. I knew the project was Alice-related, and I knew about the soundtrack."
Flight of Fancy    
Much of Goodreau's participation was left up in the air, and that is exactly where the imaginative artist found herself.  She was winging her way to Burbank, Calif., accompanied by 20 of her custom-made dolls.
"It was a joint effort. Connie Lowe, from Marbled Halls, made 10 of the outfits. The costuming was very varied. Four of them had to be done upon arrival because the director decided he wanted them to match the characters. I was told about this and given the photos 12 hours before the shoot!"
Anticipation and exhilaration went hand-in-hand during Goodreau's time on the set. She was thrilled to be there and constantly challenged to help make Kerli and her crew's visions come true.
"Before working with Kerli, I was not familiar with her, but I watched her video for her song 'Walking on Air,' and I loved it. I loved her when I met her. She is intelligent, gifted and has a great attitude about everything. I enjoyed working with her, and I hope that we can work together again at some point. She and her very nice boyfriend are both talented artists, and they make all sorts of jewelry and ornamentation. I got some very cool ideas for dolls while I was hanging out with them!"
Kerli returns the high praise about Goodreau. "Paulette's courage and kindness really moves me and inspires me. I just sort of found her e-mail online because I needed some dolls. She was so helpful and great. Hopefully, I can give something back by introducing her beautiful dolls—and dolls in general—to the kids out there. That would be a great result."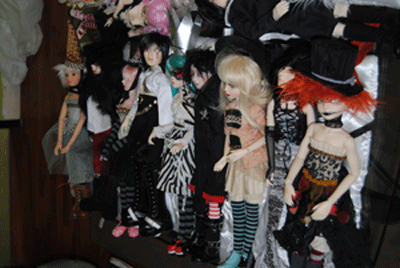 Growing by Giving
In addition to spreading the word about the allure and charisma of ball-jointed dolls (BJDs), both ladies are committed to raising revenues for charities through their partnership. They are hoping their collaboration puts the fun in fundraising by auctioning off and selling these dolls that vogued before the camera lens. "A portion of these funds will go to Connie Lowe's charity that builds playgrounds for orphanages in Baltic countries. We will also be doing several pieces throughout the year for this charity as well."
On a more sober topic, Kerli and Goodreau hope to raise money and awareness to battle domestic violence. "I have not picked the exact charity, but it will have to do with helping mothers and families in abusive situations or leaving a domestic violence situation. Kerli and I both feel very strongly about this topic."
Kerli agrees with Goodreau's passion. "With these specific dolls, we want to help the victims of domestic violence, as it's something we can both relate to."
Though Goodreau's time on the set was brief, her respect for the experience is huge. "I had to fly to Orlando, Fla., before everyone took the stage. I never got to see the actual video making. It was very secretive what was going to happen, but I overheard that the cast was going to be shrunk and turned into the dolls!"
As a result of the experience, both artists agree on one thing: "We want to work together again, and hopefully soon."
For more information, visit www.goodreaudoll.com and www. kerlimusic.com.
Tempest in a Teapot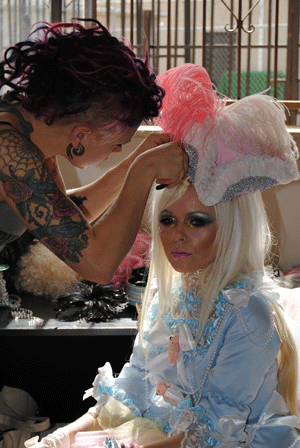 Tim Burton's long-anticipated version of Alice in Wonderland had been causing an Internet buzz from the moment it was first announced. When it was confirmed, and photos and details were made public, the online communities went gaga for the CGI-three-dimensional extravaganza. Kerli and Paulette Goodreau participated in the special-effects world for the "Tea Party" video, which debuted online in March. Directed by Justin Harder, the video is based on a treatment written by Kerli, along with her best friend. "I'm obsessed with dolls and, once more, this video shows it," Kerli shares.
Welcome to the Tea Party
Want to be my VIP?
You didn't RSVP
That's OK, that's OK
Welcome to the Tea Party (oh oh, oh oh)
Want to be my VIP?
When I('m) all steamed up, hear me shout
Tip me over and pour me out
—"Tea Party," Almost Alice album, Kerli
Querying Kerli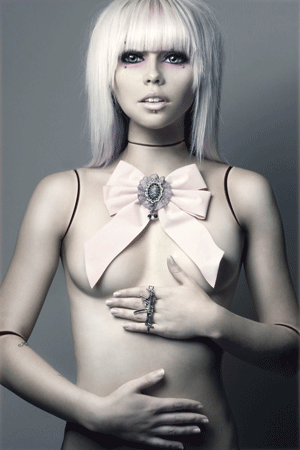 The petite powerhouse that is known as Kerli (just one name, like Madonna and Fabian) is an alternative-music sensation and composer who is lauded for her brains and her beauty. Born in Estonia, the 23-year-old has the flaxen good looks of a young Britt Ekland and the singing/writing chops of Patti Smith. It's quite a compelling combination. Just like her forerunner Debbie Harry of Blondie, Kerli's very astute and ironic sensibilities are at the root of her success and her appeal.
Kerli gained enormous recognition for her 2008 album Love Is Dead, and particularly for the song "Walking on Air" and its accompanying video. In that mini movie, Kerli leads viewers into a mystical and darkly magical world where dolls and humans eerily blend. The visual effects are seamless and surreal. The constant mantra in that song is the word "creepy," and the video manages to be that and so much more.
These days, the L.A. resident is extremely busy—touring for the Almost Alice compilation, taking part in photo shoots and looking for ideas for her next album—but she found time to chat with DOLLS magazine while she was on the road in Europe.
DOLLS: Are you a doll collector?
Kerli: I'm not collecting yet, but I'm gonna get into it the very moment I have some money left over from buying keyboards! I've actually already picked out some critter parts I really want, and I'm absolutely in love with the BJDs (ball-jointed dolls). They are truly an art form. I'm so glad to get to know Paulette through these dolls as well. Her art, but mostly her kindness, inspires me a lot.

DOLLS: When you were a child, did you have a favorite doll or toy?
Kerli: I was a huge "Barbie" fan, of course. But I had this one very special toy that my dad got me for my sixth birthday. It was like a real-size baby doll that peed and pooped. I lost it in the forest, and when someone found it a couple of years later, I felt so much happiness. It was as if I had found my lost child.

DOLLS: You've been creative and theatrical your whole life. Did that spill over to your doll playing?
Kerli: Well, I was convinced that my toys came alive at night, so sometimes I'd stay up and pretend I was sleeping. I even threatened them so they'd open up to me. Very strange, right?

DOLLS: Did you read Alice's Adventures in Wonderland as a child? Were you familiar with Alice as a kid? Or did you discover her as an adult?
Kerli: Alice is kind of new to me, actually. I don't recall knowing anything about Alice when I was little. I had different books in my house—Eastern European fairytales—they still really affect the way I create. I discovered Alice only a couple of years ago and fell in love. Now that Tim is doing his version of the movie, I'm sure I'll love Alice even more.

DOLLS: How did you become involved with the Almost Alice album? Did you write the songs for it, or are you singing someone else's composition? Or both?
Kerli: It's a funny story because I met Tim Burton a year ago at an award ceremony and announced that I should be his Alice. Maybe I created some kind of a connection in his head by saying that because when it came to picking the music, he requested that I do a song. I happened to have a perfect track ready to go. Something I wrote and produced with my best friend on my bedroom floor, and it was accidentally about a tea party! (Author's Note: Kerli is also featured on the Almost Alice album in a performance of "Strange," joined by Tokio Hotel.)