When South Carolina artist Michelle Fagan is asked, "What would you be doing if you weren't creating unbelievable baby dolls?" she immediately answers, "I'd love to be a photographer." Though that secret yearning is undoubtedly true, she could have just as easily answered, "A juggler. A world-famous, ovation-grabbing juggler." Fagan, a 41-year-old supermom of two, is a master at balancing artistic pursuits, home chores, professional obligations and a hectic, energetic life. She has mastered the art of mixing the mundane with the marvelous.
Working out of her home in Landrum, S.C., Fagan "births" babies that are amazingly realistic and breathtakingly beautiful. Her newborns seem to be taking breaths, and they definitely cause breathy exhalations of "ooh" and "ah" from admirers and collectors. Not formally trained as an artist, Fagan's talent is the result of persistence, faith, self-confidence and patience. "As we watch the doll unfold before us, it takes so many hours from start to finish, we have to have a lot of patience. If we don't, the piece will feel rushed. If it looks rushed, it will not be appealing."
Before she began to create her sought-after one-of-a-kinds (OOAKs) and limited-edition babes, Fagan was a devoted doll collector. Her love of the art-doll world inspired her to try her hand at sculpting. "It started as a hobby for me. I was a collector, and I wanted to buy more and more of the remarkable OOAK babies I saw out there. I had always loved art class as I was growing up and enjoyed drawing, coloring and making figures out of clay. I had never tried sculpting, though, until I had the desire to create the newborn babies out of clay."
Luckily for Fagan, artistic abilities coursed through her veins, lurking in her DNA. "My grandmothers on both sides painted, and they painted very well. I often got to paint with them, and everyone in my family knits. Well, everyone but me. However, I loved getting 'Barbie®' and dolly clothes from them all the time!"
Armed with a raw, innate talent and determined to toil until she got better, Fagan was a natural at her chosen avocation. "I enjoyed making these sculpts while I stayed home with my children. Plus, I babysat a lot of the children in the neighborhood. My children loved playing with the other kids. This helped me earn a little extra income, so I didn't have to work outside of the home and send them to daycare."
Committed to her children and flirting with the notion of possibly becoming an artist rather than an amateur, Fagan would spend all day with her "kids and then I'd work on the sculpting at night. Truthfully, it was starting to get exhausting for me. As I worked harder and harder, the dolls did begin to sell, and I was able to earn a little extra money from my sculpting. I felt I could finally concentrate on that and be able to contribute to the household expenses."
Today, Fagan's children are perched on the brink of adolescence. Daughter Autumn is 14 and son Matt is 11. Both children have strong personalities and interests. "Autumn is very involved in riding horses, and we attend hunter/jumper horse shows a couple weekends a month. Matt is very into guitar music, and he enjoys that more than anything. Since he is only 11, he doesn't have a band yet, but he is looking forward to being in one in the near future."
Fagan is not just her children's proud and doting mom—she's also their teacher. She homeschools both of them and highly values the role education plays in a person's life. "I didn't go to college straight out of high school, but I did go as an adult. I went back to school and graduated from college with a degree in early childhood education. I have always wanted to work with kids and perhaps be a teacher."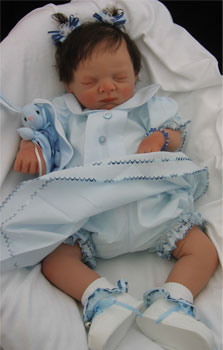 Though she is not in a "formal classroom setting," she draws upon her personal knowledge and her university major to make her children's learning fun and functional. Additionally, she finds time to work part-time at her husband's chiropractic office. "I keep up with the billing and other clerical duties to help the office run smoothly."
While many folks lounge about and daydream of life changes and taking chances, Fagan actually did it. Her family actively supported her pursuits and encouraged her to take risks and to challenge herself. This is a group that firmly believes "nothing ventured, nothing gained."
"I've been married to my husband, Lealand, for 20 years, and he enjoys my success. He helps me on the weekends as I pour artist dolls in silicone. I think he likes working with the silicone because it's something different."
Belief in one's self, combined with a family that helps and encourages, are helpful traits when someone is seeking an artistic life. They're assets that can't be overanalyzed. "I always encourage anyone aspiring to do art, or anything else for that matter, to continue on and to pursue dreams. It can—and it will—work if she stays positive. If a person stays focused on her goals, it will unfold right before her eyes!"
Having gained recognition as one of the premier doll artists who specializes in lifelike newborns and infants, Fagan is not content to sit back and receive kudos. She is constantly looking forward and envisioning more goals to meet. "I would love to design a line of play dolls for children. I haven't been able to do that yet. Also, I look forward to doing a second toddler doll. I have only done one before, and I want to do another.  Additionally, I have a great newborn model to work with, so I would love to create a doll with a much more newborn look in the near future."
Michelle Fagan has a lot to look forward to, as do her loyal collectors. As she continues to perfect the looks of her creations—their expressions, hair, eyes, skin color—she is determined to do her best. "I grew up in a family that would take in foster children, and we loved being there to help children and to dote on the babies that stayed with us temporarily, too. Helping and caring for others; that's what life is all about." And Fagan's dolls capture the vulnerability and the strength  a newborn baby holds: So small, so helpless, yet an infant is able to make a grown man cry. Michelle Fagan juggles that paradox beautifully.
For more information, call (864) 457-2005 or e-mail mikki1014@aol.com.