By Jan Foulke
Q: I haven't been able to find the maker of this little doll. The bisque head is marked with a crown and the entwined initials WG with "Germany" and "120." It is just 9.5 inches tall. Can you help?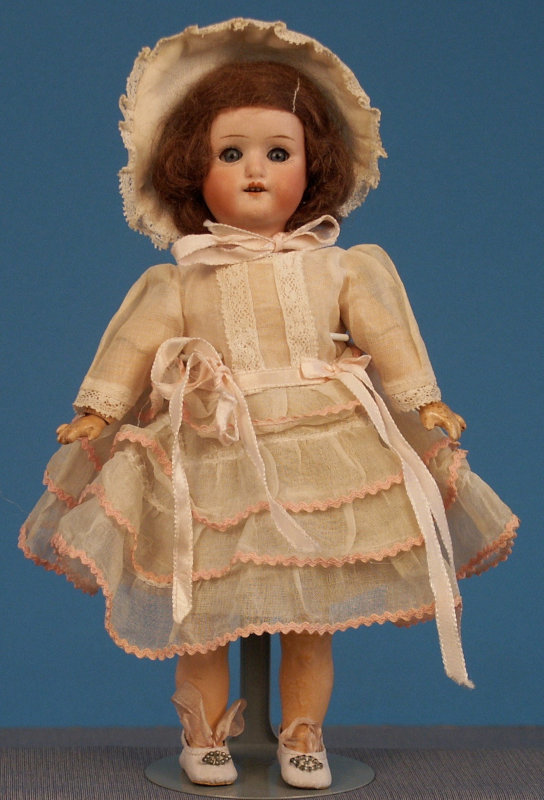 A: Your doll's head was made in the porcelain factory of William Goebel, which was located near Coberg, Germany. In fact, it is still in operation, though the name of the area has changed to Rodenthal. The Goebel factory today is very well known worldwide for the production of the figurines designed by Sister Maria Innocentia Hummel, figures which portray the "gentle innocence" of children. These earthenware pieces, painted with a soft color palette, were first introduced in 1935. An immediate hit, they still today have a wide following of enthusiastic collectors.
The Goebel company has a long history going back to 1778, though it wasn't until 1879 that it produced its first porcelain pieces. Actually, Goebel bisque doll heads are not plentiful because the company specialized in china and bisque tableware, figurines, bathing dolls, knick-knacks, half dolls, powder boxes, tea cosies, and other novelties. Goebel's production was fairly large, having 400 workers and four kilns in 1911. One line of bisque doll heads were small character models, just 7 to 8 inches tall, including boys and girls with molded hair and painted eyes, many with hair ornaments or molded hats. A grouping of these makes a fun collection.
Goebel added the crown to its trademark in about 1900. Mold 120 was made between 1921 and 1932, so that helps date your doll. An interesting feature of your doll is the fully jointed composition-and-wood body, including shoulders, elbows, wrists, hips, and knees. It is quite unusual to find a 10-joint body on a doll in this small size, as most bodies on small dolls are only 5 pieces. A small, fully jointed body is a factor that collectors look for.
Of course Goebel, being a porcelain factory, produced only the heads, which it sold to various doll factories that made the bodies, wigs, and clothing. Some doll factories, such as Maz Handwerck, had exclusive designs poured by Goebel with their own names impressed on them.
Jan Foulke is an authority on antique and vintage dolls, with over 40 years of experience in the field. She's the author of the full-color reference book "Jan Foulke's Guide to Dolls" and writes the Antique Q&A column in each issue of DOLLS magazine. Send your antique doll questions to Jan Foulke.
Read the rest of Jan Foulke's Antique Q&A column in DOLLS January/February 2020 issue.
Subscribe now to get access to DOLLS online archive of past issues!