Hildegard Günzel has done it again. Celebrating 35 years of dollmaking this year, the German artist's creations continue to smile and jump and laugh and take us to where the livin' is easy.
"Hildegard's workmanship is exquisite," notes Barrie Shapiro, owner of The Toy Shoppe in Richmond, Va. "She captures a rare emotional quality, creating truly individual dolls, handcrafted slowly, carefully and lovingly."
Best known for her work in wax-over-porcelain, Günzel focuses so intently on the sculpting of each face, on the details of each accessory and on the finery of the apparel, you can almost feel the intensity of creation and the subsequent joy she must go through as each smiling child comes to life. That Günzel won five 2007 DOLLS Awards of Excellence nominations (for "Vanilla," "Pipa," "Lotta," "Diandra" and "Allegra and Pierrot") is a testament to her continuing excellence in the field. She really is at the top of her game.
"My team and I are honored that we received so many nominations and awards this year," Günzel says with justifiable pride. "The DAEs and Golden Teddies have always been very important in my career, and I'm always thankful to the judges, readers, dealers and collectors who have been so loyal to me all these years."
Günzel's showcase piece this year, "Allegra and Pierrot," is a perfect example of how her work continues to grow and shine. Limited to an edition of ten, the pair exudes charm and mystery, the innocence of youth combined with the complexity of the Commedia d' Arte. Of course the pair features high-quality details like handmade human-hair wigs, unique glass eyes and the finest silks, but details like handmade leather shoes for Pierrot, a Columbine felt hat for Allegra and Pierrot's precisely proportioned charming plush teddy exemplify wonderfully that Günzel's personal demand for perfection never waivers. The depth of expression on both dolls' faces is hard to believe, and the piece has received "wonderful comments from collectors," according to Susan Anderson at Children of the Heart in East Lansing, Mich.
Anderson's personal Günzel favorite this year is "Diandra." The 30-inch wax-over-porcelain beauty emotes curiosity and wonder, her girlish muslin dress and delicate headband add to her sweetness. "From the time I first saw her photo, to 'meeting' her at IDEX, I knew she was a winner," Anderson enthuses. "She has such a precious face, and looks as though she could come alive and start running around the room as a toddler would do. In my opinion, this is a doll you want to keep in the family, passing her on from generation to generation."
Günzel agrees that "Diandra" is special. "She's dressed so you can see her cute, molded body. Another special doll is our anniversary porcelain doll, 'Lydia,' named after my mother, and uniquely dressed in a light, English mint green. She has such a friendly look that people immediately fall in love with her." Günzel is particularly proud of this anniversary collection of porcelain dolls. "For me, this line is one of the best I've ever done," she shares. "The entire collection created strong emotions in me, and in the people who have seen them."
While the latest porcelain creations are always reason to celebrate, her new resin collection is definitely creating buzz. This second series of resin dolls is even more detailed and precious than the debut 2006 collection. Limited to editions of 200 or less, her seven new resin beauties show the same attention to detail as her porcelain beauties.
"The resin collection has been very well received by our customers," says Anderson. "Several of the dolls—'Vanilla,' 'Rebecca' and 'Pipa'—sold out very early on in the year."
Debbie Bibb at The Doll House, in Edmond, Okla., agrees. "Everyone just loves the new resin dolls. They look so real, it seems as though they could speak to you."
"Because of the incredible success of my 2006 resin collection," says Günzel, "I decided to create seven dolls at different stages of childhood. Everyone will find a special doll in this collection."
"Nelly" and "Vanilla" are infants while "Darling" and "Lotta" represent toddlers. The beautiful children progress in approximate age: 4-year-old "Pipa," 5-year-old "Chiyori" and 9-year-old "Rebecca." Their delicate expressions also progress, from innocent to playful to curious. In addition, because the line sold out so quickly, Günzel designed companion teddy bears and bunnies. Made in Germany and constructed of the best mo­hair, they sell for about $235 each.
Resin has been an exciting adventure for Günzel, who notes: "While porcelain dolls are best admired from a certain distance, my resin dolls like to be held. They can truly be played with!" Featuring supple arms and legs, individually molded for each limited-edition poseable doll, Günzel designs the age-appropriate clothing and insists on the same level of care and quality as with her porcelain dolls.
"It's quite evident that Hildegard has given much thought and care to the design and creation of her resin collection," says Shapiro. "Her expressive sculpting, delicate facial painting and attention to even the smallest detail transform each of her resin dolls into a masterpiece."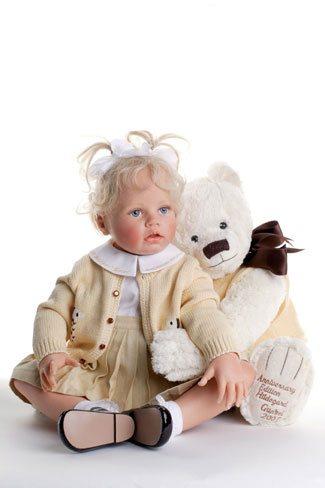 Priced from about $720 (for the 21-inch "Pipa") to about $1,000 (for 16-inch "Vanilla," a special anniversary edition), the dolls are definitely still collectible, but at a more approachable level than her porcelain creations. "The resin dolls give people who admire Hildegard's work a chance to add her beautiful dolls to their collections versus only dreaming of one day owning her fabulous wax-over-porcelain pieces," says Anderson.
In addition to their beauty and charm, the 2007 resin dolls celebrate Günzel's 35th anniversary in the industry. To thank collectors, she created "Vanilla" especially to mark the date. Dressed in Sunday finery, the doll is a happy 12-month-old, hugging a very special teddy. On the sole of his paw is inscribed "Anniversary Edition Hildegard Gunzel 2007."  The doll wears an elegant pleated skirt and white collar, cardigan sweater and patent leather shoes. Limited to an edition of 135, she sold out quickly.
"I think the photos of Vanilla speak for themselves," says Anderson. "She is a precious little one. She's a great choice to celebrate Hildegard's anniversary."
No less charming than the dolls, after all this time, is the artist herself. Smiling, positive and filled with love, Günzel resonates with the beauty and energy of a woman half her age. "I believe the artist's personality is always reflected in their work," Anderson continues. "Hildegard is such a sweet, kind and loving individual. She's very creative, with a wonderful imagination."
Günzel herself credits those around her with her continued success. "The energy I receive to create is given to me by my husband, Fran; my children; my mother, Lydia, and, of course, my team!" She spent this past summer preparing for her son Kai's wedding.
"It's been a very exciting time for me, with lots of organizing to do. They chose a beautiful castle in the area, and thank goodness his fiancée, Susanne, fulfilled my dreams of a white wedding. She dressed like a princess!"
Despite all the wedding planning, Günzel also manages to make time for other pursuits and passions. Besides her 2008 collections of dolls, teddy bears and bunnies, Günzel, an ardent gardener, has designed a "beautiful park around my house." She's also collaborating with the American pop artist Mel Ramos to create three-dimensional pieces. "This is a huge honor for me," she says.
"I never sit still," she confides. "Next year's collection is already created, and is very, very exciting. Keep an eye out for 'Florian,' our first boy in resin!"