Ball-jointed dolls have flexible identities. They're palettes that transform to a buyer's wishes—heads, makeup, hair, clothing, eyes, resin color—choosing some or all of these are decisions collectors make when purchasing a BJD. Any way you imagine a BJD, you can have it, and therein lies their beauty and the secret to their popularity says Catherine Sanders, owner of Dollfair International, a U.S. partner with and distributor for Korean BJD artists.
Traditional and untraditional doll collectors of all ages and genders are excited about BJDs because they encourage creative participation. "People are recognizing they reflect your imagination, your dreams, what you want them to look like," Sanders says. You can build a limited edition down to the eyelashes, she adds, and then change the eyes, clothes, hair and even head. Later if you want, you can put it back to the original. This customization is appealing to collectors, too, she says, because of the intimacy created by dressing a doll just like yourself if you so desire.
And the creativity doesn't stop there. People are photographing their dolls and writing stories about them, with many posting on the Web. In fact, many creative people, Sanders says, are creating muses out of their BJDs.
Inherent in the BJD charm and also making their personality changeable is, of course, their poseability. Most BJDs stand unassisted and pose in countless ways. "They sit, relax, lounge, move, all just like a person. It's this really irresistible feeling when you have this thing in your hand that's like a person," Sanders says.
When people start playing with the dolls, they can't put them down, she says.Collector Alicia Stout of Tucson, Ariz., knows exactly what Sanders is talking about. Throughout her life she started random collections but quickly became bored with them. When she discovered BJDs, that all changed. BJDs are an artist's muse, she says, and hers constantly inspire her to write, draw, paint, photograph and sew.
"Like an artist's work, each time I photograph or paint a BJD, I feel as if a little piece of me is transferred into the small resin sculpture. Perhaps this is why I often think of my dolls as living, feeling beings, not just empty shells," Stout explains.After trial and error and much searching, Stout came across and fell in love with Narin dolls and eventually found Sanders' Dollfair. Now, with the help of Dollfair, she acquires her latest "dream doll." Sculpted by Jung Ji Youn of Limhwadoll, "Limho Mano" is a 67-centimeter BJD available in white, beige and tanned resins and sold ready to customize to a buyer's tastes through Dollfair International. He is priced at approximately $700. Dollfair offers several artists that will customize pieces, including the Narin makeup team, which uses modern airbrushing techniques, Kim Kyu Yun, who layers pastels to achieve more of an ethereal look, as well as LilyKoi Designs whose work is pictured.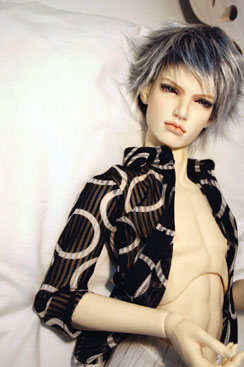 And if anyone knows BJDs, it's Sanders. Through Dollfair International, Sanders partners with primarily Korean ball-jointed doll companies like Narin Creative, Limhwadoll, Supia Dolls International, and N-Dolls International, many of which she says are just artist studios. She sells and promotes their work internationally; her team of artists do some of the extremely customized work on the Korean dolls and create limited editions; she even gives input into new products based off of what she's learned about the market's desire in her day-to-day interactions.
The International Association for Ball-Jointed Doll Artists cuts another notch in Sanders' BJD guru belt. She founded the organization which holds workshops internationally to teach artists the nuts and bolts of BJD craftsmanship — from sculpting and molding and casting to painting and costuming.
And if that's not enough, Sanders launched Enchantment Doll, which will feature dolls sculpted by U.S. and international artists. Despite naysayers warning Sanders against manufacturing the dolls in the United States—"Toy casting and manufacturing hasn't been done here for 10 years," and "You'll have to go to China; mark my words," they said—Sanders kept at it; after seven months she found a place to do it in her home state of Ohio where she's proud to provide jobs domestically.
Sanders' perseverance is paying off—"it just takes conviction," she says. She's seeing all her hard work come to fruition as Enchantment Doll picks up the casting of its first innovative BJD—"Machina." Created by California artist Sarah McNeal, better known as Batchix, Machina is a "sexy, curvaceous robot" who balances on high heels with no assistance. She's available in blue and white right now but in the future will be available in a rainbow of colors and possibly "semi-translucent candy colors."
Machina is just the first of the BJDs Enchantment Doll is planning to release, including male and helmet-less versions of Machina, a transformer and a 24-inch girl doll. Clothing is part of future plans, as well.
Whether immersed in the BJD scene here or abroad, Sanders loves what she's doing and wouldn't change it even if she were offered "$5 million." The happiness and creativity BJDs bring to people is so rewarding, she says. "The dolls have that human spark of life about them, and people can't help themselves and be­come fascinated by them. They get in­volved in all sorts of creativity. Many start dabbling in face painting. How many dolls can you buy with a blank face and paint it yourself? With these dolls your imagination is the limit," she says.