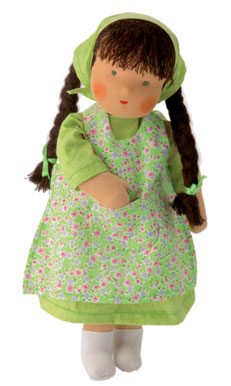 Käthe Kruse's Waldorf dolls are charming in their minimalism. The faces of the dolls intended for babies are spheres with hand-sewn dot eyes and brief one-line … well, it's hard to say for certain—are their "lips" grinning? Perhaps they're determined. Or, maybe, they're even pouting. It's debatable what emotion the Waldorf dolls exhibit, but one thing is certain: The dolls are much more than a designer's foray into the aesthetic of simplicity.
Behind the uncomplicated shapes, colors and materials lies a concept that started 14 years ago when Käthe Kruse owner Andrea Christenson met and befriended her colleague's good friend, teacher Claudia Juhn. When Juhn gifted Christenson's baby with a doll she had made, Christenson liked the doll so much she proposed the duo develop a doll line together.
It was Juhn's involvement with the Waldorf philosophy that inspired her to start making those first dolls. "She enrolled her children in Waldorf pre­schools and kindergartens. This is when she got very involved in the whole Waldorf thinking and philosophy and started to make the dolls," Christenson says.
Käthe Kruse had been producing the dolls for two years when the Association of Waldorf Schools of North America took notice and offered to license them. "They thought they were exactly the dolls they'd always thought of being Waldorf dolls," says Christenson. So, now Käthe Kruse owns the Waldorf license for textile toys and clothing.
The marriage of the Waldorf philosophy with Käthe Kruse dolls was a natural one because the German company had been making dolls that jived with the Waldorf concept for a century, years before Waldorf Education (for more information, see sidebar "What is Waldorf Education?") was first conceived. Starting with the first doll the company founder, Käthe Kruse, made for her daughter, Mimerle, in 1905, the dolls are still handmade of natural materials more than 100 years later. The classic Käthe Kruse dolls, for instance, are stuffed with reindeer hair and the Waldorf dolls with genuine wool, and their facial features are individually painted and/or hand-sewn.
Indeed, crucial to the Waldorf philosophy is the idea that natural impressions stimulate a child's imagination, including the natural materials the dolls are made from and their neutral facial expressions: They can be interpreted in many ways by a child—happy, angry, wild, intimidated, etc.—encouraging roleplay.
"We have to roleplay over and over again to live through the day, and this is so important for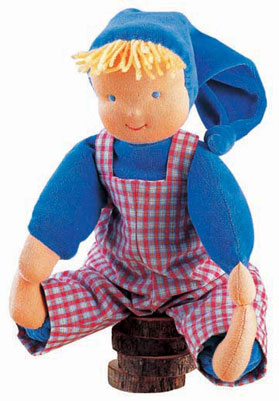 children to learn, too—to speak, to understand and to develop empathy," Christenson says, stressing the importance of roleplay in childhood development.
Because the Waldorf dolls are handcrafted, each is unique, a concept also important to the Waldorf philosophy. "When you have your own child, you want your baby to be unique—not like 10 million other children. That is our philosophy with our dolls. They are created by women who put a lot of love and attention into the dolls," Christenson says.
Another key Waldorf value the dolls showcase is age-appropriateness, so as not to stimulate children beyond what their age demands. The Waldorf dolls progress from the simplest dolls for babies, barely more than a towel with a sphere head, to dolls for older children with more defined features, hair, limbs, clothing and accessories.
All is fine in time, Christenson says, but a 3-year-old doesn't know what to do with a fashion doll intended for an 8-year-old. A young child hasn't developed the hand-eye coordination to manipulate such a doll, she says. A soft, cuddly doll intended to encourage bonding would be more age-appropriate for a 3-year-old.
"By the time kids are 14, all the technology is fine!" Christenson en­thuses. "It's just when they're very little, they don't need battery-activated toys. They will grow into the iPods of the world. They will love them, but they don't need them at age 3!"
Passion for and belief in what she does laces Christenson's conversation; it runs deep, stemming back to her childhood. Christenson played with Käthe Kruse dolls long before she knew she'd one day own the company; she also played with similar-looking dolls her mother and aunt made. "It was a big family of those homemade, handmade dolls, and I thought they were just so special and unique. Most of them, I still have. Some of them look very loved," she laughs.
"Don't ever throw your dolls away," she continues. "You wouldn't throw away anything you love. If you do, there goes the love that you put into a doll. Even though it's shabby and loved to pieces, maybe even smells badly, just keep it. You throw them away, the memories might go down there as well."
And that's what Waldorf dolls do. More than mere playthings soon discarded, they teach kids to empathize and love, bestowing the essence of humanity and benefiting children long after they've stored their beloved plaything in a basement box. And the dolls do it without a preconceived identity—children get to flex their imaginative muscles to create a unique identity for their own dolls.