Just hearing the name of Madame Alexander brings immediate images into the thoughts of doll collectors. "Other" dolls sat side by side in the dime stores and grocery stores of the land, but not the Alexander dolls. By the 1940s and 1950s, they were so exclusive they were displayed in their own glass cases in the doll section of big department stores. These were dolls with the higher price tags. These were dolls made for "looking" … not playing.
What was it about these dolls that made them so different from the many others being manufactured?
It certainly was not their faces. Although beautiful, they basically looked much like the dolls made by other companies. And their bodies were made of the same materials as other dolls of the day. As time passed, the company changed production materials from cloth to composition, hard plastic to vinyl…just like all the other doll producers.
Glenn Mandeville in several of his books about Madame Alexander Dolls gives the question an answer with these words: "The most often overlooked fact is that Madame Alexander was not a doll artist. She was a clothing designer…and to Madame, the dolls, for the most part, were merely the mannequins upon which she draped her dreams."
Bertha Alexander was born March 9, 1895, in her family's living quarters located above her father's doll hospital in New York's Lower East Side. She and her sisters grew up literally surrounded by dolls. In 1923, they began the Alexander Doll Company, with their specialty being "dainty costumes." They dressed dolls as they had never before been dressed in America—in gorgeous silks, fine cottons and French voile prints.
During the 1950s, the company produced little booklets that advertised Alexander fashions for dolls. On the back of one such booklet is this description: "Madame Alexander's Fashions for Dolls are made of the best fabrics obtainable, imported laces and organdies, the finest cottons and flannels. Great care has been exercised in the styling of the doll's clothes, so that a little girl's doll reflects the good taste which has been used in the selection of the child's own wardrobe. Superior fitting and finishing of each small garment assures the little mother of long wear and much pleasure. No frustrating safety pins, but buttons and button holes or snap fastenings make dressing and undressing your doll lots of fun."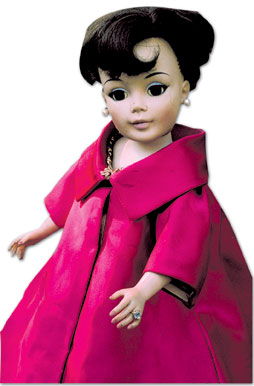 Some of the booklets were issued for named dolls, but other booklets advertised clothing for dolls of three sizes—15 inches, 18 inches and 25 inches. Sometimes a certain style came in more than one color or print. Also listed were lingerie and accessories such as slips, panties, slippers, socks, jewelry and hats.
There were very few character faces manufactured in the Alexander doll line. Most of the dolls through the years and continuing today were like thousands of others. It was—and continues to be—the clothing that made and makes the difference. Most Alexander dolls have very little value without their clothing. The clothes were and are the specialty. The clothes carry the tag, without which it is often impossible to know just who the doll was originally. When one face looks like another is it a girl or a boy?  Was it Tiny Betty or Princess Elizabeth? Could it be Peter Pan or one of the Little Women? It is definitely a case of the clothes making the lady or the man or the boy or girl…whichever you have.
Without question, the business of buying Madame Alexander clothing is popular. Studying Internet auctions sees this practice as "alive and well!" In April of 2004, a mint in box Cissy chartreuse check taffeta dress with organdy puff sleeves and a belt marked style 10-54 sold for $400, bringing more than many of the dressed Cissy dolls in like auctions.
The mint in box outfits don't show up very often, but on any day of the week many used, but good or close to mint Alexander outfits are listed for the interested bidders. Most of these offerings are for named dolls. Very seldom do the tagged Alexander clothes produced by sizes come up for sale. However, in May of 2004, a dress in the 15-inch size brought $67.52. That's a relatively large amount of money for a doll dress, even in today's world.
More Alexanderkins clothes are listed than other Alexander clothing. Cissy and Elise clothes run a close second. Possibly there were more of these produced than others. Most of the listings are for dresses, but accessories show up once in a while as well. Recently an untagged camisole for Elise sold for $66, a hat made of straw with fabric flowers for a 12-inch Lissy or a 15-inch Elise brought $113.49, and Cissette doll shoes starting at $9.99 went up to $56.
Since Madame Alexander dolls were expensive dolls to begin with, many are found today in complete, all original condition. A study has not been done, but it is probably actually harder to find the outfits alone than the complete dolls. That could be the reason for the prices the clothing brings. One can certainly take tagged Alexander clothing and put it on a nude Alexander doll and have a great combination.
Beatrice Alexander, known as "Mad­ame" to millions, died on October 3, 1990, at the age of 95. During her lifetime she won many awards, medals and honors. Of which was she the most proud? Possibly the Fashion Academy Awards she won for clothing design four years in a row (from 1951 to 1954). And what made that so special was that her designs were for doll clothes, but the competition was not just doll clothing but all garments manufactured during that period!