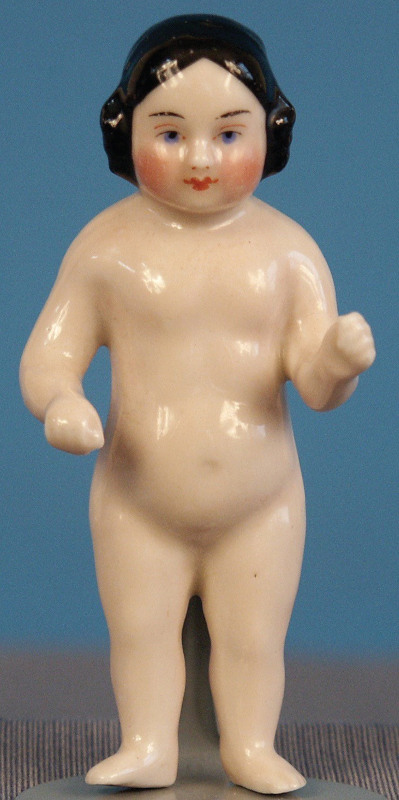 By Jan Foulke
Q: Can you explain what a Frozen Charlotte doll is? I have some stiff one-piece "Made in Japan" all-bisque dolls with molded clothing. Are these Frozen Charlottes?
A: No, they are not Frozen Charlotte dolls. Beginning in about 1850, an unjointed doll made entirely of china (glazed porcelain) was developed in Germany. Factories there had already been making china doll heads and lower limbs on cloth bodies, so this new doll was just carrying the idea one step further, making a model that was completely china.
This new doll was different, though, because whereas most of the china-head dolls represented ladies, the new doll was designed as a baby or small child. It was generally chubby in form, with molded stiff limbs and bare feet. The arms were bent at the elbows, but the legs were straight and separate. It usually had short black molded hair with brush marks framing the face.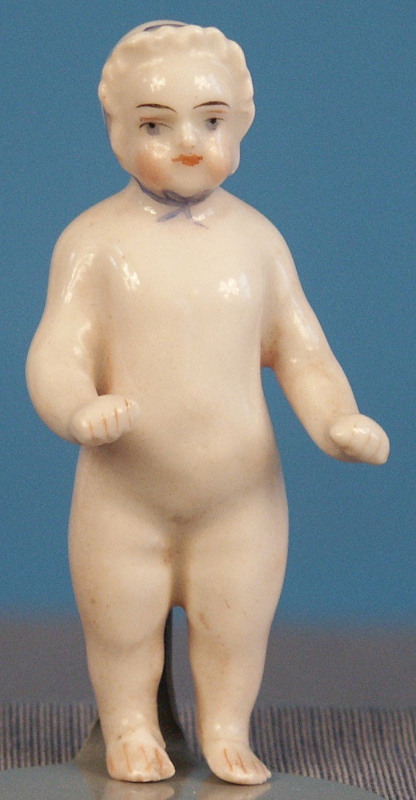 These dolls were called badekinder or "bathing dolls," because they could be completely submerged in water and given a bath. They were supposed to be designed to float so that children could play with them on the beaches and in the ocean, as well as in the bathtub or a pail of water. They ranged in size from 1 inch to 18 inches. Some had an overall pink complexion tint; some had only a pink-tinted face. Apparently business was very brisk for this new doll, as it was produced in quite large numbers by a variety of manufacturers.
In the United States, the term Frozen Charlotte came to be applied to these china dolls since they were "frozen" — that is, they didn't have moving parts like other dolls. The term was based on an old folk ballad prevalent in the Northeast and published in an 1843 Maine newspaper about a young woman, "Fair Charlotte," who froze to death on a sleigh ride to a ball because she insisted on showing off her gown and silk cape instead of bundling up and keeping warm. This event was reported in a newspaper and supposedly occurred Dec. 31, 1839. If interested, you may hear the song or read the lyrics on the University of Maine website.
Jan Foulke, recently retired, is an authority on antique and vintage dolls, with over 40 years of experience in the field. She's the author of the full-color reference book "Jan Foulke's Guide to Dolls." Subscribe now to read Foulke's columns in DOLLS online archive of past issues!