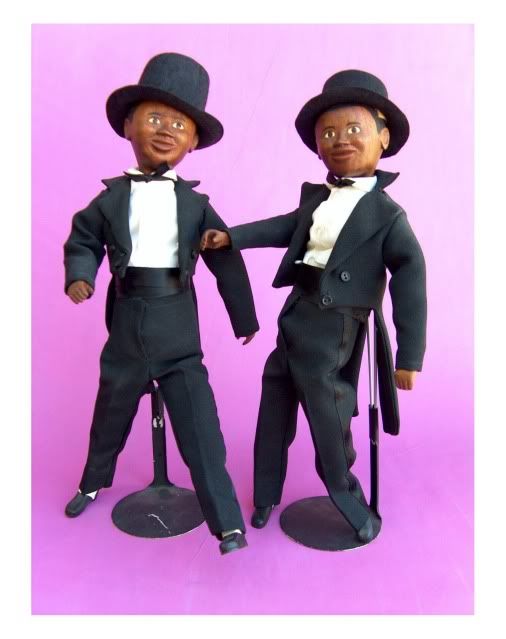 Floyd Bell, master doll artist, began making dolls in the late 1970s. A wood working educator for several years, his "lessons of love" and passion for woodworking inspired the creation of Bell's first doll. The challenge was to create a sculpture from scraps of wood. Bell's first doll is all wood with peg-jointed limbs, dressed in Victorian-period clothing, and stands 18in/45.72 cm tall. In a doll competition, he won a green ribbon for his first doll. Countless awards later, Bell's dolls are housed in several museums and prestigious locations worldwide such as the Louvre in Paris, France; the Wanke Museum in Germany, the National Black Doll Museum in Ohio, the Philadelphia Doll Museum, and the White House Doll Collection USA.  Actors and other personalities own Floyd Bell dolls. All of his dolls are signed with his name, Floyd Bell ©, and dated.  His small dolls are signed, F. Bell. 
(Excerpt from my book, Black Dolls A Comprehensive Guide to Celebrating Collecting and Experiencing the Passion, Chapter 5, page 242.)
The Nicholas Brothers were a dancing sensation in the 1930s (pictured above).  Bell's Las Vegas Show Girl is a svelte and quite stunning, all-wood beauty, as illustrated in the following images:
Along with Bell, I co-authored the article, "Fantastic Entertainers," (DOLLS magazine, February 2010, pages 38-39, digital and/or hard copy versions).  The article includes additional information about this renowned, master doll maker and his works of carved doll art.