The conventional lends the world its existence. The unusual gives the world its value." So reads the Oscar Wilde quote on Zwergnase's Web site. Indeed it's the quirky nature, combined with superb quality, of designer/owner Nicole Marschollek-Menzner's dolls that imbues them with the magical appeal collectors seek.
Marschollek-Menzner's unexpected combinations of material, colors and patterns delight the senses. ("Lenibertha" with her brown-and-pink flowered dress, orange-and-red striped knit stockings, green-and-white striped knit scarf and brown leather boots is an excellent example.) But it is her use of realistic expressions that absolutely characterizes her dolls, setting them apart from the doll "pack." Whether in felt or vinyl, she captures moment after poignant moment in her idiosyncratic sweeties.
Marschollek-Menzner grew up in Thuringia, an area of central Germany long famous for toymaking. Amid cliffs and hills, spruce forest and valleys, is Schalkau, the town the artist lives in. "I was inspired by my surroundings and decided early on to become an artist. I have always been interested in creating artist expressions," says Marscholleck-Menzer, who studied toy and mechanical design in Sonneberg, once considered the toy capital of the world.
After school, young Nicole honed her dollmaking skills at a doll company, and in 1994 she and her husband, Bernd, launched Zwergnase "to allow me to create and market my own dolls and bears," she says. Steeped in the Thuringian culture she was raised in, Marscholleck-Menzer carries on the area's centuries-old dollmaking tradition, yet she expands upon the definition of German dollmaking with her unique creations.
"She was just one of those who always had a wild fantasy. We laugh about it sometimes because she did such weird things," says Sybille McQuilken, the U.S. promoter of Zwagnerse and a cousin of Bernd's.
Although Marscholleck-Menzer's doll costuming may be unusual and cacophonous, it strikes a surprising harmony. The inspiration for the ensembles starts with one little trigger. "When we go somewhere and she sees a fabric, she says, 'I know what I want to do with this,'" says McQuilken.
Fabric inspires the costumes, but children bring Marscholleck-Menzer's sculpts to life. From tremulous pouts and mischievous grins to pensive pondering, her characters exhibit the gamut of emotions found among little ones. "Children have so many different expressions, and I love to replicate certain moments of these expressions," she explains.
And it's that combination of spunky funky clothing and irresistible facial expressions that Zwergnase fans are taken by. "Our collectors' response has been the same year after year regarding Nicole's creations … fascination and awe," says Barrie Shapiro, co-owner of The Toy Shoppe with husband Danny. "The expressions are so diverse, and the clothing designs colorful and appealing. Zwergnase dolls are personality- plus, sometimes quirky and always fun."
Quality Is No. 1
But it's not only Marscholleck-Menzer's one-of-a-kind vision that distinguishes her dolls from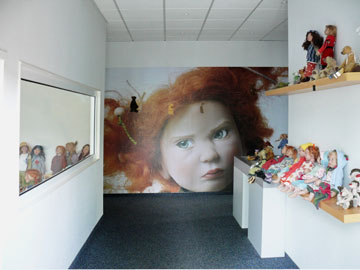 others. It's their quality, too—it's top-notch, and she wouldn't have it any other way. Zwergnase owns a factory that employs 15 to 30 workers. From Marscholleck-Menzer's initial vision, which she manifests in clay, to mold-building and the finished vinyl product retailers display on their shelves, Zwergnase dolls are produced at that factory.
"She really is at the factory every day," McQuilken says of Marscholleck-Menzer. "She works there. She is involved in every aspect of production." She is so involved, in fact, that she personally sets every doll's eyes. "That is something that only Nicole does. Nobody else can touch it. So, basically she touches every doll that goes out. [The eyes] have to be set a certain way to give that certain expression she's looking for. So, she does all that. Every doll," McQuilken says.
Key to Zwergnase quality is the vinyl used. "The mixture of the vinyl, as well as color and consistency make a high quality vinyl," says Marscholleck-Menzer.
Although the specifics of what makes Zwergnase vinyl grade "A" remains the "secret recipe," McQuilken does reveal, "She makes it thicker, so it's harder and more dense; you can't bend it or squish it." In fact, it's vinyl's unbreakable quality that led Marscholleck-Menzer to create in that medium.
Germany requires that vinyl manufacturers abide by strict standards, another reason Zwergnase dolls are top-of-the-line—vinyl must be phthalate- and lead-free, for instance. "According to the German Environmental Agency, you can only produce 'clean' nontoxic vinyl. Controls are tight and inspections are numerous," Marscholleck-Menzer says.
"If you make any kind of product that could go in the hands of children, you cannot have chemical residue on the fabric or any lead whatsoever," McQuilken says. "But that's just in keeping with the German tradition of producing only the best. It has always been like this. Think of BMW … . Germany has always done top-of-the-line and always wanted the best for the people," McQuilken explains.
According to McQuilken, the Zwergnase factory is one of the only high-end vinyl manufacturers that remain in Germany. In fact, it produces vinyl for many other doll artists, such as the well-known Henry and Zofia Zawieruszynski. "Anyone who wants to have vinyl done right comes to us," McQuilken says. "The investment [to establish a factory] is so great, you can't do it for just one artist," she adds.
Vinyl isn't the only component that makes Zwergnase dolls high quality. Marscholleck-Menzer says only the finest fabrics are used, as well as real leather for shoes made at a factory in the Ore Mountains, human-hair wigs for most of the dolls and mouth-blown glass eyes. "The person who does our glass eyes also does human replacement eyes. They're so realistic," McQuilken says. "A special part of Thuringia—Lauscha—is the place where they make them. It's famous for all sorts of glasswork."
When Marscholleck-Menzer isn't at the factory working, she's at home working, McQuilken says. "When I go [to Germany], I stay with them, and it can drive you insane because she's always doing something. She either does a doll or bear or knits something." Dolls Marscholleck-Menzer creates during her "off hours," for instance, are the felt cuties offered as part of her 2008 line—"Lenibertha," "Linn-Gisela" and "Evaerna." They aren't produced at the factory, but rather, hand-created by Marscholleck-Menzer.
One thing is clear: Marscholleck-Menzer is committed. She's committed to quality, and she's committed to ingenuity. She's entrenched in the Thuringian tradition of dollmaking, yet she continues to add to and reinvent the definition of German dollmaking every year; her 2008 line, which features six new sculpts, is no exception. Like Shapiro says, "Nicole's 2008 Zwergnase dolls will definitely stimulate your doll senses!"
For more information, visit www.zwergnase.com.