It may be the 85th anniversary of Alexander Doll Co., but for company president Gale Jarvis and vice president of sales David Morgenstern, 2008 has been another year to challenge themselves—building on the quality tradition that is synonymous with the company's name while pushing into new territories.  "You have to outdo yourself every single year or else your collectors are disappointed. It's nice that it's the 85th year, but we didn't work any harder this year because [of that]," Morgenstern says. "We have to work harder because our collectors are expecting more and more of us every single year."
"Everyday is a challenge to maintain that history, yet create the future," Jarvis adds.
Alexander Doll Co. works hard to maintain brand authenticity by using high quality materials and production standards. Quality issues once a problem aren't now, Jarvis says.
"We do not take shortcuts," Morgenstern adds. "Take a look at the underneath of the clothing, the hems and double-hems and the types of materials used. There's attention to detail where you normally wouldn't see it."
The doll company's hospital has also sustained Alexander's excellence through the years. "We have a huge vintage business and reputation, so we know we can't just send anything out there. … If [a doll] is not good quality and we have problems, we either have to repair it or take it back," Jarvis says.
When the Alexander designers—currently a team of seven—begin interpreting an idea, they actually make a physical mockup, another reason Alexander dolls are top-notch. "Like you would expect from Madame Alexander, they start from scratch making dolls … from pinups, and we take a look at actual handmade samples. We develop a bill of materials, and the designers and those we outsource to get together and cost out materials. Ultimately, about six or seven months later, you see a final product," Morgenstern explains. "It's a very long process because the attention to detail and materials takes that long."
While faithfully continuing Alexander's legendary quality and authenticity, the team pushes the company forward into new territories. Jarvis and Morgenstern have been leading the company for nearly a decade now, and since they've been at the helm, Jarvis says it has "evolved tremendously."  Once a company that focused almost entirely on a narrow collector base, the firm has become a multi-pronged enterprise using many channels to distribute product. "We looked at our market, and we've broadened it and expanded," Jarvis says. "When we started, we had no cloth dolls; now we have cloth dolls. We had no porcelain dolls; now we have porcelain dolls. We have vinyl babies, and we have babies from $8 to $45 that are washable and playable; we never had those before. We never had zero-age grade; we now have zero-age grade on our babies.
Partnering programs with big names like McDonald's, Costco and Toys "R" Us, as well as distribution channels available through the Internet, have helped broaden and create the Alexander Doll Co. brand name.
"The idea … is to get young girls invested in the brand [so they collect when they get older]. Without the cloth dolls, the play dolls and the opportunities at Toys "R" Us, they're not going to know what Madame Alexander is," Morgenstern says.
The 2008 fall line is a prime example of the modern Alexander's multi-faceted approach. Funky and fun "Fancy Nancy Bonjour Butterfly" graces the cover of the Fall Preview catalog, for example. She is a 9-inch cloth doll with a molded face who appeals to both young people and collectors. The first page flips open to "Little Black Dress Cissette Trunk Set"—a classic yet chic and stylish wardrobe accompanies the doll and trunk. Opposite the set is the Radio City Rockettes collection, including a Swarovski-crystal bedecked "Cissy." More pages reveal show licensed products with promise to be collector favorites, such as country yet elegant "Opening Night at the Grand Ole Opry" and Alexander's first take on Elvis. Another page-flip yields holiday occasion "Wendy" dolls,  recently reintroduced "Tiny Betty" dolls and another Cissette trunk set—this one Christmas-themed.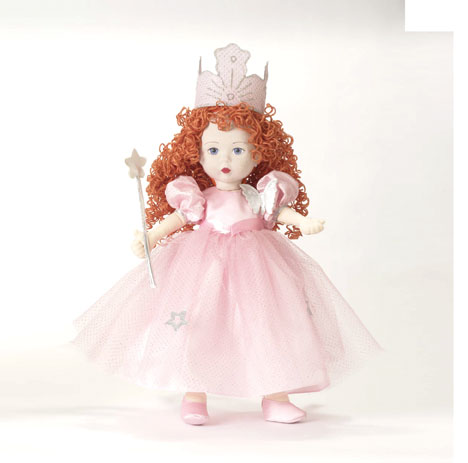 The remainder of the catalog is mostly dedicated to cloth dolls, such as Fancy Nancy, "Eloise," "Madeline" and new this fall, the "Wicked Witch of the West," "Glinda the Good Witch," "Dorothy" and "Alice in Wonderland." "They're of extraordinary quality. Although they're a play product, they're collectible, too. For example, most of these dolls have molded faces," Morgenstern says. "There was a void in the marketplace for a long time. … Nobody made a quality cloth doll or hasn't for many, many years."
The cloth dolls' quality stitching, material and detail, Morgenstern says, is in line with that of their other dolls. "Nobody makes a better cloth doll than Madame Alexander," he asserts.
Interestingly, as Jarvis points out, Alexander Doll Co. started out by making cloth dolls in 1923. On this level and many others, she is staying true to her ultimate goal—preserving the company's celebrated past while creating an equally legendary future.