Photos courtesy of Marlene Xenis
I recently had the chance to chat with Marlene Xenis, the owner and driving force behind Xenis Gallery. We were talking about the ever-changing, always-evolving demands of owning and running a handmade business. (And this exchange was for DOLLS magazine's sister publication, HANDMADE BUSINESS! How fortuitous!) Here are some of the highlights of Xenis's view of what it means to be an intelligent entrepreneur and an artistic soul — two very essential ingredients for success and longevity.
Xenis has been immersed in the doll world for more than 30 years: she oversaw the Xenis Collection for 20 years, and is now making her magic (and her mark) with Xenis Gallery for the past three years. One of the reasons why she persists in this field is to elevate her chosen art form — something that she fears might disappear and evaporate away: "The tradition of hand carving is becoming a lost art. You do not find many wood-carved ball-jointed dolls on the market in this day and age."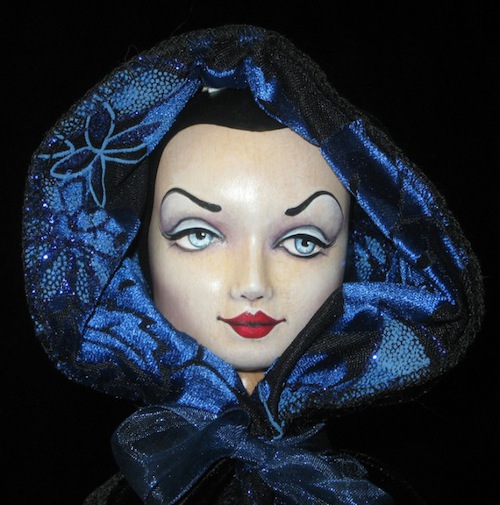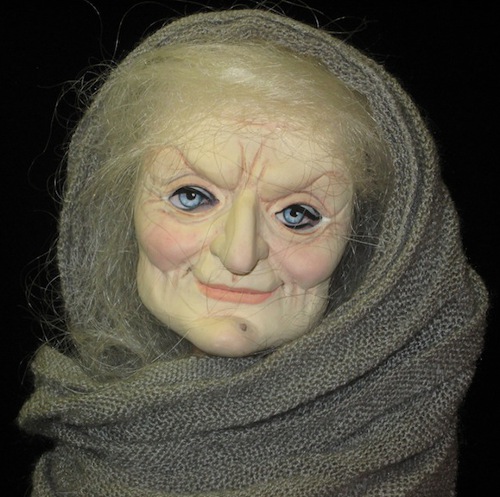 (Two sides of the Evil Queen: Beautiful and Ugly dimensions)
Xenis is making sure that her beloved niche doesn't become a forgotten and dismissed talent. "My mission remains to shape the wood into the most beautiful dolls and to let the warmth and life of the wood bring life into each creation," Xenis affirms.
That is a very special facet of the Xenis world of dolls. They spring from a natural, organic source. Just as they replicate life — so many of the Xenis dolls are portraits of recognizable, real people — they are made from a living organism. This blending of form and function, lifelike imagery stemming from a living source, raise the dolls above mass-marketed, mass-produced "toys."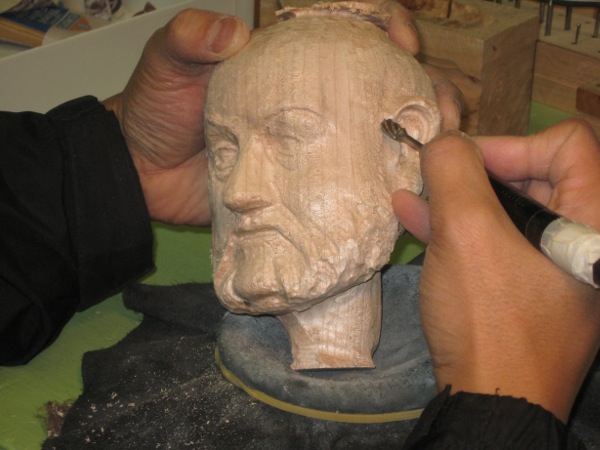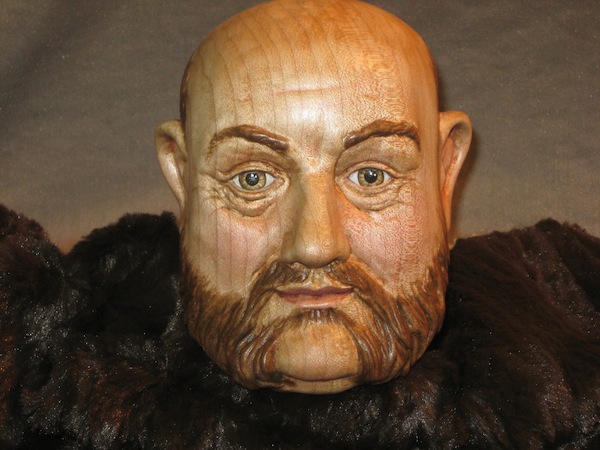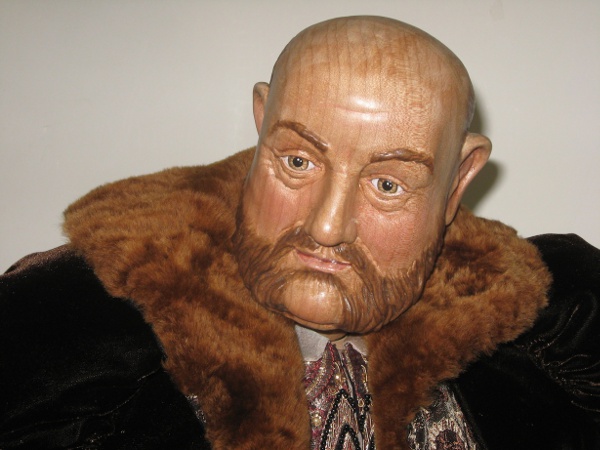 (Xenis' commission work runs the gamut of folkloric characters to royal kings.)
"I am working in the art-doll world. Trends don't really apply to this world. For Barbie and other mass-produced dolls? Yes, there are trends. In the world of art dolls, it is different," Xenis stresses.
One of the interesting components of her company is their commitment to natural and sustainable materials. "Whenever possible, we use maple that has been clear cut," she explains. "We live in a rural area and have neighbors who are cutting down maples, which we have taken to using."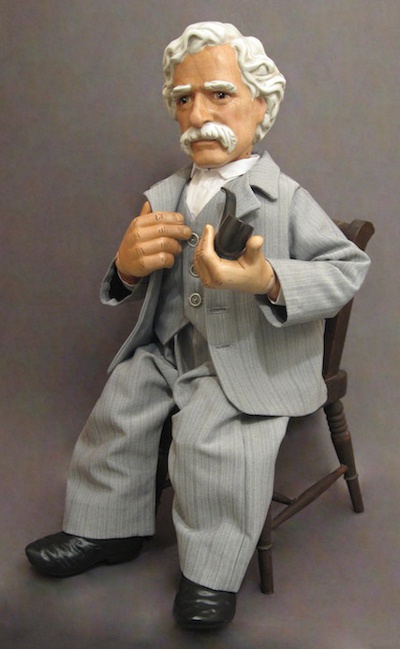 (Mark Twain seems to be alive and well.)
The conversion from maple wood to breathtaking doll artistry is simply amazing. The dolls are wonders to behold — bridging the gap from time-honored tradition to contemporary stylings: "I see our dolls as original, unique, beautiful, and striking. There is an attention to details. Our ideal collectors are many and diverse. They are doll collectors, collectors of art objects, and music box collectors. Several of our dolls are indeed musical."
Over the decades, Xenis has seen the doll world go through ebbs and flows of fame, fortune, and publicity. There are times when everyone seems to gravitate to the doll art, and other times when collectors' minds seem to be poised elsewhere. She has learned to adapt and adjust. She has happily welcomed commissions and gladly accepts requests. "We accept commissions and have done several over the past few years. We do sell through direct sales and these have kept us in business these last few years," she remarks. "The last few years have been difficult for all artists."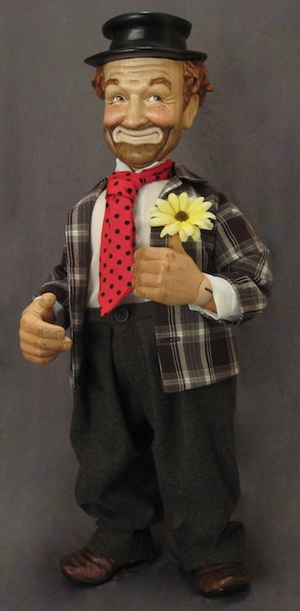 (Comic legend Red Skelton is brilliantly replicated.)
When business seems to be waning, or the future seems murky at best, Xenis draws upon her inner fortitude. The life of an artist is not a guaranteed, safe one. It is no place for people who are complacent or easily discourage. She has words of advice for people who want to strike out and follow their own artistic paths: "You must be tenacious. Dig in your heels and strive for the best that you can do with each project. Do not let negative comments affect your work. Take each comment and treat it as constructive. This is how we all learn. Appreciate others' artwork as well."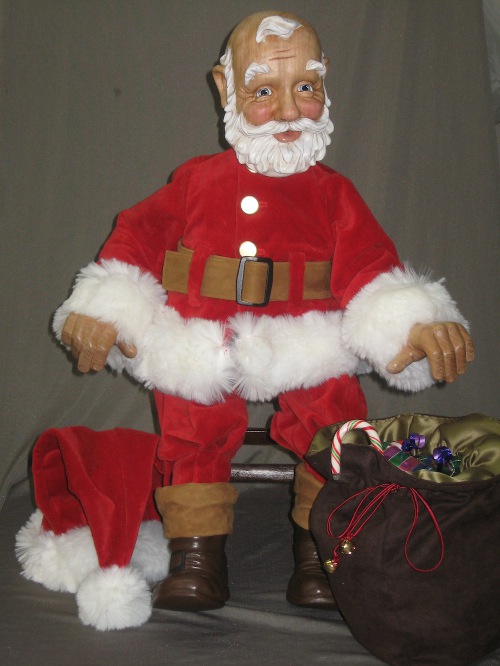 As a respected artist, "elder" stateswoman, and revered pioneer in the expansion and re-defining of wood-carved dolls, Marlene Xenis has done it all and seen it all. She has an outspoken candor about the 30-plus years she's been involved in her chosen field's highs and lows. Though it has often challenged her, she has always been loyal and committed to working with wood and working to "birth" dolls: "This is a love/hate/love relationship. You love the ideas you have … hate the tedious process of putting everything together. Then you love it again when it is almost finished. You get to sign it and ship it off to a collector who will love it as well!"
Created from natural wood, being made with loving hands, the Xenis doll ends its journey in a natural and loving way: it completes the cycle of doll life.