Doll photos courtesy of Creations in Porcelain
"Downton Abbey" photos courtesy of PBS, WGBH, Boston
Well, I aim to please. Currently there are no more Claire dolls to share, but as soon as one comes around the mountainside, I will certainly post and give a glimpse into creations. What I can do, though, is share another big TV ratings bonanza (no, not Little Joe and Hoss Cartwright), but the gorgeous Edwardian Age of "Downton Abbey."
After six seasons, the British series has become a sensation on both sides of the Atlantic. Two years ago, I attended a traveling costume exhibition showcasing some of the program's most memorable outfits. The displays were backed with lovely videos of the actors wearing the ensembles, and it was truly beautiful. (I actually saw one of the event's attendees crying with happiness as the Mary-Matthew proposal scene played on the wide screen. I have to admit, I found myself tearing up a bit, too!)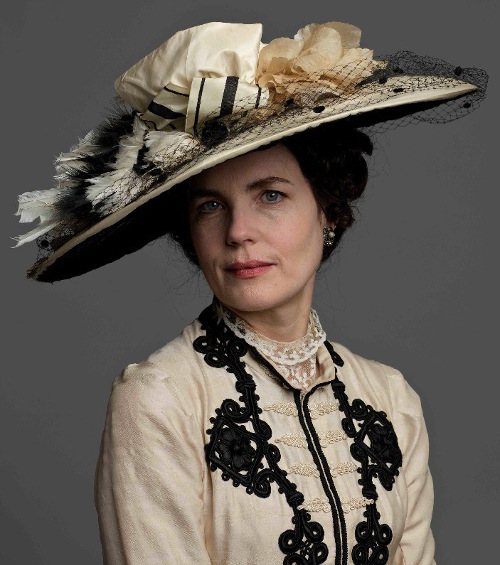 (Elizabeth McGovern as Lady Cora Crawley, Countess of Grantham)
Like all television Anglophiles, Monica Reo was right there in front of her "telly" on Sunday nights. Watching the PBS drama unfold inspired Reo to sit down and sketch out some truly exquisite dolls inspired by the characters and their luxurious lifestyle.
One of the most popular characters on the epic series was Lady Cora Crawley, Countess of Grantham. As played by American actress Elizabeth McGovern, she was a woman with her feet planted on both sides of the ocean. Born and raised in the United States, Cora was an heiress — a woman born with a fortune but not a title. After all, we Americans shun those trappings of aristocracy (wink, wink). Her marriage to the Count of Grantham, Robert Crawley, could have just been a matter of title-hunting. He got her cash to pay for the upkeep of his mansion and obligations; she got the entrée into a world of nobility and swells.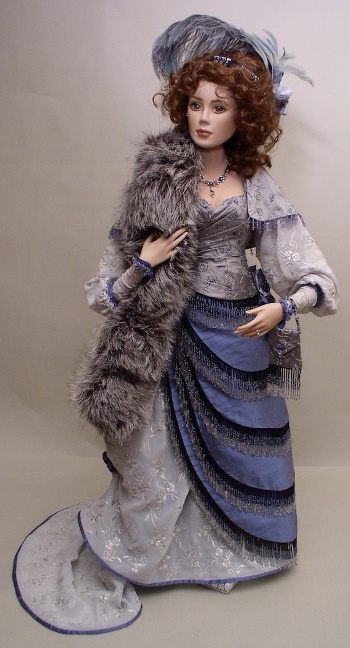 (The Lady Cora Grantham doll by Monica Reo)
However, McGovern played Cora as a woman who was smart, sharp, forthright, and practical. Though she was warm-hearted and caring, she was astute enough to know what people might have gossiped about her background, and strong enough not to let it truly matter. Reo captured that in her 32-inch portrait doll, which was garbed in a 1900s-style evening gown, done in shades of blue, dove gray, and silver silks. It featured beaded trim, and was topped off with an opulent headpiece and a stunning silver-fox wrap.
Reo really likes the Cora character and has the highest praise for her traits: "I think she is the epitome of grace and beauty. Cora is a lady whose character qualities are like the women in Chapter 31 in the Bible's Proverbs. She is virtuous, wise, strong, kind, and diligent. Her steadfast love for her family — along with genuine concern for others that may come into her life — is so inspirational to me."
Wanting to capture the feel of a high-society matron and her fashions, Reo posed the doll upon a custom marble base. The Countess of Grantham has soft, brown, painted eyes and deep auburn hair.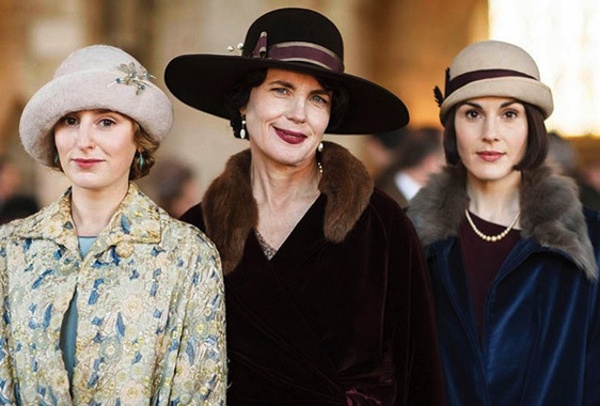 (Family matriarch Cora and her two daughters, Edith and Mary.)
Another doll that was birthed because of Reo's Downton devotion was "Alicia: The New Hat." Reo saw how essential a "chapeau" was in the world of Edwardian England and she created a tableau that drives that point home in a splendid, sartorial way!
"I am such a true-blue Downton fan. That was the pivotal inspiration behind Alicia's vignette," Reo shared with me. "I gave her a bedroom that was filled with all her precious treasures. I set the vignette in 1915."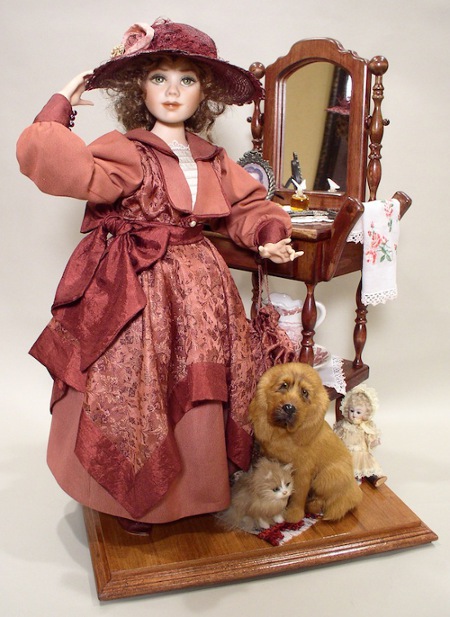 (Alicia: The New Hat was inspired by Reo's Downton devotion.)
Surrounding Alicia are some of her favorite things, which included her loyal canine companion, Byron, and her brand-new kitty friend, Cleo. Every inch of Alicia's attire is an ensemble that could have been part of the television's traveling trunk show. It is that meticulously imagined!
"Alicia's frock is a one-of-a-kind creation, and I made it in a warm red burgundy silk palette of different shades. It complements her new hat, and I think it is quite lovely," Reo detailed.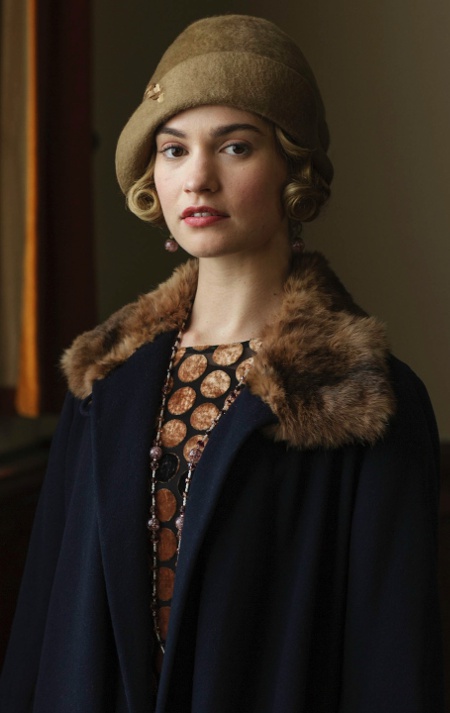 (Lady Rose MacClare Aldridge, played by Lily James, shows off the value of a good hat!)
Also, adding quite the accurate touch to the scene, are the niceties that surround this well-heeled young woman. In addition to her pets, she also reveals her good-hearted nature with her tiny childhood doll, peeking out from the right-hand bottom, and a framed portrait of a loved one on her vanity table. The hardwood floor was custom-made for the tableau, and the mirrored dresser is a replica of an actual 1900s-style piece of furniture.
Alicia was a 20-inch porcelain creation, and her green painted eyes are keenly bright and sparkly. "I wanted to capture her excitement. She is overjoyed because she is going out visiting, and she is wearing her brand-new hat!" Reo pointed out.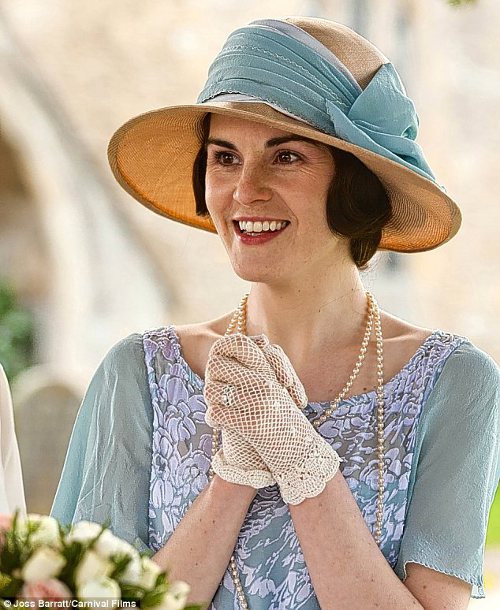 (Lady Mary, portrayed by Michelle Dockery, is a vision in pearls and hat!)
The same way that viewers around the world visited with the Crawley family every Sunday night — and held their breaths, laughed out loud, and sometimes broke their hearts — the Alicia doll embodies that bygone sense of socializing and "proper" garbing. With "Downton Abbey" off the air — but still streaming on Amazon for Prime members — TV viewers and doll collectors can get their fix with dolls that mirror those past sentiments, experiences, and manners: "I am pleased if 'Downton Abbey' fans see my dolls and recognize my inspiration."