Photos courtesy of Southern Angels Nursery
While the new year is still in its infancy — I have to confess, I am having a hard time writing "2017," it doesn't seem possible — my focus for this week is understandably on babies. Yes, I am highlighting the little faces and wiggly toes that make the world that much sweeter and enjoyable. It makes sense to celebrate baby dolls in January because of the "New Year Baby." Does anyone out there know what I'm talking about, or has this onetime popular icon gone the way of the Discman, the Walkman, and the transistor radio? (Try wearing a Walkman or a Discman while you jog or speed-walk around town. You might as well be dressed in a Paul Revere costume — that's how antiquated the headgear has become!)
Baby New Year was always a popular illustration for editorial cartoonists, magazine art directors, and greeting-card companies that wanted to show off the freshness and blank-slate possibilities of a brand-new year. Interestingly, the little tyke was almost always portrayed as a baby boy garbed in a diaper, a sash (with the new year's date emblazoned across it), and a top hat. Yep, Baby New Year was dapper in a real old-school way, sort of like Planter's Mr. Peanut or Mr. Monopoly. He is dressed like a tiny "man about town." Of course, by the time December 31 totters around, the shiny new year has become one for the books — a 365-day opus that a lot of people can't wait to close the covers on. (Add me to the roster of folks who are bidding 2016 a boisterous farewell and good riddance. I can't cope with the back-to-back departures of Princess Leia and Molly Brown, the talented Carrie and Debbie.)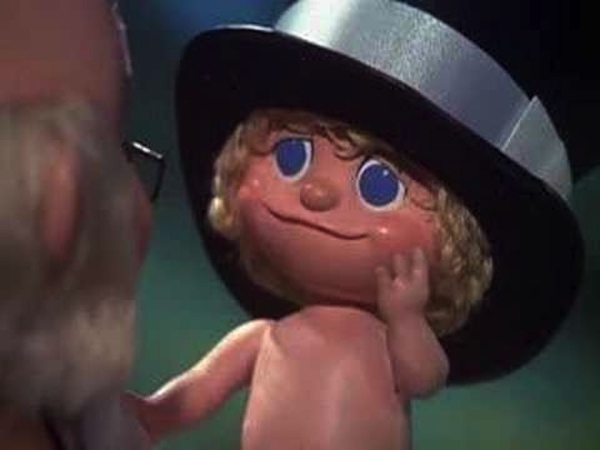 (Baby New Year co-starred in "Rudolph's Shiny New Year" cartoon. Courtesy of Rankin/Bass Productions)
By the last calendar day, Baby New Year loses his sheen and is then depicted as a bent, bearded, long-haired, stooped old man. Quite a quick maturation in a one-year period, I'd say, so that's why this week's posting is all about optimism and fresh starts. It makes me quite giddy to showcase the wholesome, heart-grasping creations of Gretchen Anthony. A reborn artist extraordinaire, Anthony chatted with me for a Debut of Dolls feature, and her work has made a lasting impression on me. It is the kind of interpretation of life in doll form that doesn't seem humanly possible. When you study her dolls, you feel like you have tiptoed into your own child's nursery, or you are a babysitter once again, quietly making sure your charge is soundly sleeping before Mom and Dad return home. Her dolls elicit feelings of care, concern, and unconditional love.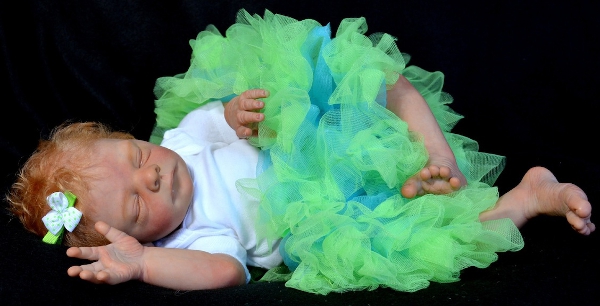 Residing in Georgia, Anthony named her reborn business Southern Angels Nursery. You couldn't dream up a better and more evocative title for her company. Her creations do seem heaven-sent, and they absolutely look as if they should be slumbering in a crib or a bassinet. Anthony's main purpose is a laudable one: "I want the babies to look as realistic as possible, with a great attention to small details. I do not rush through the process to complete dolls for a quick sale. Rather, I create pieces of art for collectors to cherish for a lifetime."
Anthony grew up as a doll collector. One of her fondest memories involves her mom's selfless determination and dedication to acquiring a Cabbage Patch Kid for her and her sibling. "My mom waited for hours in line, several days in a row, just for the possibility to purchase a doll for me and my sister. It was such an exciting day when she surprised us after school with those lovely dolls," she recalled. As a matter of fact, to this day, Anthony has that CPK doll at home in a place of honor.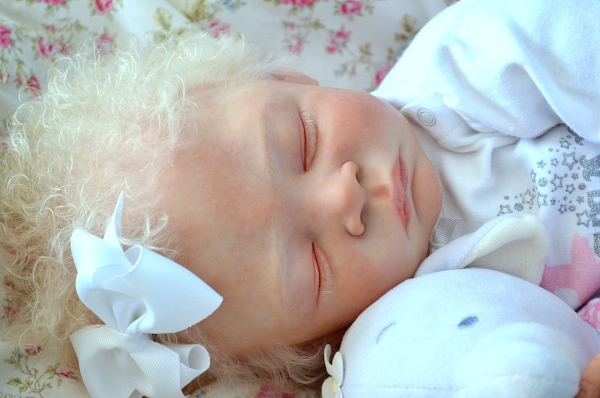 In addition to enjoying playtime with her dolls, young Gretchen also occupied herself with coloring and drawing, painting and sketching. She was drawn to the arts. As an adult, she combined her creativity with her childhood passions and found a great deal of satisfaction restoring vintage and antique dolls. While scouring the Internet to discover a needed part, she stumbled across the world of reborn dolls. She was fascinated by the photos and felt that this was an arena where she could thrive. "I am not classically trained, but rather I paint from the heart. I continue to research new techniques, paints, and materials, always using the best. I think as artists we will always continue to strive to become better," she asserted.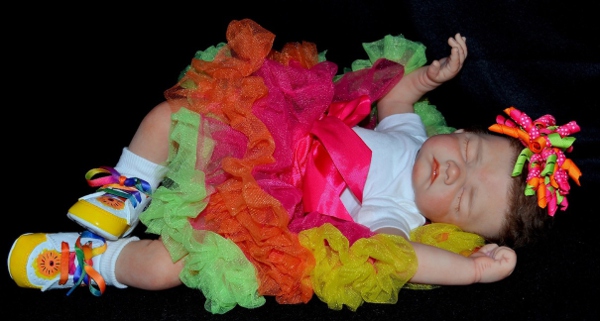 Her reborn dolls are a testament to her talent and her love of children. At the time of our interview, she was a very happy stay-at-home mom. She described her kids as "amazing and awesome," and her dolls key into her openhearted view of the youngest among us. "If my dolls can raise someone's spirits and remind them of a child that they have loved, I feel so honored," she admitted.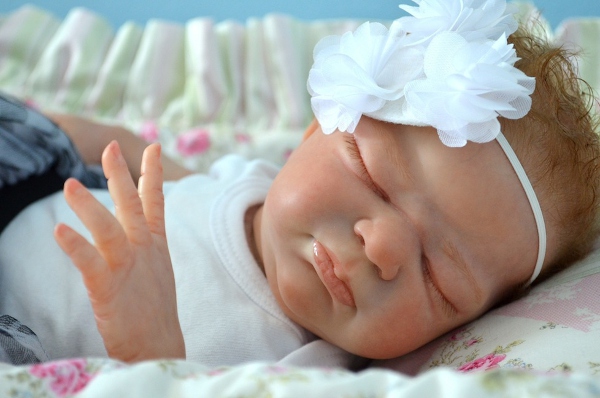 The self-effacing artist accepts commissions and dreams up original dolls that communicate with people's souls. They are three-dimensional embodiments of purity and peace. "I am deeply touched by having the privilege to provide some happiness to a person with my art dolls," she says. "I have always had a great love for all art, and I am always amazed by the way that it touches each person differently."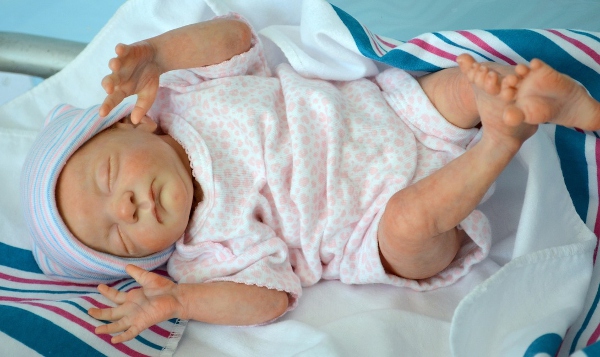 I hope glimpses of these lovely visions and works of art inspire all of us to treat the new year as a brand-new, soulful creation. I have my fingers crossed that we can mold and nurture these unmarked 360+ days into something that will make us proud and make a difference.