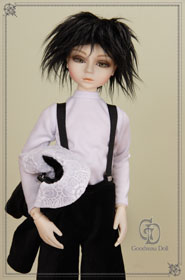 The first time Goodreau Doll designer Paulette Goodreau held a ball-jointed doll (BJD) in her hand at a convention, she "an­nounced to the whole room, 'I'm going to make these.'" People thought Goodreau was kidding, but several years later she followed through with her declaration in a big way. Goodreau was so captivated by that first BJD because "you can pose them; you can change their eyes; you can change their wigs, so they become entirely new dolls. I take my dolls apart anyway, so for me, it was a win-win situation." She likes the way resin warms to the touch, too. Together with her sister, Annette, who owns and operates the company, Goodreau launched two play doll lines—Nono and then Snappy dolls—taking the duo from long-time doll collectors to dollmakers.
The year 2007 saw the introduction of the American BJDs. They were such a hit with collectors that the Oakdale, Calif., company introduced a new 2008 line that includes vinyl in addition to resin dolls. Two dolls from the line sold out just three weeks after release. Also new in 2008 is the American BJC (ball-jointed critter) line. One collector who caught onto the Goodreau buzz is Tina Gaunt of Pike­ville, Ky. She's a fan of the Goodreau family and the dolls (she has every one of them). "I find their faces soft compared to most BJDs. To me they have a more realistic appearance.
I also enjoy her (Goodreau's) costuming. They're very original designs." Goodreau didn't sculpt her 2007 BJD line because "I didn't know I could sculpt." But in 2008 the artist, who has a degree in life drawing, tried her hand at it with "Hint" and "Schemer," basing their sculpts off her nephews, as well as the body of "Julia." She also sculpted the entire BJC line, which she says was easier.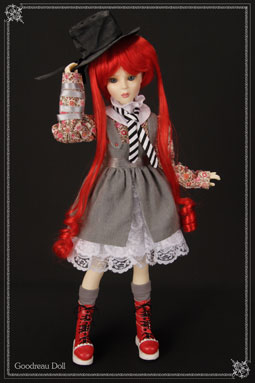 Goodreau has made a home for 17 rescued pets. "I love animals. I got to do the best of both worlds—an animal head with a doll body. It's fun to put clothes on them." Ball-jointed dolls aren't typically available in vinyl, but Goodreau offered her 2008 line in that medium for several reasons. Some people can't afford a resin doll, she says, or would like to see what a ball-jointed doll is like before investing in one. Another reason for the vinyl is to make them more affordable for teenagers.
Goodreau's BJDs are simultaneously sweet and funky, and Goodreau says she loves scouring teen fashion magazines as well as stores like Hot Topic and Forever 21 to get inspiration for their costuming. "I really like a funkier wardrobe … not to the extent of the dolls but sure, I have quite a wild wardrobe," she laughs. The inspiration for Goodreau's BJC line is personal, too. The animals represent the charities she and Annette give time and money to. Also, "Aidyn," a little girl who is part of the line, brings awareness to spina bifida, a condition her niece was born with, but she is now repaired. "We did the BJC line to give people something new and exciting that's different and so they have a companion for their BJDs. They're also to create a little animal awareness," Goodreau says.
But whatever the latest ball-jointed creation Goodreau is designing, she says, the important characteristic about BJDs is "with other dolls, the artist's personality shines through, and with BJDs, the collector's personality shines through."