(Wiggle, Giggle, and Goofball)
Photos courtesy of Bo Bergemann
I was so happy today to receive an e-mail from Bo Bergemann, an artist who is often associated with tropical climes and swaying palm trees. Even though paradise-like locales and temperate breezes pop into my mind when I think of Bo, she's also extremely connected to Christmas and all things "merry and bright." If Santa's elves learned to master the hula dance, and traded in hot cocoa for coconut juice, Bo's dolls would be right at home at the North Pole. (Or, more likely, the re-named Very Hot and Sultry Sunny South Pole!) Though most of her dolls have an "Ariel, the Little Mermaid" vibe, she is quite adept at coaxing out her inner Olaf, the jolly snowman from "Frozen."
Living in Hawaii, Bo has a very laidback and beachy feel to a lot of her work — girls in Polynesian-style garb, leis around the neck, palm fronds at the ready — but she also excels at fantasy characters (elves, fairies, and other mischief makers) and, of course, creatures that stir around the house at Christmastime. This is a side of Bo that shows off her versatility and ingenuity.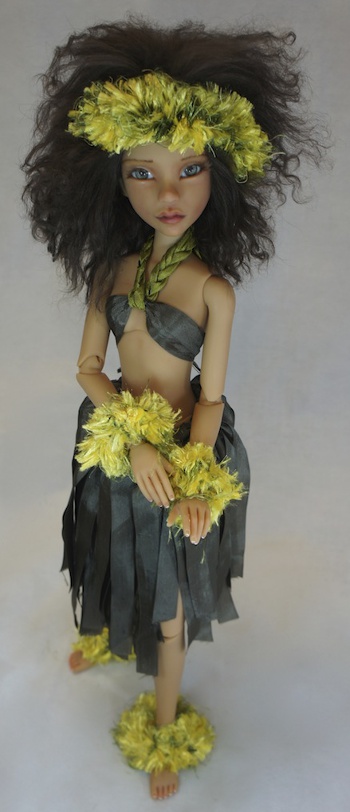 (A Hawaiian example of Bo's work)
I looked back at some of my past correspondence with her — I've written quite a few articles over the years — and here are some of the fun things that have stood out!
Though the world knows her as Bo Bergemann — a name that has such a delightful alliteration to it — she was actually born with the last name Luckau: "Sounds Hawaiian, doesn't it? But it's German. Luckau is the oldest walled city there still is in Europe, I think. My dad was from Germany and married my mom in California and moved to Hawaii to build condos. His legacy still stands in Kihei and Wailea Maui today."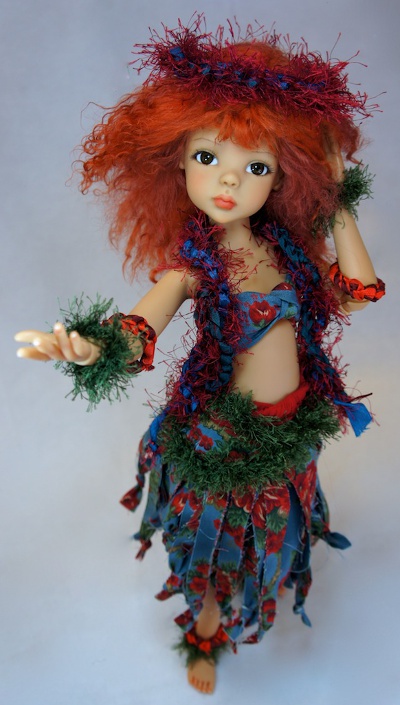 (Bo is understandably proud of her Hawaiian roots.)
Her first name of "Bo," which is so adorable and sweet — isn't it? — is a nickname that stemmed from a popular TV personality: "I was 2 years old, still in diapers, and my mom went to an exercise class each weekend. When she would get home, my dad would be watching wrestling on TV. Someone named Bobo Brazil was popular at the time, and he had a rather chubby physique. It was similar to mine as a toddler. So when she arrived home to find my diapers drooping around my knees, with my belly hanging out, and him staring at the wrestling on TV, she said, 'If I named her Bobo Brazil, would you change her diaper?' My father thought that was very funny and it stuck. So they called me Bo Bo. My sister was just one year older and she called me Bo Bo, as well as my younger siblings as they came along. Over time, it shortened to Bo. But all my life my family has used it!"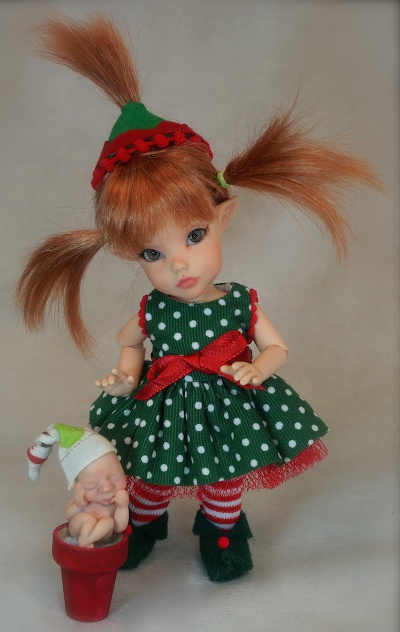 (Bo's elf doll and newborn baby)
It's surprising to discover that the name Bo originated from a supermacho scrambler, but that's the kind of insight that makes all of her works so intriguing. Bo's dolls aren't what you expect, and neither is her background.
Her father's success as a builder was coupled with his respect for the natural landscape and the island's residents. He enacted legislation to prevent the building and overdeveloping of the shore side of the roads, and lobbied for laws to place a cap on the heights of architecture that sprang up. "My father was determined not to let Maui end up looking like a city," Bo proudly revealed. "He is gone now, but Maui shores will remain unfettered and open to all, in part because of laws he championed long ago!"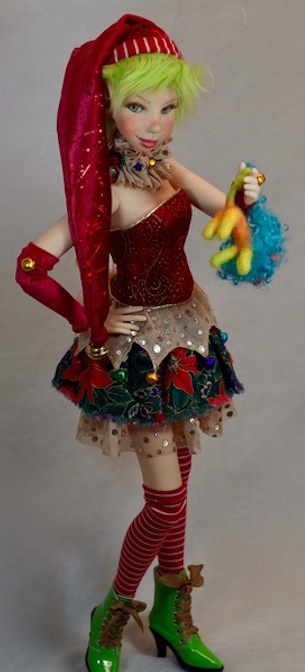 (A sexy and sultry elf)
That connection to her home, her family's legacy, and her background is deeply important to her, and it particularly raises itself at Christmastime. While many folks think big turkeys and baked hams, sweet potatoes and mashed potatoes, for a sit-down feast, Bo envisions . . . chop suey!
"My children are adopted, so my family is definitely chop suey! We have 12 races in our background that we know of! Few people are even surprised, or react at all, when they know my kids and then meet me — or vice versa — because it is so common in Hawaii. We don't have to look alike to be a family — and that's a great lesson to keep in mind!" she pointed out.

(Winter Wonderland Light)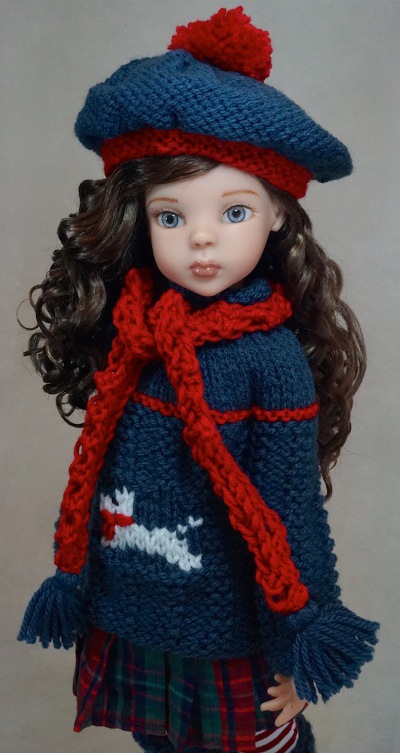 (Winter Wonderland Dark)
As the holiday season continues to snowball around us — or in Bo's case, sends calm, wafting winds our way — that is a fabulous philosophy to keep in mind. Families can differ in many ways — in mannerisms, appearances, beliefs, attitudes — but they are connected by their common traditions and respect for one another. Bo displays it in her dolls and in her consideration of her customers and fans.
"I do not worry about trying to actually sculpt a specific person. Of all the art involved in my doll making, sculpting is the easiest and the most enjoyable part for me. So I relax and enjoy it. Then at some point someone appears," she noted.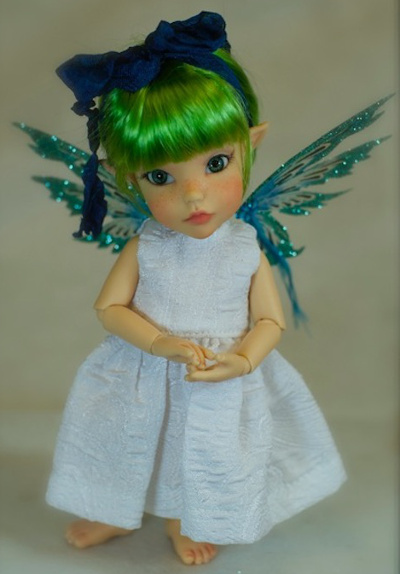 (Kimi Fairy)
"Sometimes it's a look as I sculpt the eyes in, and I know I'm on the right track. Other times, it's a touch of beauty I see in the mouth or an expression that grabs my fancy. The next thing you know, I find myself naming the sculpt and imagining a whole life story. I have many more sculpts than I could ever make into dolls. Only those that keep calling to me ever get to the next step, because I am always amid so many projects at once. It is not something I plan, but I am always excited to see which dolls do shout at enough times to get finished and created!"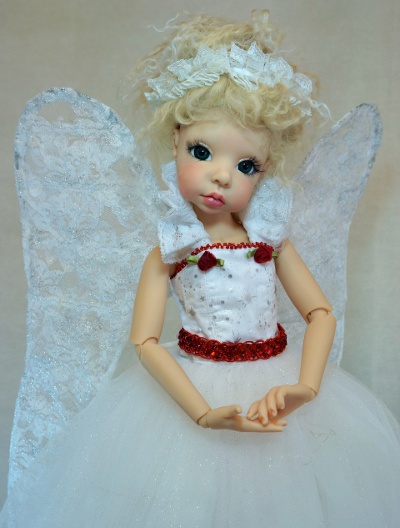 (Christmas Angel)
When her collectors say they can see parts of Bo in her completed work, she admits to being mystified and bemused: "If I put a blond wig and blue eyes on any one of my dolls, someone says it looks like me! I don't see it at all. But because I think my dolls are beautiful and so youthful, I am usually flattered by this compliment. It is not my intention. My dolls aren't portrait dolls of any one person, per se. Rather, they are celebrations of all the people I've met and loved in my life!"
Doll artistry, a family she adores, a loyal following of collectors — is there anything else that Bo Bergemann could desire at Christmastime?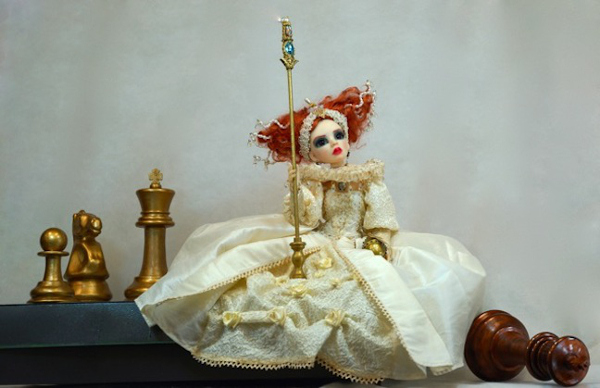 (Elizabethan Dreams)
"If I could wish one thing for people everywhere, it would be to experience 'hanai.' That is the word we use for taking in someone who is not family and just making them family. Treating them as if they are. It is a profound gift and blessing that the Hawaiian people shared with every new group that came to Hawaii. So that now, the children of Hawaii really are as culturally diverse and communally accepting of one another as any place in the world, or more so. I'm proud to be one of those children. I am so grateful to have been raised here and been allowed to raise my family here," Bo sincerely shared with me.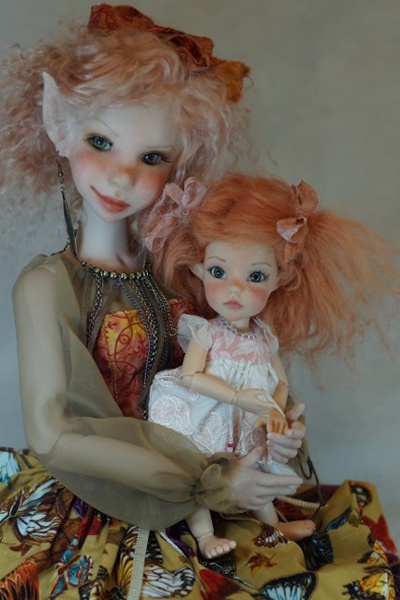 (Sassafrass and baby embody the joy of the season.)
"I wish all people, everywhere, could belong to a family, a hometown, a place, that they love, and that loves them in return!" she wrote. In the immortal words of the Christmas classic tune, sung by Hawaii's own Bette Midler: "Mele Kalikimaka!"