When "Gene Marshall" made her debut in 1995, it sent shock waves through the doll-collecting community. Her ascendancy from "obscurity" to "mega stardom" was akin to the breakout screen roles that launched Marilyn Monroe, Sophia Loren or Audrey Hepburn from mere film supporting-player to gold-plated superstar. It was an unveiling that trumpeted a message, loud and clear, through the ranks of adult aficionados: Here was a doll that was designed to be unboxed, undressed and unleashed. It was a revolutionary concept, and the doll world has never been the same.
Back in the days before Gene (B.G.), adult collectors of dolls were encouraged to keep their wares pristinely packaged and never-removed-from-boxes. The dolls were promoted as being investments, and the acronyms that keyed into this collectible consciousness pre-B.G. would be at home in a can of alphabet soup: MIB, NRFB, A/O, M/C, OOAK, etc. Gene broke the mold when it came to doll collecting. As she and her handlers at The Ashton-Drake Galleries were quick to point out: She was made for play, and we collectors were encouraged to "Share the Dream."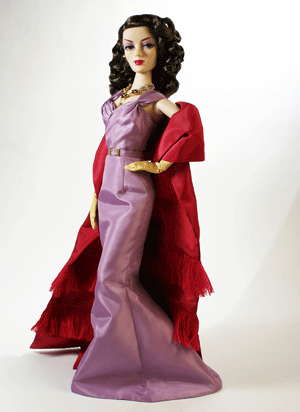 The brainchild of illustrator Mel Odom, Gene was an original, a doll with a backstory and a reasonable explanation for her many looks and moods. Her first year on the market, she made a splash as a beautiful blonde ("Premier"), a radiant redhead ("Red Venus"), and a brilliant brunette ("Monaco"). It made sense that Gene would have these wild mood swings from saucy siren to blushing bride: After all, she was a movie star, and movie stars are born to play many roles.
In late 2005, Integrity Toys took over the caring and cultivating of Gene, and the beloved actress and her coterie of Hollywood pals continued to gain fame and thrill followers. This year, 2010, the Hollywood legend is taking a well-earned hiatus from the spotlight and the hoopla. Gene and her couture cohorts ("Trent,"  "Madra,"  "Violet,"  "Zita,"  "Ivy,"  "Oona") will all be taking their final bows, and the applause that will greet their departure is mixed with sincere sadness and deep appreciation.
"I think, at first, everyone was a little shaken and very much stirred when we released the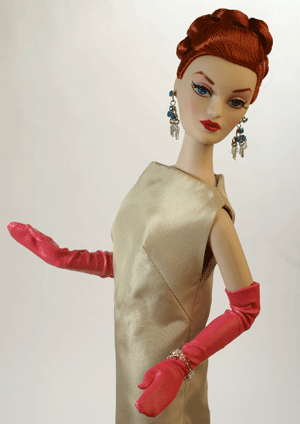 press statement last October about Gene retiring. No one likes change in his life, me included," remarks Alain Tremblay, marketing director of Integrity Toys. "We all want things to go on forever. With things like hobbies, and even more so with dolls, these are our escape from day-to-day routines. It becomes like a security blanket. Who wants to lose something so comfortable? But I think that ultimately everyone realizes that behind the vinyl and the glam, there's Gene's creator and his wish to move on. I think once the initial shock passed, logic kicked in. I want to think that diehard Gene collectors and casual fans alike have come to respect Mel's choice and are ready to say 'Thank you for bringing so much joy into our lives for the last 15 years!'"
Gene taught collectors that it is okay to dream big and to reach for the stars. And in her near-16-inch form, she was able to be cradled easily in the hand, and forever in the heart. It's fitting that her farewell soiree/gathering, to be held in early June in Philadelphia, is titled "Stardust," for the mesmerizing heroine has always combined the heat of a star with the ephemeral fragility of fairy dust. Shine on, Miss Marshall!
Make sure you read the whole article in the August 2010 issue of DOLLS!
Photo Caption
"Gene Marshall" made her final appearance as Triumph (from top) at The Gene Marshall l5th Anniversary Celebration. Gene's gal pal "Ivy 'Vee J.' Jordan" made a lasting final impression as Fringe Festival. And "Oona" bowed out gracefully as Bellweather.