As spring approaches, we look forward to certain absolutes–short sleeves, flowers blooming, children giddy with spring fever, and beautiful dolls from The Alexander Doll Company. This year is no exception as the company showcases its hot new looks for 2002 at the American International Toy Fair in New York City and gears up for its 80th anniversary next year. "Our overall feeling," says Al­ex­ander's President, Gale  Jarvis, "is that we've kept to our tradition, staying true to who we are, but that we're taking our company to the next level. We're ex­panding our Alex line, in­tro­ducing Hannah Pepper and bring­ing new looks and characters to our Petite Playhouse and Wizard of Oz lines, to name a few."
Building on popular existing lines, and creating new sensations, the folks at Alex­ander have been hard at work for 2002. Among this year's surprises, a beautiful Screen Legends series celebrating dynamic actresses of the silver screen, a new Coronation Collection marking the upcoming 50th anniversary of the ascension of Queen Elizabeth II, and an energetic new playdoll ser­ies–Hannah Pepper and Her Friends. Beautiful new additions for Cissy, Alex, and other Alexander favorites promise a good year for Alexander collectors of all stripes.
"You'll also see a difference in the colors, fabric and makeup we're using this year," notes Jarvis. "You're going to see a lot more of what you see in today's world. Our long-time collectors appreciate the freshness, and it will also appeal to the next generation of collector."
Precious Jewel
Alex Fairchild Ford–that paragon of style and editor-in-chief of Élan magazine–has a new friend: Jade Lee, a 16-inch, Asian-American vinyl beauty with flowing black hair and sleek good looks. Like Alex, Jade wears haute couture clothes, but hers incorporate a personal East Asian twist.
Each doll will feature a story, and a tiny copy of the magazine.Prices for the Alex series were not finalized at press time. "Jade is one of our biggest highlights this year," says Jarvis. "Her character is that of a young hot architect out of San Francisco. A long-time friend of Alex, she's been hired to design Élan's sleek new SoHo offices."
Alex debuted two years ago to great reviews, and was followed last year by Paris Williams, the entertainment editor for Élan. "Paris' debut at Toy Fair last year was a huge hit," enthuses Jarvis. "But Jade will be the new talk of Toy Fair. She is it!"
Although each doll is the same size, they have distinctly different wardrobe "personalities." "Golden Lotus Jade," for example, is resplendent in a kimono-inspired midriff-bearing outfit decorated with ornate butterflies. With her hair twisted in braids, the "modern traditional" look is completed with a necklace of miniature harmony beads. She is limited to an edition of 1,000.
In addition to "Golden Lotus," Jade already has a variety of exciting looks, including "Cherry Blossom" and "Graphic Impact," each wearing urban-chic outfits that will take them from the office to the nightclub, attracting attention along the way. Each is limited to an edition of 900.
Alex and Paris weren't sitting idly by while Jade got all the new looks. They shine too in outfits like "Market Meeting" and "Techno Tweed." Paris works her way into the boardrooms and green rooms of the entertainment world with "VIP" and limit­ed edition "Backstage Pass." Both dress­ed Paris dolls are limited to editions of 1,000.
"The thing that's great about these dolls is that we use unique sculpts created for each character," says Director of Marketing Jane Abrahams. "They're all smart, savvy and wear­ing outfits that come straight off the runways. I would love to have Alex's wardrobe!"
God Save the Queen
This year marks the beginning of the 50th anniversary Jubilee of the reign of England's Queen Elizabeth II. Crowned on June 2, 1953, a year after the death of her father, King George VI, Elizabeth II and the royal family have captured headlines around the world. Alexander commemorates the event with an updated recreation of its original Coronation Collection, as well as two luxurious replicas of Elizabeth's coronation attire.
The ten-inch "Queen Elizabeth II Processional" doll, depicting the new monarch marching towards her coronation ceremony, looks regal in a white brocade sleeveless gown featuring panels with the symbols of the United Kingdom embroidered in gold–leeks from Wales, clover from Ireland, thistle from Scotland and wheat from Great Britain. A vibrant red velvet cape trimmed in gold and faux ermine is secured with faux rubies and highlights recreations of the crown jewels Elizabeth wore that day. The doll is limited to an edition of 500 and costs about $350.
The "Queen Elizabeth II Recessional" doll, 21 inches, is equally splendid. She wears the same dress, but has exchanged her processional cape for a grand purple velvet one also trimmed in gold embroidery and faux ermine. Her Royal Highness now wears the majestic St. Edward's Crown, set with jewels and trimmed in faux ermine. The $950 doll, limited to 250, holds the Royal Scepter in her left hand.
"The colors are amazing–exactly what you'd envision," says Abrahams. "And the cape just drapes off of her. Her coronation crown is incredible."
This isn't the first time the company has honored the Royal Family with dolls. Madame Alexander created Princess Elizabeth dolls from about 1937 into the 1950s. In 1953, Madame Alexander also created a Coronation Collection depicting the royal family, which she donated to the Brooklyn Children's Museum. In tribute to both Queen Elizabeth II and Madame Alexander, the company has recreated the Coronation Collection, a series of eight-inch dolls. "Queen Elizabeth, Crowning Glory" (edition of 500, about $190) comes with ceremonial robe, the St. Edwards Crown, Royal Scepter and the Royal Orb. "Prince Philip, the Queen's Royal Consort" (edition of 500, about $120) is dressed in a black military jacket and red cape. And the "Palace Guard" (edition of 1,000, about $80) stands watch in a traditional dress uniform. "Prince Charles" and "Princess Anne," each eight inches and limited to editions of 1,000, are sold as a set and depicted as young children. They sell for about $160.
Happy Hannah
Today's young girls have a keen fashion sense and an active sense of communal fun. "Hannah Pepper," named after Madame Alexander's mother, is a ten-inch bundle of fun for today's girl-on-the-go.
Dressed in groovy colors and styles mirroring current fashions, "Hannah Pepper" and her friends, "Julia" and "Sophie," provide hours of creative play and dress-up fun with a variety of outfits. "She's someone a child can relate to, carry along and play with," says Jarvis.
"The fun part is, it's Madame Alex­ander, but people might not know it right up front," Jarvis continues. "With trendier looks, new sculpts, new colors and even new packaging, Hannah and her friends are wonderfully different, but they're still Madame Alexander. You can see that in the quality of their faces and clothing."
"Hannah" in striped cardigan has her own sense of style and wears outfits in cheerful, vivid colors that look playful yet sophisticated. Her vibrantly striped cardigan and pink velveteen skirt complement a sunny yellow cotton t-shirt and matching tights. "Hangin' with Hannah" finds the active Pepper ready for a busy Saturday in boot-cut jeans trimmed in pink, a fuchsia top and sporty denim hat.
Hannah's best friends, "Julia" and "Sophie," have their own distinct personalities and fashion sense. Shy and sweet "Sophie" is a brunette, grey-eyed cutie who is always ready with a smile. Her feminine gingham dress is trimmed with large buttons, floral hems and matching sandals. Always where the action is, sporty "Julia" is ready to go in Capri pants, a sleeveless button-down flower print shirt, and complementary es­padrilles. "Julia" keeps her long, copper hair pulled back with a gingham headband.
Jarvis says more friends and new fashions will join the series as time goes on. Each dressed ten-inch doll sells for about $40. Additional fashions cost about $25.
Designs on Cissy
Cissy, the original modern fashion doll, has long been a collector favorite. Last year, Alexander introduced a special Designer Series (DOLLS, December 2001, "Designer Dreams") and the response was so favorable, that the company has followed up with new designs for 2002. Part of its "Arts Section," the Designer Series includes three new limited edition Cissy dolls dressed by top doll designers Timothy J. Alberts, Doug James and Laura Meisner. "They're spectacular," raves Abrahams. "It's great to get the opportunity to work with outside artists. There's so much talent among these three." Each 21-inch creation is limited to editions of 200.
Alberts continues his seasonally themed exploration of 18th century style with "Madame de Pompadour, Spring" (about $800). The simple elegance and pastel colors of the costume are the perfect antidote to those end-of-winter blahs. The doll wears a noble shepherdess-style, form-fitting pale green jacket over a simple satin dress embroidered with spring flowers and lace. She carries a bouquet of handpicked wild flowers and shades her delicate features from the sun with a charming bonnet.
Inspired by the opera "The Ballad of Baby Doe"–a saga of 1880s Colorado mining, politics, class warfare, love, and tragedy–Doug James' "Baby Doe" (about $650) captures the innocent strength of divorcee Baby Doe who falls for the married miner and U.S. Senator Horace Tabor. Dressed in a bronze, fitted jacket and brown-and-tan plaid bustle, the doll displays James' flair for theatrical costumes (he is assistant head of wardrobe for Saturday Night Live).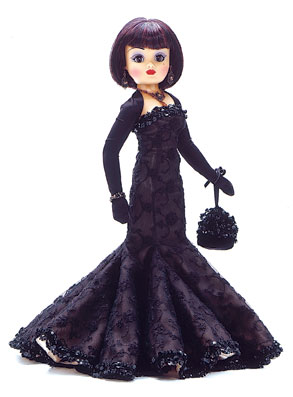 Laura Meisner continues to find the sexy in the traditional with "Equestrian Cissy" (about $500). Dressed in tailored English riding togs, the doll wears a veiled black riding hat. Meisner has added extra flounce to the shirtfront and sleeves for a decidedly feminine touch, while the doll's traditional riding boots are cuffed in tasteful tan leather.
Cissy fans will also want to keep an eye out for "Bluebird Cissy," a very limited edition "Sitting Pretty Yardley Cissy," "Renaissance Garden Cissy," "Taff­­­eta Romance Cissy" and "Cissy's European Holiday Trunk Set," an exciting new feature that includes a silk evening gown with separate petticoat, faux fur stole, rhinestone necklace, a black dress with white jacket, hats, three pairs of shoes, two handbags, two sets of pantyhose and more. The whole ensemble (no doll included) sells for about $550.
Forget Your Troubles
Hollywood in the 1930s, '40s and '50s was known for outstanding act­resses who had the opportunity to portray juicy, unforgettable roles. At a time when women were only beginning to have the chance to stand out in professional and political roles in real life, cinema elevated the intelligent working (and singing and dancing) woman to new heights, thanks to dynamic actresses who remain revered to this day. With this in mind, Alexander has introduced "Screen Legends," a series of new dolls celebrating silver screen icons in some of the their most memorable roles.
First in the series is "Judy Garland in Summer Stock," introduced in December at FAO Schwarz. Although doll collectors have long been able to possess Garland's visage in the form of Dorothy from The Wizard of Oz, other images from her varied career have been harder to find. Created in collaboration with Garland's daughters, Liza Minelli and Lorna Luft, and licensed through Warner Bros. and the Estate of Judy Garland, "Summer Stock" now provides Garland fans with an accurate and beautiful new addition.
The 1950 musical "Summer Stock," Garland's last for MGM, tells the story of Abigail Falbury, a sensible New England farmer who catches the showbiz bug when Gene Kelly and his ragtag acting troupe commandeer her barn for rehearsals.
"Judy Garland in Sum­mer Stock," exclusive to FAO Schwarz, is a 16-inch doll dressed in the sophisticated costume from Garland's famous "Get Happy" number. She wears a tailored tuxedo jacket with pale pink taffeta lining over a black-and-white leotard, Lycra tap pants and black tights. A pale pink scarf with a crystal rhinestone, and matching rhinestone ring and earrings add a touch of Tinsel Town glitz. The black pumps and felt fedora, which became Garland signatures, complete the ensemble.
"It's a fascinating project because it was so complex," notes Abrahams. "We worked with FAO Schwarz, Warner Bros, Universal Pictures, Judy Garland's daughters, Gray Horan (Greta Garbo's grandniece) and Global Icon, which handles the estates for the actresses."
"Summer Stock," introduced last December in time for the holidays, is only the tip of the iceberg. The Screen Legends series will feature Garland as she appeared in some of her most memorable films, including "Meet Me in St. Louis" and "A Star is Born." In addition, the beautiful and mysterious Greta Garbo will be hard to leave alone when her characters from "Camille" and "Grand Hotel" are immortalized in doll form. Alexander has also captured the exotic beauty and simmering sensuality of German chanteuse Marlene Deitrich in the roles she played in "Blonde Venus" and "Shanghai Express."
Three of the dolls–Garland's "Summer Stock," Garbo's "Camille" and Deitrich's "Bl­onde Venus," will be FAO Schwarz exclusives, lim­ited to editions of 2,000. The other dolls in the series so far will be available through Alexander dealers and limited to editions of 1,500. All are expected to sell for around $160. And Abrahams hints that more actresses and more movie costumes are being considered for future releases.
If all of these treasures weren't enough to shake the winter doldrums, the Alexander Doll Company also has new baby dolls, new designs in its Peanuts Gang, Wizard of Oz and Little Women series and, of course, a host of beautiful traditional Alexander styles to whet collectors' appetites. Enjoy!
For more information, contact, Alexander Doll Company, 615 West 131st St., New York, NY 10027; (212) 283-5900.