In the doll-collector community, "Gene Marshall" is synonymous with "classic." Mel Odom launched his 15½-inch fashion doll in 1995, forever changing the face of doll collecting. Depicting an actress' life throughout the '30s, '40s and '50s, the mini-icon with a big backstory took hold in doll collectors' hearts the world over, creating an unprecedented market for fashion dolls for adults. Prior fashion dolls had largely been children's playthings. Dozens of mimicries followed in her wake, but 13 years later, Gene continues to captivate collectors with her archetypical allure. They anticipate each new incarnation Odom and his team at Integrity Toys will dream up.
On Sept. 11-13 at the 13th annual Gene Marshall Convention in Orlando, Fla., more than 200 devoted Gene collectors will witness the talented team's newest vision of Gene and her friends, "Ivy 'Vee J.' Jordan" and "Madra Lord." Dubbed The Girls from Dream City, the convention will encompass three themes unified by cosmic characteristics.
While dreaming up the primary 2008 theme, Integrity Toys sought a solution that would meet collectors' requests for more "out there—on-stage looks for Gene," says Alain Tremblay, executive marketing director and event coordinator for Integrity Toys. However, Gene collectors also demand costumes stay specific to the period she "lives" in. With these criteria in mind, the three-themed concept was born. The convention presents "a visit to various sets and sound stages within Monolithic Studios, [the fictitious studio Odom invented at Gene's inception]. You get a peek into all these different dramas, which gives us the breadth we were going for in this collection," Tremblay says.
The Girls from Dream City Convention Collection consists of three dressed dolls, one basic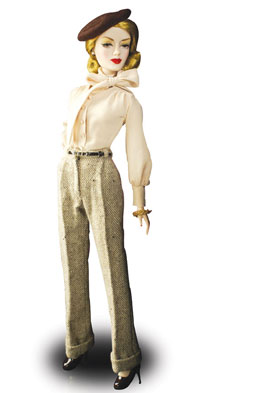 doll and one stand-alone fashion. One theme inspiring the collection design is based on a '60s TV show about otherworldly dimensions. One episode in particular influenced Odom as a child. "A lovely girl is trapped overnight in a department store and gradually discovers that she's actually a mannequin. I think the life of Gene Marshall coming from my imagination fits perfectly somewhere in that story line!" Odom says.
Another convention theme reflected in the collection is Moon over Orlando, a tribute to the '40s musical starring Betty Grable, Moon over Miami. "During the 1940s Twentieth Century Fox had the most extravagant color being used in Hollywood. We went to the amazing Technicolor films that Miss Grable made and chose a beautiful evening gown that captures the combination of the innocence and design bravura of the era," Odom explains. "'Blue Horizon' is a gown specifically designed for dance with a sequined bodice and skirt, and a hemline covered in turquoise feathers."
Next, Odom looked to the unearthly inspiration of the early '50s comedy he invented for the convention, Distant Venus, to inform the collection. The movie's premise is that aliens would learn about earth from the media transmitted through television signals. For the related fashions, "We went to the 1930s and chose really gorgeous costumes from movies that were old enough to have been shown on TV by then," says Odom. "We tweaked them a bit and added elements we considered 'Venusian' in order to create an alien fashion sense based on the assumptions of combined cultures." The designs, says Odom, "work as costumes as well as pure fashion."
Odom feels the collection fashions are a success. "I love them!" he enthuses. "Vaughn Sawyers and I worked our heads off creating these dolls and costumes. We were trying to walk a line with both recognizable fashion elements from the decades involved and the way those decades interpreted fantasy. They've ended up among my favorite things we've done this year."
"Oona" also adds to the convention excitement. Created as a "blank palette" for collectors to determine her character in a design challenge, the contest entrants will be auctioned off with proceeds going to the Harbor House of Central Florida, a shelter for domestic violence survivors. Integrity Toys looks forward to collectors' creations. "The Gene collectors are incredibly talented," says Tremblay. "Their design and sewing skills are amazing. Last year the dolls for the 'Gray Lady' contest went for $1,000 to $3,000.
In past years the Gene convention was run informally by collectors. Integrity Toys has owned the license for several years, and the 2008 event is its second Gene convention. Since taking over, "We've really formalized the convention," says Tremblay. "Last year's Film Noir theme felt more like what previous organizers were doing. This year, we really departed from what's been done. I wanted something really different to make it new again to keep it exciting. Last year was so dark; this year is so bright. It's really come full circle.
Integrity Toys, which took over production of Gene in 2006 after Ashton-Drake Galleries' 10-year run with her, knows just how to keep collectors coming back for every new rendition of the doll. Although some things never change—like Gene's story line and the era she is set in—Integrity Toys realizes the importance of keeping her fresh. "We look at every doll as new," Tremblay says. "If you compare what we did in 2006 to today, you can definitely see a progression. Every new release brings something new and different from the previous release. I think that's why people like our product."
Attendees at the 13th Annual Gene Marshall Convention won't be disappointed at the latest "something new" from Integrity Toys. Odom and his team have created an out-of-this-world collection sure to keep collectors asking for more of Gene and friends.