In the real world, fashion isn't always fun. Upscale stores and boutiques are filled with stick-narrow clothing clearly never meant for a woman's hips, chic designer garments with sky-high price tags, and oh-so-pretty shoes that go medieval on our feet. But thanks to Robert Tonner, the doll world's leading couturier, we can live out all of our fashion fantasies with ease. Are hot, cutting-edge looks for you? If so, check out Tonner's new offerings for the lovely and leggy Tyler Wentworth, such as "Florentine," a curve-hugging silk-brocade gown with a plunging neckline. Are warm, nostalgic confections more your taste? Then take home Kitty Collier in "Lilac Cotillion," a ball gown fit for a Southern belle, or treat your Tiny Betsy McCall to "Sunny Days," a sun-bright checked playsuit topped with a pinafore.
There's no need to visit the try-on room; these outfits will fit your dolls just fine. And the shoes, from Tyler's sparkling spikes to Betsy's multicolored maryjanes, won't pinch a bit. There is one cav­eat, however: The dolls and costumes produced by the Tonner Doll Company of Hur­ley, New York, are so tempting that you may have a hard time selecting just a few.
Jo Ellen Brown, a collector from Plano, Texas, bravely faces Tonner temptation every year when the company's line is introduced. A self-proclaimed "dyed-in-the-wool Betsy McCall fan," she be­­gan collecting Tonner dolls when she saw his 14-inch vinyl Betsy modeling her "Betsy Learns to Sew" ensemble in a 1998 magazine ad. "The doll leaped off the page; she just spoke to me," Brown says. Since then, she has purchased every doll and outfit in both the 14-inch Betsy McCall and the eight-inch Tiny Betsy McCall collections. Brown began collecting other Tonner dolls, too, beginning with the amiable Ann Estelle. "Once I fell for Robert's work, I fell hook, line and sinker!" she says.
Tracy Smith from Wilmette, Illinois, started her Tonner collection with his glamorous 20-inch vinyl American Models, which debuted in 1994. "I remember thinking that I had never seen such beautiful dolls," she recalls. Nowadays, collecting Tyler is "a passion" ("Florentine" is her favorite from this year's line), but that's not all: "I have a little bit of everything that Robert does," she confides.
For 2002, Smith and her fellow Tonner fans have their work cut out for them, for even "a little bit of everything" will amount to quite a lot! Tonner has added dolls to seven collections: the Tyler Wentworth Collection, Théâtre de la Mode, Kitty Collier Collection, 14-inch Betsy McCall, Tiny Betsy McCall, For Better or For Worse (based on Lynn Johnston's popular comic strip), Mary Engelbreit Collection (inspired by a paper doll character from Engelbreit's Home Companion magazine), and Cloudland Playdolls (designed by cloth doll artist Shelley Thornton). From uptown girl Tyler Wentworth to girl-next-door "April" from For Better or For Worse, there's something to suit every collector's taste and budget. The cute and casual "April Sport Shorts" retails for just $40; Tiny Betsy in "Rose Cotillion," a demure black-and-white ball gown, is about $55. Top-priced dolls include Théâtre de la Mode's three glamorous additions, which sell for about $150 to $200, and the Cloudland Playdolls, which cost about $200 each.
One of Tonner's well-known characters, the nostalgic fashion doll Kitty Collier, has a brand new look this year (you'll read more about this later), and cutie Ann Estelle has a new pal–Gracie. "She is my first Asian little girl," Tonner notes proudly. There are brand-new collections as well. Unless you have been hibernating all winter, you have undoubtedly heard about Emme, the first fashion doll with a full-size figure. Also new is Robert Tonner Collectibles, which debuts with three, 18-inch charmers: "Alice," "Red Riding Hood," and "Baking Gingerbread." (The boudoir dolls that were introduced as part of Robert Tonner Collectibles at Toy Fair are not being produced this year.)
Of course, there are new outfits for the dolls, as well as a delightful smattering of accessories and gift sets. And, as if collectors didn't have enough to choose from with all the Toy Fair introductions, Tonner has announced a mid-year release of more than eight dolls, plus outfits and accessories.
The mid-year release includes the long-awaited debut of Emme, the vinyl portrait of America's most celebrated full-size model (see sidebar). The line opens with three costumed dolls and four separate costumes. (Although prices were not confirmed at press time, the dolls are expected to cost about $100 each and the outfits to range from $40 to $45.) The doll is simply breathtaking (check out "Effervescence," which features Emme in a metallic sheath gown and an organza evening coat) and her costumes–such as the smart and sassy "Escapade" (black tee-shirt, multi-colored skirt, boots, trench coat and scarf)–will definitely make smaller fashion dolls green with envy. "We were going for a clean, classic sort of look with a trendy edge," Tonner explains.
The Emme doll has made newspaper headlines and TV news ever since the prototype debuted in February at the American International Toy Fair. Since she is the first large-sized fashion doll, everyone has an opinion. "The response has been overwhelmingly positive, but some people have been unbelievably nasty," says Tonner, his usually calm voice rising with indignation. The worst culprits, he adds, were two Fox Television news anchors ("they actually made fat jokes") and a New York Post columnist who referred to the doll as "Barbie's rotund rival."
Ironically, Tonner did not intend the doll as a statement on our society's view of women's bodies and beauty; he simply wanted to do a celebrity fashion doll. He chose Emme–and approached her with his idea–because he was struck by her buoyant personality and radiant, all-American good looks when he saw her being interviewed on television. "I really like her persona; what she puts out there," the dollmaker says. "And when I sculpted the doll, I tried to do a sculpture that was as true-to-life as I could make it. I was just sculpting a beautiful woman. I really wasn't politically motivated, but I'm getting there!"
In contrast, Emme (her name is pronounced "emmie") saw the doll as a vehicle for change from the start. An advocate for positive body images and the prevention of eating disorders, she had toyed with the idea of introducing a full-figured doll even before being approached by Tonner because her fans had asked for one. But when she and her manager, husband Phillip Aronson, tested the waters to gauge what the reaction to such a doll might be, they found the temperature mighty chilly. "It was going against the grain," Emme says. "Not against what the public wants– because there are about 62 million American women who are a size 12 and above"–but rather, she adds, going against the uber thin image of women promoted by the fashion and entertainment industries.
About a year later, Tonner appeared on the scene. "From when I first met Robert, I loved his style, and I loved what he showed me," Emme says brightly. "He does such an incredible job."
Incredible is right: Tonner's sculpture of Emme captures not only her physical attributes–her intelligent, sparkling eyes, beautiful smile and those feminine curves–but also her buoyant spirit and the majesty of her strong yet graceful form. When Emme was introduced to her 16-inch likeness at Toy Fair, she was "speechless." She says, "I had all these cameras around me, and ET and the press all snapping pictures and shouting, 'Emme, what do you think?' And I'm looking, and I'm thinking, 'Do I have to pinch myself now?' I felt like I had just walked into a fairy tale."
On the horizon, Tonner says, is a lower-priced, play version of the Emme doll, either 16 inches or smaller. In the meantime, however, collectors can play with what has proven to be one of the com­pany's hottest new sellers: the four Ready-To-Wear Tyler Wentworth dolls. Retail­ing for about $49.99 and dressed in a lacy teddy and high heels, each RTW doll celebrates the shades of one season, with appropri­ately coordinated hair color, hairstyle and makeup.
"We're playing with different hair fibers and makeup, and we're having a lot of fun," Tonner says. Fun is the operative word: Tonner designed the RTW dolls "to keep the play value in for collectors or for kids." He adds, "To really make Tyler play friendly, she's got to be inexpensive enough so buyers are not nervous about taking her out of the box and undressing her." The RTW dolls are also geared for the growing number of enthusiasts who enjoy giving their dolls makeovers. "I think the price is reasonable enough so that if they cut her hair or repaint her face and they screw her up, it's not that big a loss!" Tonner teases.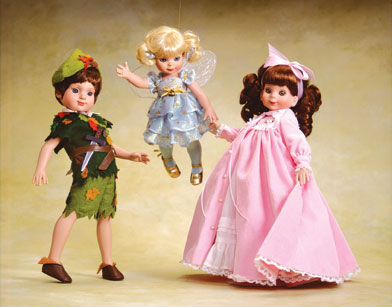 The company's mid-year release expands the RTW collection with Ready- to-Wear Sydney, Esme and Mei Li dolls. Fully costumed versions of Tyler's glamorous friends are also available. For 2002, Esme sports two new hairdos: long, curly hair and micro braids. Mei Li, who debuted at the end of 2001, has new, softer makeup that gives her a gentler look ("sometimes it takes a couple of shots to get the doll looking as it should," Tonner admits). As for Sydney, who is currently the rage among fashion doll collectors (see sidebar), there are three models: "Sheer Glamour," a golden blonde in a lemon swirl of a gown; "Firebird," an auburn-haired beauty dressed to the nines in a lace-and-brocade gown topped with a matching full-length evening coat; and "Mover and Shaker," a redhead ready for day or evening action with her pin-stripe suit and sequined camisole.
Not to be outdone by her 16-inch cousins, 18-inch Kitty Collier is reveling in her new look. "We kind of grew her up a bit," Tonner explains. "She was more like an early Doris Day type, and I wanted to make her more sophisticated, so we had Sherry do some makeup magic on her." (Sherry is noted doll painter Sherry Miller, who was hired by Tonner last year to give Tyler a makeover.) As a result of the revamp, Kitty now has a more expressive face, with glossy lips and dramatic eye makeup. Her wardrobe is more sophisticated, too. In "Femme Fatale," a strapless black cocktail dress, sweet-faced Kitty is really quite the vixen. ("'Femme Fatale' is very Parisian-looking; she's just gorgeous," says Tracy Smith.)
Of all the children in the Tonner class of 2002, Tiny Betsy, who first appeared in late 2000, is the speediest seller. "The line has really taken off, probably because Tiny Betsy is so darn cute," Tonner says with a laugh. The "Tiny Betsy All-American Gift Set" that was introduced at the end of 2001 was such a smash that Tonner has already introduced another set, "Pink Perfection," which includes a blonde doll and a variety of pretty-in-pink outfits. In late April, when Tonner was interviewed for this article, he was already feverishly at work on more Tiny Betsy clothing, both for possible release later this year and for 2003. "We're really having a blast with it," Tonner says.
The tireless Tonner has a multitude of other projects either just completed or in the works. For a United Federation of Doll Clubs (UFDC) regional held in Greensboro, North Carolina, in April, he created a stunning 14-inch porcelain portrait of Ava Gardner. If you're heading to Collectors United in Atlanta this July, you'll see his" Just Peachy Gift Set" for Tiny Betsy, as well as Sydney's "Savoir-Faire." The artist created a "Miss Unity" doll for the dedication of the new UFDC headquarters in Kansas City, and Portfolio Press is releasing a second limited edition Robert Tonner doll and book set, which includes the retro "Tyler Wentworth Manhattan Nights" and an update to The Robert Tonner Story. In addition, Tonner has teamed up with Joan Greene (former director of Gene Team) and Seventeen magazine to create a vinyl teen fashion doll for The Ashton-Drake Galleries.
Lest you worry that all work and no play will make Robert Tonner a dull boy, you can be assured that he really does enjoy his work. Whether he is experimenting with color pal­ettes for his beloved Tyler or creating clothes for his darling Tiny Betsy, he truly is "having a blast." In fact, it's hard to tell who is having more fun these days–the man who makes the dolls or the collectors who bring them home.
For information on the Tonner Doll Company releases and events, including the most current, accurate prices and ed­i­­tion sizes, visit https://www.tonnerdoll.com/.