(Zomby Gaga)
Photos courtesy of Mattel

On October 17, at 9 a.m., preorders will be taken for purchasing the Gaga-centric character, which was designed by the Lady's sister, Natali Germanotta. "My sister and I came up with the creative concept for Monster High by looking back at some of her best and most inspiring characters," said Natali. "This Zomby Gaga doll is brave, strong and BORN THIS WAY, which shows through in everything from her clothes, her bio and her music video. It has been incredible to work with Mattel and their amazing team and we cannot wait to share our collaboration!"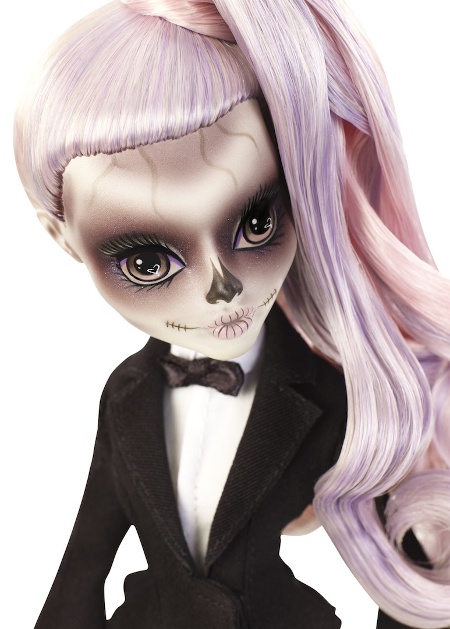 The doll, which is called Zomby Gaga, will retail for $29.99 at select stores. It was created to send a positive message of tolerance and acceptance: "to champion kindness, instill bravery, and build a world where young people can celebrate their differences."
Every generation has its entertainer that not only defies convention, but ends up redefining it. Go back 60 years and it's Elvis. Flash back 30 years and it's Madonna. Look at the music charts, the awards racked up, the influence on dress and decorum, and the major influence in the new millennium is undoubtedly Lady Gaga. Like Elvis and Madonna, this current superstar can go by one name — Gaga — but, then, why should she? By dubbing herself "Lady," she's already set the stage for her ascension to pop royalty. She's also flipped on the head everything people think they knew about being a "lady," about being a woman.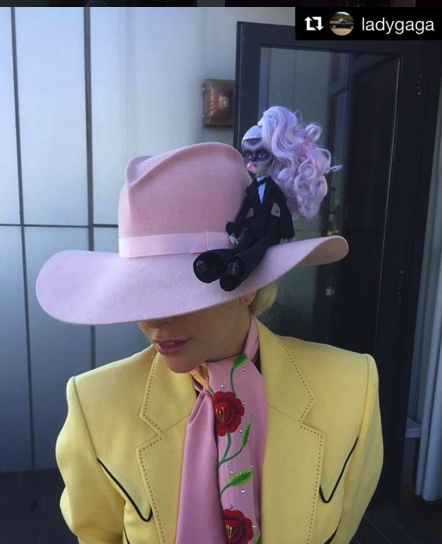 Gaga is a consummate performer. Similar to Bowie who assumed different incarnations and appearances, Gaga never looks the same. Her hair color, her makeup, her body's shape, and her posture is always morphing and evolving. It isn't too far-fetched to liken her to a Barbie doll. After all, Barbie has always changed her looks, hasn't she? Toting different hairstyles, hues, skin complexion, and body types, Barbie is never the same doll at any given decade. But Barbie is always part of the establishment — whether she's grooming a dog, flying a plane, teaching a class, or running for president, the model fashion doll is part of the accepted norms. Gaga is definitely not that.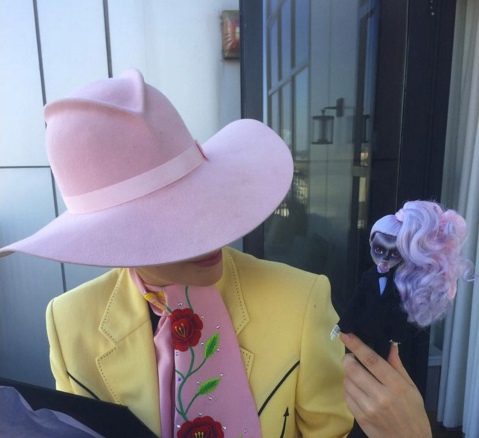 Enter Monster High. It's kismet that Gaga had her major performing breakthrough at the same time that Monster High was unveiled to the world. In 2010, when Mattel debuted its fictional high school populated by the sons and daughters of the fabled Universal monsters, Gaga was building her mystique with her Monster Ball Tour. Launching it in 2010, Gaga traveled the world and cemented her place as an outspoken, outlandish, and outrageous performer.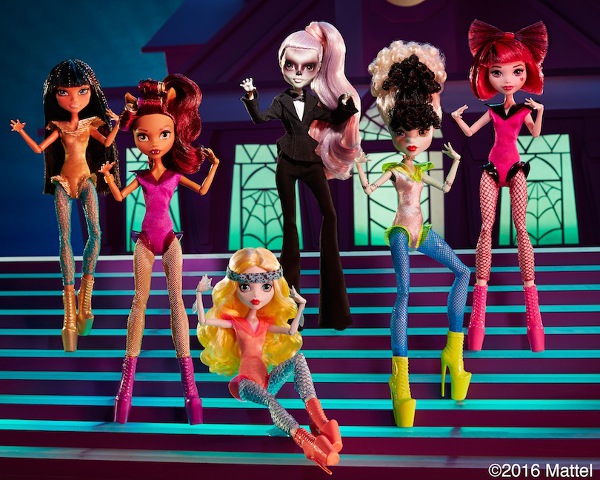 (Zomby Gaga with some of the other Monster High ghouls)
Her debut album, The Fame, hinted at what she was capable of achieving and proclaiming as a diva. Her follow-up — an EP of eight songs — was called The Fame Monster. (There's that "monster" term again!) It fully showcased what she could do and whom she could inspire. Her loyal fans, more like followers and adorers, were called Little Monsters. These Little Monsters flaunted the attributes that had always made them feel like outcasts and freaks and misfits. Gaga gave them permission to be who they were and to be proud of their distinctions. A celebrator of all things diverse and different, Gaga was the ultimate Monster Mother. So, it is just common sense that she would be interpreted as a Monster High character.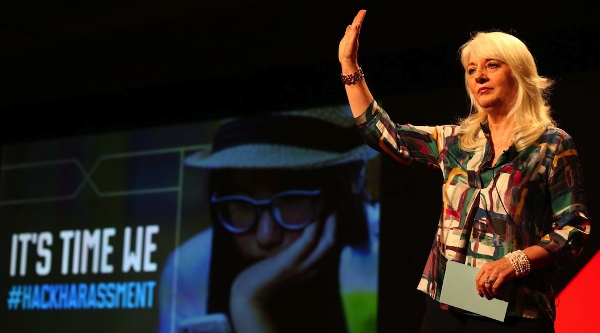 Beyond her role as a triple-threat performer, Gaga is also a philanthropist and activist. Her Born This Way Foundation, which she and her mother established in 2012, has as its mission statement to empower youth and inspire bravery. Gaga and her mom, Cynthia Germanotta, dream of a world where all people are treasured, accepted, and given the chance to be true to themselves. One of their most passionate and most driven platforms is to get a handle on online bullying. Gaga and Cynthia are banding together to #HackHarassment. Cynthia is an eloquent spokesperson on that topic. That's the same motivation behind the Monster High line of dolls, which expanded beyond just being a mishmash of horror-movie characters enrolled in an academic setting. Monster High became the mascot for kids, tweens, teens, and adults who have felt marginalized and misunderstood.
"Monster High was developed with a break frame aesthetic and storyline around inclusivity and kindness," said Lori Pantel, Senior Vice President and General Manager, Mattel Girls Brands. "Our partnership with the Born This Way Foundation and the development of Zomby Gaga help reintroduce the brand's purpose to a new generation of fans."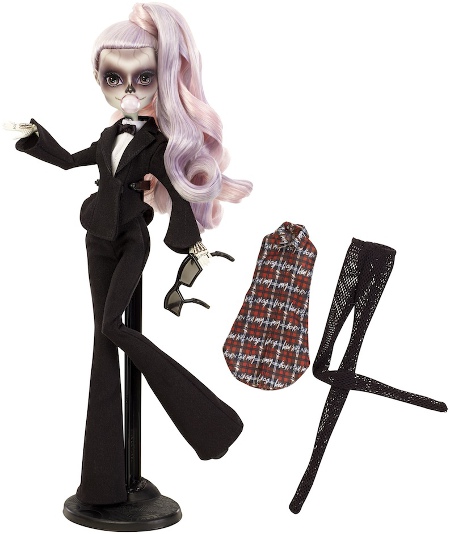 This is not the first time that the Monster High team and the Gaga foundation have partnered. In October 2015 they joined together to inspire empowerment and acceptance. Zomby Gaga is the three-dimensional rendering of their hopes, their desires, and their commitment to making the world a more kind and embracing place. The doll launch coincides with a donation to the Born This Way Foundation to continue to further this joint mission.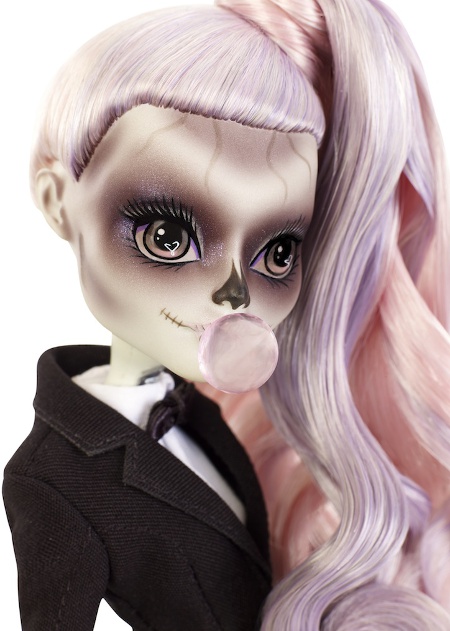 Learn more about the foundation at https://bornthisway.foundation. Sign the pledge while you're there at kindmonsters. Join the #KindMonsters movement. Discover more about Monster High at www.MonsterHigh.com