In 2007 when Mattel introduced its Pivotal body for the "Barbie®" doll, fans of the legendary doll were thrilled. With 12 points of articulation, the posing possibilities were endless. Debuting on the Jazz Baby dolls, the articulation was the most seen—up to that point—on any Barbie doll.
But articulation wasn't anything new for the brand—in fact, as early as 30 years ago, Mattel had begun making its dolls "move and groove"—a perfect entrée into the radical 1970s.
Set against a backdrop of transition, revolutionary music and trend-setting fashions, the Barbie dolls of the 1970s echoed society in a way never seen before. After a decade of relatively conservative dress, hairstyle and body, Barbie was breaking free. The dolls of the 1970s would enter a new era—one in which the 11½-inch vinyl icon could move, groove, speak, kiss and much more. It was truly a decade of action.
"I think they [Mattel staff members] were trying to give Barbie a new look, kind of refresh the brand," says Barbie dealer Sandi Holder of Sandi Holder's Doll Attic in Union City, Calif. While 1967 is traditionally considered the start of the "mod" era for Barbie ("That was when the Twist ' N Turn started," Holder notes), the 1970s followed that theme. Mattel undertook challenges that would "not reinvent the wheel but make it bigger," Holder says.
A History of Articulation
Amid their stylish hair and trendy clothes, there was something Mattel's first few Barbie dolls couldn't do. Bend their legs.
Among the earliest dolls to be created with bendable legs was 1964's "Miss Barbie." In addition to her legs, Miss Barbie was the first Barbie doll with painted hair and sleep eyes that opened and closed. Soon, the prominent bendable leg feature would become a standard for most of the Barbie dolls to follow.  Mattel took articulation to another level in 1967 with Twist 'N Turn Barbie, the first Barbie doll to turn at the waist. A pivoting waist added play value and posing opportunities children had not seen before.  While articulation was fairly innovative in the late 1960s, it came close to being gimmicky in the 1970s. In the ensuing decade, technology allowed the dolls to "move."
• Dramatic New Living Barbie. In 1970, Mattel pulled out all the stops in terms of articulation and motion. Twist 'N Turn was an important innovation for its time, but it was rather pedestrian compared to the range of motion of Dramatic New Living Barbie. She featured a bold outfit, dramatic face paint, rooted eyelashes, bendable legs, a twisting waist, bendable elbows and wrists, a rotating head, and loose leg and arm sockets. The doll's posing potential added play value, creating just one more reason why  children would be drawn to the brand.
• Live Action Barbie. Arriving fairly concurrently in the Age of Aquarius was Barbie in all her psychedelic glory. Welcome Live Action Barbie, complete with a faux suede fringed outfit. Hippie chic, which was all the rage in fashion circles, was reflected in Barbie doll's attitude, body, hair and fashions. Like her Dramatic New Living counterpart, Live Action Barbie shared "movable" technology; when placed on a special stand, she could "dance to your favorite music." One touch of the "touch and go" stand set Barbie—or friends "Ken," "PJ" or "Christie"—dancing. The doll's box announced her moves — "I dance to your favorite music," "Start the action, touch my touch n' go stand," and "There's lots I do — just like you."
Articulation continued to mark the Barbie line in the early 1970s. Other dolls with notable features included:
• Walk Lively Barbie (1971) could walk smoothly and swing her arms when placed on a special stand. Her pilgrim shoes were, indeed, made for walking.
• Busy Barbie (1971) featured delicate "working" hands. The mechanical looking "gripping" hands allowed Barbie to "hold" accessories, such as a groovy record player. The feature was also used on Ken, "Francie" and other Barbie friends. Production costs were ultimately too high, however, and the dolls' joints too fragile for the line to continue.
• Free Moving Barbie and Ken (1974) embraced Mattel's move toward motion. These dolls had unbendable legs and arms, but a lever in their backs allowed children to move the dolls' upper torsos and swing their arms. It was yet another innovation meant to create new play scenarios, but the doll, ultimately, had a very short life span.
• Kissing Barbie (1979) showed off one of Mattel's more unusual uses of articulation. A lever on the doll's back triggered her lips to pucker.
Innovations in Hair Play
What do little girls like more than playing dress-up? Playing beauty parlor. Other than Mattel's focus on articulation in the 1970s, the company also elevated hair play to a new level.
• Barbie with Growin' Pretty Hair. By the 1970s, fashion dolls had surpassed baby dolls in popularity. Why? Quite simply, little girls loved the hair play possible with fashion dolls. Barbie with Growin' Pretty Hair (1971) featured tresses that could be lengthened with a gentle tug or shortened. Barbie doll's retractable ponytail embraced the hair play craze, and the doll came with hairpieces and accessories to complete the look.
• Quick Curl Barbie. Basic hair play took on an added dimension with Quick Curl Barbie (1972). Aspiring hairdressers could coif this doll—which featured hair that really curled—with the included curler, comb and brush.
• Sweet 16. Although Barbie doll had only been around 15 years, Mattel jumped the gun on this special birthday (in 1974) and introduced the fairly inexpensive carded doll in an attempt to reach the younger tween audience. The doll came with scented sticker barrettes, an accessory which perfectly embraced the vanity of her intended preteen audience.
• Mod Hair Ken. Despite Holder's claim that "Ken didn't really have any anything happening in the 1970s," Mattel did have one heck of a hair day with Ken. In 1972, Mod Hair Ken—donning a snazzy brown buffalo-checked jacket—brought a Y chromosome to the salon with a head of tousled brown hair. Adding further hair play was the sheet of flocked beard, mustache and sideburns that accompanied the doll.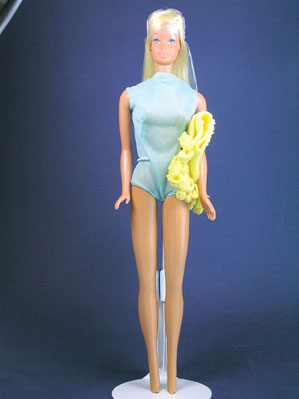 Other Notable 1970s Dolls
While the following dolls were not remarkable in terms of innovation or articulation, any story about 1970s dolls would be remiss without including them.
• Malibu Barbie. Although Barbie was to have hailed from the fictitious city of Willows, Wis., Malibu Barbie looked like a native California girl with her blissfully tanned skin and her blue-eyed, blond-haired surfer girl look. The 1971 doll, with long blond hair, made hair play a breeze, but it also made it cool to hang by the pool. The look made such a splash that just about every Barbie doll friend was soon "Malibu-ized."
• Montgomery Ward Barbie. In one of the first "reproductions," this brunette ponytail doll, issued in 1972, replicated one of Mattel's earliest dolls. The doll, which came in a bare-bones Barbie pink box, commemorated the 100th anniversary of Montgomery Ward stores. Dressed in the familiar zebra-striped swimsuit, the doll was sold under the name "The Original Barbie." The age of reproductions and store exclusives had begun—something that would continue through­out Barbie doll's history.
1970s and Today
How collectible are 1970s Barbie dolls today? "I think they're very popular among that era of collectors," Holder says. "I think they're going to be popular but not as popular as the vintage," she says, adding that the 1959 and 1960s dolls tend to bring the most value to Barbie collectors.
Prices are still pretty reasonable for most, but some can get pricey, especially for those in mint-in-box or never-removed-from-box condition. It's hard, Holder says, to find great 1970s dolls in original packaging.