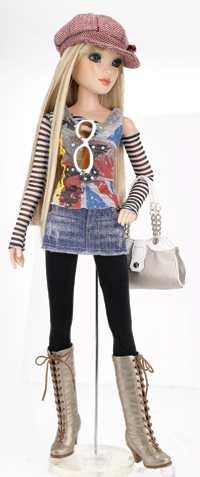 The Internet is often dubbed "the information superhighway," but this fall, it will also be known as the "international super-runway." In autumn 2009 Hasbro is debuting a new line of fashion dolls and oh-so-fashionable clothing called the Lorifina Collection.
"The Lorifina Collection provides a unique and exciting opportunity for tween girls to express their personal styling by creating a custom doll and then dressing her in clothing inspired by the most fashionable cities in the world," states Kim Losey, senior brand manager, global marketing and development, for Hasbro.
The well-garbed capitals that the "Lorifina" dolls will be circling are London, Tokyo and New York, among others to come. Cutting-edge styles, a keen fashion sense, and well-tailored and well-designed clothing will let the computer-savvy dreamer become a high-tech Tommy Hilfiger or Stella McCartney clone.
If Betsey Johnson were on hand, she'd certainly do one of her trademark cartwheels down the model catwalk! The doll presents a great opportunity to be a divine designer and a discriminating collector. Plus, it's surprisingly simple to create breathtaking beauty with her own personal charm—all it takes is a click of the keyboard and a desire to be fabulous.
Unlike many fashion dolls that have scored a big hit with collectors, these dolls don't have a "backstory," or an already-established identity. "This brand is all about discovering your own personal style, and we leave it to girls to create their own 'story' and 'characters,'" relates Losey.
Initially designed for girls, age 8 and up (the most computer-literate age, we know, we know), the brand has also taken off big with adult doll fanciers. It offers everyone a chance to build the girl of their dreams or a doll that just might key into the physical traits of themselves, a family member or a friend.
"Today's girls are style savvy," Losey observes. "They are also tech savvy and spend a significant amount of free time online. Lorifina.com is a destination Web site that provides girls who follow fashion with a real shopping experience. We designed this space to be very compelling, with areas where the girls can browse the internationally inspired Lorifina fashion collections, create a custom doll for purchase, decorate their own studio space, and learn real-life fashion facts, vocabulary and tips."
Like all of the brands and products that are launched by Hasbro, a toy goes through a rigorous research-and-development cycle. In most cases, a product sees an intense 18 months of tweaking, trial and error, surveying and refining before launch.
"We went through several rounds to create a unique look for the face of the Lorifina doll," Losey reveals. "We challenged the team to create a face that was unique, captivating, youthful and representative of the multi-ethnic world we live in. A lot of work went into the process, from the overall shape of the face to the positioning of the eyes and eyelashes."
Oftentimes the fashion industry has come under criticism for its unrealistic demands on women: scouting far and wide for 6-foot-tall women who wear size 2. Losey is aware of that unattainable "Glamazon" image, and she ensures the Lorifina dolls didn't fall into that anorexic trap. "It was important for us to give the doll a youthful and healthy body, complete with shape and muscle tone." It's a thin line between being a positive role model and being a dangerously bad example when it comes to weight, and Losey was sensitive to that concern. "Additionally, balancing articulation with realism is always a challenge, so we had many discussions about how to make this doll unique and fun. For example, her toes are articulated, making the doll as comfortable in flats as she is in heels!"
The Hasbro Lorifina design team was certainly kept on its toes, and the end results are spectacular, worthy of a Seventeen magazine photo spread. The dolls are constructed of a combination of materials that allows for a "more realistic feel," while maintaining the structural integrity of the joints. Because of its versatile toe design, the doll is 20 inches when standing flat-footed and a hair over 20 inches when on her tippy toes. Her hair is made of Kanekalon, and it originates from a factory that manufactures human wigs!
When an aspiring designer signs on to the Web site (www.lorifina.com) to begin her handiwork, the doll is a blank slate waiting to have eye color, hair shade, skin tone and the like selected. Each doll purchase includes a "custom Lorifina doll dressed in her signature 'cami and short' set, in addition to an outfit of choice, including one top, one bottom and one pair of shoes."
Priced at $98 (plus shipping and sales tax, where applicable), the doll is sturdily built and designed for longevity. Her outfits vary in price, depending upon how many pieces are involved. The average cost for many wardrobe pieces is $9.99.
"As we move forward with the line, we may choose to phase out certain clothing and accessories to make room for new ones and to keep current with fashion trends," Losey projects.
Aware of how young girls do divide their time between school, homework and IM'ing friends, the Lorifina experience will be ready to go just in time for "back to school." After looking up a term paper's pesky fact, a student can take a break and take a stroll into the world of haute couture. It's high fashion meets higher learning!