Lynne and Michael Roche's creations should come with a warning label. "Caution: Once you own a Roche doll, you're hooked for life."
In a sea of dueling divas, babies and tots of every description, and quirky, stylized ball-jointed creations clamoring for collectors' attention and affection, Roche dolls stand apart. Dainty and demure, they might seem like shy wallflowers at first glance. But don't be fooled. Their enchantment is all the more potent for its sweet subtlety.
The dolls' innocent expressions and simple, un-gimmicky clothing hark back to an earlier, gentler period. But at the same time, they hold an indefinable quality that makes them stand out of time, suspending them in a realm of ageless charm. These "modern antiques" exude a beguiling appeal that quietly works its way into collectors' souls. Without their quite realizing it, collectors become firmly and irrevocably entranced.
"Lynne manages to create an emotional connection between her dolls and her collectors," says Barrie Shapiro of The Toy Shoppe in Richmond, Va. Barrie and her husband and business partner, Danny, have been carrying Roche dolls since the late 1970s. "We've watch­ed their winning success story develop over the years. Collectors tell us over and over again just how emotional Lynne's dolls make them feel."
"You don't get lost in the details," says Danny Shapiro. "The total doll is what grabs the collector. The more you look at one, the more you fall in love. … You're captivated by the big picture. They have a delicate, special way about them and it just steals into your heart."
The offerings for 2008 are no exception. Sixteen-inch "Marigold" and "Theo" have wooden bodies and were inspired by nursery rhymes. Marigold is available in three editions—"Marigold Play," "Marigold Winter" and "Marigold in Silk." Theo comes in two editions—"Theo Play" and "Theo Winter." "Johnny" and "Rosemary" are the latest additions to the growing family of Little Friends. They are all-bisque, 7-inch fully articulated dolls with painted eyes and mohair wigs.
"I love the delicate details of their dolls. They're exquisite and unique," says Melanie Friend of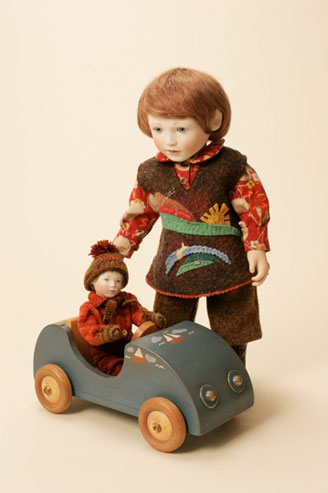 The Friend Company in Mobile, Ala., who has been carrying Roche dolls since 2005. "My favorites this year are Theo Winter and Marigold in Silk. The smaller dolls—Johnny and Rosemary—are wonderful in person. Their tiny porcelain faces are perfect," she notes. "I have several collectors who pick one or two Roche dolls each year. They love the sweet faces as well. Who wouldn't?"
Betty Gillison of Toy Village in Lansing, Mich., has been an admirer for more than 25 years. "R. John Wright came over to me during one of the early Toy Fairs and told me to go look at the work of this young British couple. I was as impressed as he was. They're such beautiful dolls and look like no other on the market. They're definitely European and have an antique feel with a sweet cottage-type look from the 1800s. They appear as if they took a lot of time to make which, of course, is the case, as they're totally handcrafted products. I've waited over a year for some of them, but they're worth the wait and price. There's never been anything I've disliked about their dolls."
Consummate artists, the Roches—their own harshest critics—do not seek to be all things to all people. Instead, the couple aims to reach collectors who share their style sensibilities. "To the people who respond to our dolls, I hope that the dolls affect them in an emotional way—a way I find very difficult to describe—and that the quality of workmanship gives pleasure," Lynne says. "We certainly try to improve what we do all the time."
Getting the facial expressions just right without making them appear too portrait-like was their biggest challenge with this particular collection, according to Lynne. "I wanted to make a girl and a boy at a younger age than the previous year's dolls, 'Bella' and 'Midori,'" she explains. "Both 2008 faces were modeled from photos I had collected. 'Theo,' has a gentle expression as though he is just about to speak. 'Marigold' reflects a cheerful and open personality. I think they complement each other nicely."
"There's always a 'sameness' about their dolls that's somehow refreshing," says Barrie Shapiro. "You're never thrown off with extreme changes. Each doll fits in well with one another."
Change for the sake of change has never been the couple's style. Every year they model at least two new heads, often changing the scale and "age" of the dolls they make. While others in the industry strain to be "cutting edge," Lynne and Michael—with classic British restraint—prefer to keep out of slippery trendy terrain. "I wouldn't do anything just for the sake of being different," Lynne notes. "I feel our dolls have evolved in a natural way and not just for the sake of novelty."
"I find that their carefully constructed dolls continue to subtly develop in richness and integrity while maintaining their distinct look. The understated appeal of their simple, yet elegant, renditions of children is achieved by Lynne's and Michael's strong artistic foundation, refined craftsmanship and use of natural materials as well as their respectful continuation of fine dollmaking traditions. Like designers of the past, such as Käthe Kruse and Sasha Morgenthaler, the Roches create dolls with contemplative expressions that hold the possibility of many moods. And in the tradition of even earlier French and German dollmakers, they have successfully married porcelain heads and hands with wooden bodies to attain expressive and smooth positioning of the figures," notes Krystyna Poray Goddu of Reverie Publishing Co., which distributes A Celebration of Enchantment: The Unique Dolls of Lynne & Michael Roche by Barbara Spadaccini-Day.
Adding playfulness and an element of surprise, Lynne likes to tweak convention through the dolls' clothing and accessories. "Lynne combines fabrics and colors in a way no one else does," Barrie Shapiro says. "She's really quite daring, mixing cotton with silks, patterns with contrasting patterns. She combines things you would normally never think to pair, yet it all somehow works beautifully." Danny Shapiro adds that the dolls' ball-and-socket jointing make for lots of posing and playing possibilities, another draw for collectors.
"They combine the best construction of yesterday with today's appeal," Barrie Shapiro notes. "They possess the best of classic dollmaking with the look of today. It's one of the rarest things: I have hard-core antiques collectors who only collect fine antique dolls, yet they are drawn to Lynne's and Michael's dolls."
Lynne also flexes her creative muscles through writing and illustrating. The author and illustrator of The Happiest Christmas (see DOLLS, January 2006), she has written several other books, including one set in Paris in the 1880s. "I am hoping to bring to life in doll form the subject of this story for 2009," Lynne says. "It's going to be a very different sort of challenge!"
Clearly, whatever project they tackle, they will do it impeccably well and with their own distinct style and personality. "They are among our favorite people in the whole industry," says Barrie Shapiro. "They're wonderful, warm individuals. They have a magical mix of warmth, laughter and humor. They wouldn't be able to do the dolls they do if they weren't the kind of people they are."
Like the dolls they create with such heart and artistry, Lynne and Michael possess an endearing personal quality that's enduring and appealing.
For more information, visit www.roche-dolls.co.uk.