Attendees at the third annual R. John Wright Convention enjoyed the festivities of several major holidays coupled with outstanding dolls, all rolled into four fun-filled days! R. John and Susan Wright chose "Celebrations!" as the theme for their 2011 event held at the historic Desmond Hotel in Albany, N.Y., which was co-chaired by Loretta Nardone and Lillian Wright.
The convention opened with St. Patrick's Day reception Wednesday evening, where everyone laid claim to being a wee bit Irish while enjoying a scrumptious dessert buffet. The sales room opened immediately after this kick-off event, with conventioneers hoping the "luck of the Irish" would help them find that perfect doll or dolls.
Thursday began early with the Easter Morning Breakfast; those attending this ticketed event didn't have to search for large, beautifully decorated baskets serving as table centerpieces. They were filled with molded felt eggs in pastel colors. At the end of the breakfast, the eggs were distributed and the happy new owners opened them to find "Peep," a 3-inch yellow mohair chick as their event souvenir. His companion, "Posey," was available for sale. After breakfast the special and competitive exhibits opened, along with the helper room. This year's special exhibit, arranged by John and Susan Wright's daughter Emily, was titled "Happy Holidays" and showcased R. John Wright dolls and animal characters and the traditional holidays that inspired them.
That afternoon, attendees boarded buses for the short trip to Bennington, Vt., for a tour of the R. John Wright facility along with other local activities. The Wrights explained the development of their creations from concept through completion before everyone had the opportunity to visit with their employees as they made various doll parts and accessories and shopped in the R. John Wright store. The day culminated with a Fourth of July BBQ followed by fireworks at dusk.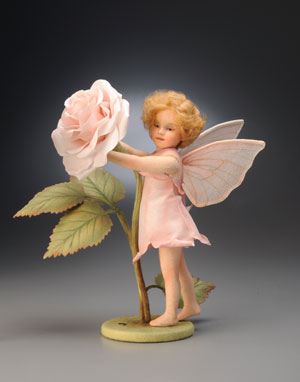 Workshops by dollmaker Gail Wilson and a program by Alan Pate, a leading American expert on Japanese dolls, were offered on Friday, along with several roundtable discussions on various topics. Attendees dressed up for the frightfully fabulous costume parade leading into the Halloween Masquerade luncheon, with prizes awarded in five categories. After lunch, the newest piece from R. John Wright's Wizard of Oz collection, "Wicked Witch of the West," made her debut in front of an enthusiastic audience.
The ticketed Victorian Yuletide Dinner featured traditional table decorations and an enchanting program, "A Victorian Christmas," presented by Nardone. The event souvenir was the 10-inch "Mary Frances," the latest addition to the Victorian Children Collection. Available for purchase was her 7-inch little sister, "Baby Grace."
Saturday morning's activities included another program by Pate and a workshop conducted by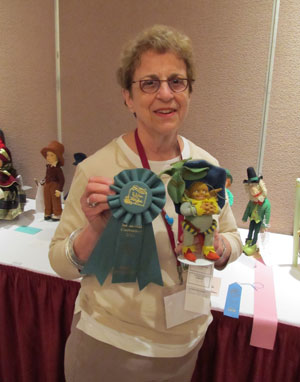 Emily Wright. That afternoon, a Valentine's Day High Tea charmed conventioneers with fine teas and delicacies. The newest addition to the Flower Fairies series, "Rose Fairy," was available for purchase. The evening's closing event was a New Year's Eve Gala Celebration. This elegant banquet featured another entertaining program produced and presented by Nardone. When the souvenir dolls were distributed, delighted attendees found the adorable 12½-inch "Celebration Scootles" would be going home with them. As an added bonus, her delightful twin brother was available for purchase.
As the convention ended, attendees were already making plans for next year's "Around the World" event, which will be held at the same location June 20-23, 2012 and will celebrate the magic of children around the globe. There will also be an added treat as the first bear event held at an R. John Wright convention will be incorporated into the excursion to the Wrights' facility in Vermont. For more information, visit www.rjohnwright.com or call (802) 447-7072. — Pat Burns