At the 2009 Kish & Co. Collectors Conference & Convention—Third Time's a Charm—May 1-3, 2009, held at The Oxford Hotel in Denver, Colo., a mystery was afoot. "Fauna" a special one-of-a-kind piece created by Helen Kish for auction was "stolen," and Inspector Tony Holmes, played by Tony Iacono, tried to solve the case throughout the course of the weekend. Once Fauna was found, the auction proceeded, and Paulette Goodreau won the piece for $5,000. Proceeds will be donated to Marshall Mile's, an organization dedicated to finding a cure for Spinal Muscular Atrophy. The full convention story, plus video footage, will be featured in the September issue of DOLLS.
The Third Time's a Charm convention doll, "Shea" stunned collectors at the Saturday-night banquet. She comes complete with three different-colored sashes and shoes.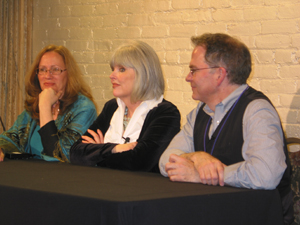 During a candid question-and-answer session, dollmakers Maggie Iacono, Helen Kish and Robert Tonner discussed the ins and outs of competition in the doll industry, how they started dollmaking, what motivates them to continue creating, and their least and most favorite aspects of the field.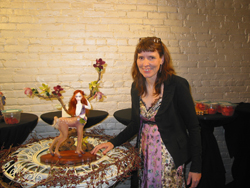 Paulette Goodreau of Goodreau Doll won "Fauna," the OOAK auction piece Helen Kish created for proceeds to be donated to Marshall's Miles.