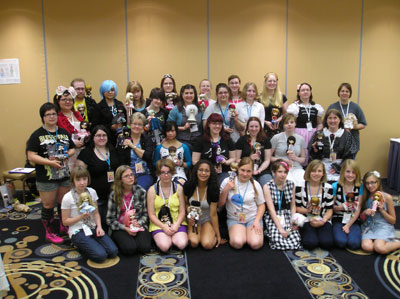 The fourth Pullip and Dal Doll Lovers Event (PUDDLE) drew 60 doll lovers from 10 different states and Canada to the Elk Grove Village Holiday Inn in June. This year's theme, cranes, was inspired by the sandhill cranes at the group's charity organization, the Willowbrook Wildlife Center. Six custom dolls and other items donated by sponsors like The Sleeping Elf and Denise's Dolls were raffled off at the event, raising $500 for the center.
The weekend started Friday night with dinner at Mitsuwa Japanese Mall in Arlington Heights, followed by a tea party at the hotel. PUDDLE officially kicked off at 9 a.m. Saturday, starting with an organized buy-sell-trade opportunity, and dozens of fans milled around trading and buying doll wigs, eye chips, bodies, clothing, and more.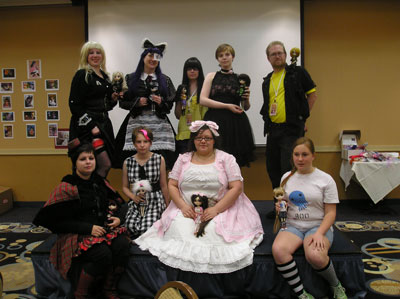 Every attendee received a door prize, thanks to generous donations from many sponsors. Distribution of the door prizes was followed by a secret gift swap and lunch break. Afterwards, an informal Q&A-format customizing workshop answered questions for many fans new to the hobby, followed by a display of fully customized and modified dolls entered in the customization contest. Winners of an online photo/art contest which was held and judged before the event were announced along with the customization contest winners. The photo and art entries can be seen at www.puddlestyle.com/photoart.html.
Many fans continued the fun over dinner in the hotel restaurant and in the hotel lobby until the wee hours. Krista Farmer, who traveled from Toronto for the event, said "It was a crazy cool day." Although the event officially ended Saturday night, 11 fans stayed for a behind-the-scenes tour of the Willowbrook Wildlife Center Sunday. — Jane Easterly
For information on PUDDLE 2012, visit www.puddlestyle.com.