Once upon a time, girls played with dolls and boys played with action figures. For the gen-X and millennial generations, however, that gender division has been erased. Whatever you call them, pose­able character figures with detailed costumes are essential for pop culture collections. Fans want accurate images, authentic gear and lifelike movement.
A graduate of the Parsons School of Design, Robert Tonner, president of the Tonner Doll Co., has a strong fashion background, which is reflected in the elegant doll lines produced by the company. On the other hand, Tonner loves good fantasy fiction and the hit films inspired by these great books. So in the first decade of the 21st century, Tonner has worked directly with Hollywood studios to produce complex lines of licensed character figures tied to popular movies.
Tonner prefers the name "character figure" to distinguish his firm's products from the high-end collectibles other companies produce for the hard-core fanboy audience. He says, "Their name comes from the fact that they are movie or book characters and they are figures. We're a little bit on the softer side. We are a doll company. 'Action figure' says something different to me." As realized by Tonner, the results have been collections of lively heroes and superheroes with incredible fashion sense.
The most extensive and successful line of this type is the Harry Potter series, reproducing characters from the Warner Brothers movies based on popular J.K. Rowling books. Harry Potter and the Half-Blood Prince will be released this July, and the last book—Harry Potter and the Deathly Hallows—will be realized in two final movies. Tonner's doll line began with "Harry," "Ron" and "Hermione" but has expanded to include additional classmates, professors, animal friends, props and, of course, the major villain—"Voldemort." Head sculpts for the figures take the form of the individual actors who play the roles—Daniel Radcliffe as Harry, Ralph Fiennes as Voldemort.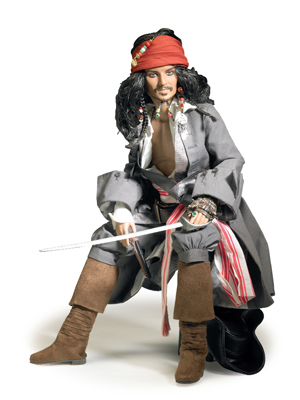 "Warner Brothers totally got it with Harry Potter," says Tonner. "They like the product. I've been adding one or two characters a year now. They're vinyl and hard plastic. You can redress them. They all have rooted hair that can be combed and styled. It's easy because those characters become iconic quickly. Harry Potter—the glasses, the shaggy hair, the robe—were iconic almost immediately, and that's where a movie really helps." The most recent addition to the group is the whimsical Hogwarts student "Luna Lovegood" in her Ravenclaw robes.
Figures can be purchased wearing alternate outfits, and casual changes of clothing are available for main characters. One variation which proved particularly popular with collectors were Harry Potter, Ron Weasley, Hermione Granger and "Draco Malfoy" dressed for the Yule Ball, a scene in the Goblet of Fire movie; the limited-edition figures quickly sold out. Important props like Harry's owl, "Hedwig," and Hermione's cat, "Crookshanks," can be purchased separately.
Commenting on the Potter collection, Robert Tonner remarks, "It's just a classic—it sells day in and day out. We keep adding characters—we'll have "Bellatrix Lestrange" this year, "Lucius Malfoy" and "Dumbledore." I think we have very strong characters coming out for that line."
Another cluster of character figures reproduces the main actors from Disney's Pirates of the Caribbean movies. Keira Knightley as "Elizabeth Swann" can be purchased in court dress, her "Abandoned Bride" wedding gown, or "High Seas" pirate garb, ready for action. Male characters include "Captain Jack Sparrow" and Elizabeth's love "Will Turner." The most recent addition to the crew is enchantress "Tia Dalma." The elaborate outfits used in these period movies reveal Tonner's skill at adapting complex movie fashions to a 17-inch figure.
Other movies for which Tonner has produced figures range from costumers like Dreamgirls and Memoirs of a Geisha to the superhero-based Spiderman 3. Fantasy enthusiasts will find characters from the Narnia books and The Golden Compass.
Tonner crosses closest to fanboyterritory with its line of DC Stars, which includes everyone from comic hero "Superman" to the Women of Power series, available only at www.tonnerdirect.com.  "Wonder Woman" is sold through specialty shops that carry DC comics. Robert Tonner points out, "That's what's so interesting about taking character figures into this market. There can be a guy who has never bought a 'doll' in his life, but he collects Wonder Woman—the art, the comic books, the television series. And he'll buy our Wonder Woman figure to go with his collection. He's not a doll collector; he's a Wonder Woman collector!"
Innovation at the company is ongoing. "We have a weekly meeting here, and part of that is pop culture, where people can bring anything they've heard of to the table and we'll look at it,"  says Tonner. "I love history books, but I haven't read a history book for a long time because I'm into reading pop culture books. I've read all the Twilight books and I'm reading a series by Frank Beddor called The Looking Glass Wars—it's a rethinking of Alice and Wonderland."
"One project I'm really excited about is character figures from Get Smart, which came out last summer,"  says Tonner. "And the reason is Anne Hathaway—I'm the biggest fan. I think she's unbelievable—The Devil Wears Prada, Princess Diaries—so I was dying to do one. I had the head sculpted three times till we got one I thought looks like her—it has the feeling of Anne Hathaway. That doll comes out the first quarter of this year." Look for Steve Carell as "Maxwell Smart" as well.

For more information, visit www.tonnerdoll.com.
Fan Enthusiasm Propels Twilight Series at Tonner
The January headline at USA Today said it all, "New Star Shines with 'Twilight' Books."
The story continues, "Stephenie Meyer sold more books in 2008 than any other author. … She swept the four top slots in 2008's best sellers with her Twilight series about a romance between a girl (mortal) and boy (vampire)." Couple that fact with a highly successful movie version of the first book released in November 2008, and you have a full-blown pop culture phenomenon.
Like J.K. Rowling's Harry Potter series, Meyer's quartet of books—Twilight, New Moon, Eclipse and Breaking Dawn—was originally targeted for the young adult market. The romantic tale that captivated teens proved to be equally popular with their mothers and grandmothers. The theme of forbidden romance —loving that guy with a dangerous bite—is as popular now as it was when Bram Stoker published Dracula in 1897. The Twilight books are populated with interesting characters from the supernatural and human realms—a varied cast of good vampires, evil predators, Native American shapeshifters, and human family and friends.
Long before the first film's release, Robert Tonner had secured a license to produce character figures for the two young lovers at the heart of the story: Edward Cullen and Bella Swan. He said in an interview last August, "I love the stories. To me, they are ageless books. I hope the movie does very well, and I hope we go on and on to make a lot of characters."
Tonner is delighted his plan has worked out so well: "I loved the movie. I think the crucial part about a license like this and these character figures is likeness rights. If we get the sculpt of Robert Pattinson and Kristen Stewart, the likenesses of them, the clothes—as long as they represent what's on the screen—are okay. The face absolutely comes first."
He continued, "We do it from pictures. Sometimes a scan can be too real. You want a slightly idealized image, where it really looks like the person, but you don't have every little line or imperfection. We sculpt it; then send a picture of the sculpt for the actors' approval."
As always with Tonner dolls, "Edward" and "Bella" are fully articulated for easy posing. Both wear contemporary clothing taken from the film. The 17-inch Edward, for example, wears the stylish grey wool jacket that appears in several scenes and has the fabulous spiked bronze "bedhead" hair fans long to touch. His body is based on Tonner's Matt O'Neill sculpt. The 15-inch Bella in peasant blouse, corduroys and jacket has some clothing interchangeability with the Tyler Wentworth body sculpt. Preorder price for each is $139.99.
Robert Tonner reports that preorders have surpassed expectations, spurred on in part by the movie's strong showing. "Unbelievable—I just came out of a meeting where we upped production numbers yet again," he says. The importance of fan-based conventions for figures with pop culture connections cannot be overemphasized. Tonner will take the duo on to the big one—San Diego Comic Con—during summer.
With the firm's strong history of making complete lines of figures, Twilight readers are asking that important question: Who will be next to make an appearance on the Tonner runway? The movie version of New Moon has been scheduled for November 2009, but the president says, "We still have a lot to cover in this first movie—the Cullen family and the villains." When asked about everyone's favorite female Cullen, Edward's sister Alice, he replies, "Definitely—she's been sculptured already, so she's coming out soon."