Carolina Herrera Bride Barbie (Photo courtesy of Mattel)
Marriage is a tricky thing. One's wedding day is realistically a finite amount of time — the ceremony begins at three o'clock and the reception ends at ten p.m. It's a seven-hour window — give or take a couple hours — and it can be as lavish or as simplistic as the "tying the knot" spouses choose it to be. A wedding can be measured and predicted. A marriage is something else altogether.
June is traditionally the month of marriages, and wedding planners highlight that calendar month with glow-in-the-dark Magic Markers, glitter, unicorn stickers, and everything else to show how illustrious a month it certainly is.
I've not really had much experience with June nuptials. My own marriage was in April, and due to my town's courthouse being renovated, I ended up exchanging my "I do's" in a temporary trailer. It was set up to handle traffic court, and I arrived with my bridal party and guests in tow as we waited for the DUI and DWI defendants to finish pleading their cases. As the judge threw the book at the assorted bad motorists, I knew this was a good start to my marriage. After all, if I could smile and enjoy myself through this fiancée fiasco — a horror show of vehicular-crime proportions — then everything else would be smooth sailing.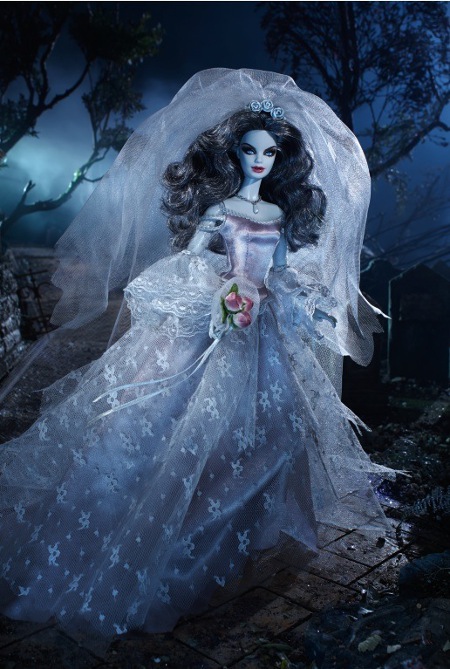 Haunted Beauty Zombie Bride (Photo courtesy of Mattel)
Almost all of the weddings I've attended have been throughout the year, but never in June . . . until now. This June, in a few more heartbeats, I will be at my niece's big day. It is shocking to me that the little girl I used to bring to plays and to the playground is getting married. It is a wake-up call to how swiftly and emotionally time passes. We can stand and bellow not to let an hour or a month or a year pass us by, but our calls are for naught. Time marches on, and now my niece will be marching down the aisle to begin her new life.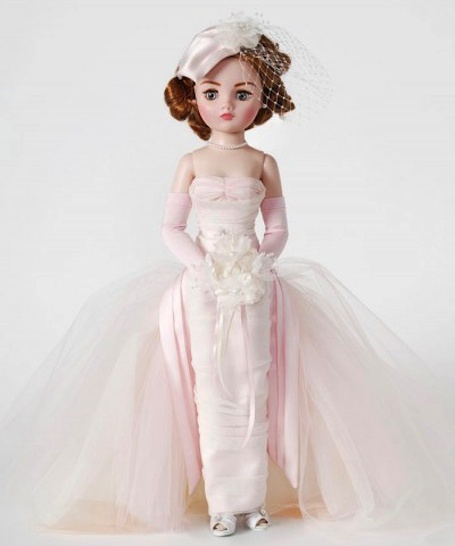 Glamorous Cissy: Blushing Bride (Photo courtesy of Alexander Doll Company)
Apparently, brides have captured the imagination of doll artists for centuries. I remember when I was a bridesmaid many, many years ago, the bride gifted us with hard-plastic dolls dressed in outfits that resembled our outfits and our hair color. Getting a bridesmaid doll that sort-of/kind-of looks like you is a sweet gesture, but let's face it: the wedding day is all about the bride.
Brides magazine — still the Bible for all things lacy and lovely and languid — has published a recent pictorial about how even celebrities let their egos take backseat to the brides when they are drafted into maid-of-honor and bridesmaid duties. That's quite remarkable when you have such famous faces as Taylor Swift, Sofia Vergara, Sarah Jessica Parker, and the Olsen Twins (to name just a few) playing second fiddle to a "layperson" on her special day.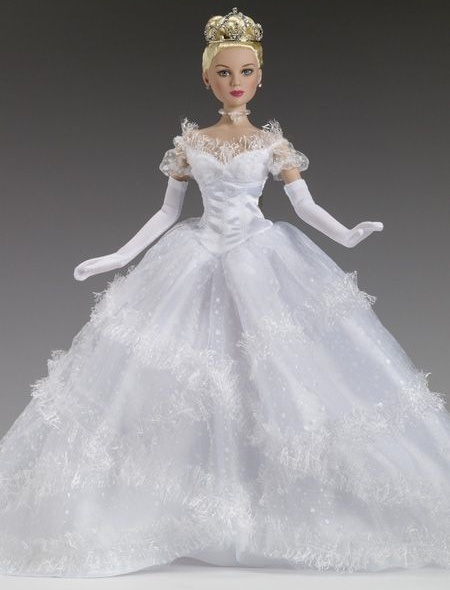 Cinderella Bride Doll (Photo courtesy of Tonner Dolls)
It's an undeniable fact of life: on her wedding day a bride is the fairy-tale heroine. She is the queen. She is the star. All of us — the bridesmaids, the groomsmen, the guests, even the groom — are the background players. We sit or stand and await her entrance. Like all glamorous movie stars know, that first peek is oh-so important. It's a vision that we can't conjure on our own. We have to wait and watch and be won over.
I have no idea how my niece will be dressed for her vows. She is quite beautiful — and that's not a proud aunt speaking; it's just a fact — so she can choose from a thousand different styles and they shall all be flattering. I went through a gorgeous array of bride dolls to imagine how she might look, and I know that she'll be a vision of loveliness and grace in whatever attire she chooses.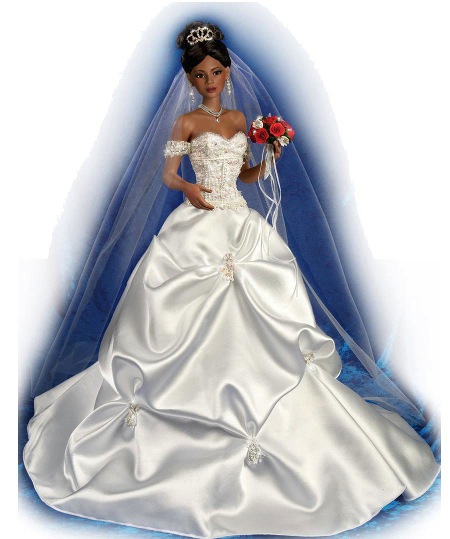 Glory of Love by Cindy McClure (Photo courtesy of Ashton-Drake Galleries)
Here I am getting ready to see a young woman — who, no matter how much time has flown by, is still my funny and joyful Boo — make a pledge of commitment and responsibility in front of her family and friends. It is an incredible event to witness, and so meaningful when the vows are uttered by a person whom you have known since she was born.
For everyone who has a June wedding on the calendar, I wish you and yours a lifetime of love, laughter, and liveliness. Heck, my wishes are sent out to you no matter the calendar date. I am honoring and celebrating brides for all seasons.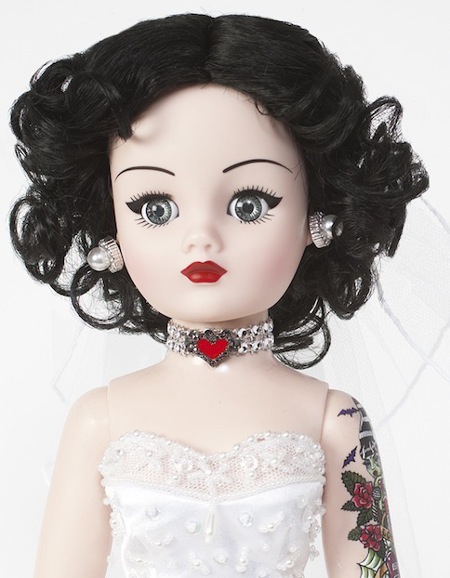 Rocker Bride Cissy (Photo courtesy of Alexander Doll Company)
To my niece, Boo, who is having her big day in a few days, I hope that your heart finds what it has been seeking and that your life is made more complete by entwining it with your husband-to-be. A wedding lasts for a single day; a marriage can last for a lifetime. I wish that your marriage will be respectful, soulful, happy, healthy, and heartfelt. Whatever adjective is your favorite, Boo, I wish that is how you'll remember your special day. And more than that, I hope that is how you will perceive your marriage.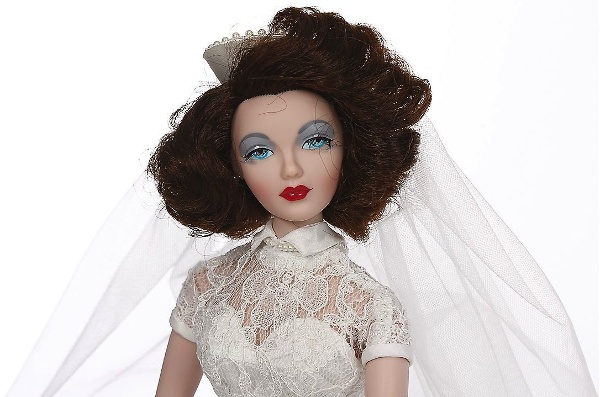 Gene: Monaco Bride Doll by Mel Odom (Photo courtesy of Ashton-Drake Galleries)
Best of luck and congratulations, to my niece and to all the beaming brides to come. A world of possibilities lies before you on this memorable and precious day. I pray that you embrace it and absorb it — if you can hold on to all the good wishes and good feelings that emanate toward you, you will be a shining star from that day forward. Celebrate and sparkle!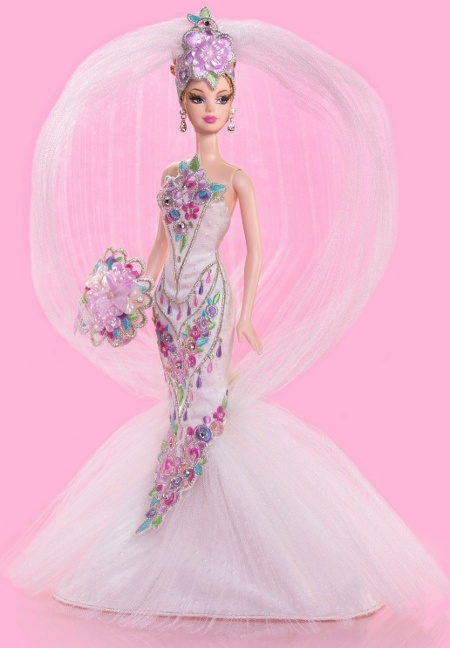 Couture Confection Barbie by Bob Mackie (Photo courtesy of Mattel)
And if I may raise an imaginary glass of champagne in this cyber chapel of love, I would like to offer this doll collector's toast: "Boo and all brides, may your love be one-of-a-kind; may your happiness be an open edition; may your sorrow be a limited edition; and may anger and sorrow never be removed from the box. I hope your marriage remains as fresh and as MIB as your first nuptial day."
Happy Wedding Day, one and all!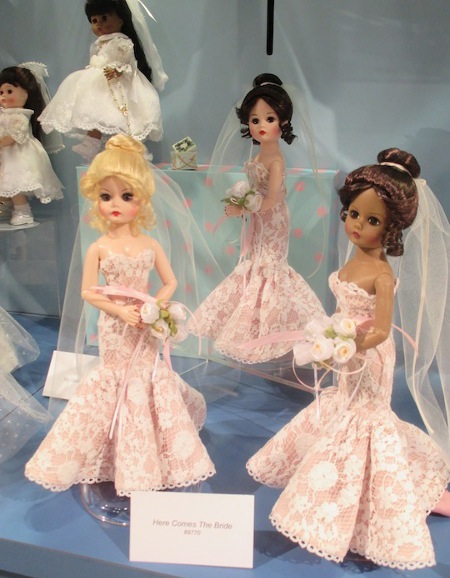 Here Comes the Bride by Madame Alexander (Photo by Stephanie Finnegan)