Photos courtesy of Mayra Garza
Babies are very much on the blog readers' minds these days. My recent postings on North American artists who excel at capturing the innocence and wholesomeness of infants have garnered a lot of great comments and e-mails. It's my sincere pleasure, then, to dig into my archives and reintroduce readers to the talented Mexican doll artist Mayra Garza. It's very satisfying to showcase many of the photos that didn't make it into the original feature, due to space consideration.
When I corresponded with Garza back in 2014, she was residing in San Pedro Garza Garcia, a town located in the northeast of Mexico. As Garza described it to me, her hometown seemed to be just one tiny step removed from paradise. Or, at least, a mirror image of a city that Walt Disney would have engineered for one of his wholesome family films: "I live near a national park called Chipinque Ecological Park, so it is usual to see forest fauna on my home's surroundings. This includes squirrels, many birds and eventually some bears during summer!"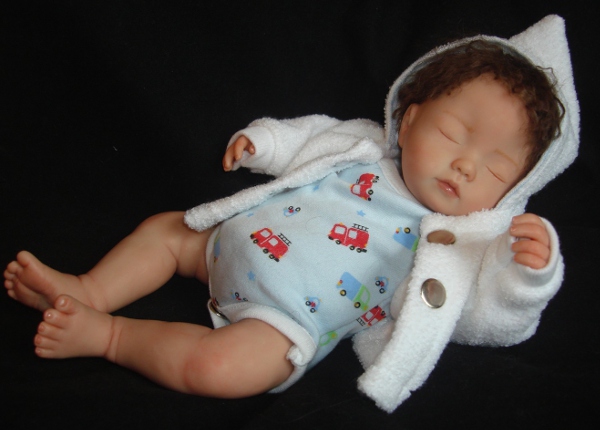 (Sweet Slumber, 14 inches)
Living so close to Mother Nature must be a muse for her maternal creativity. With a healthy respect for all living creatures, she sculpts her charming babies and young toddlers with the three C's: care, concern, and consistency
"I can find inspiration everywhere. It is like a feeling that just comes from my heart and mind," Garza told me. "I can simply wake up in the morning with something in mind that I have to bring to life from a lump of clay. If I am commissioned to do something special, I can find inspiration in paintings, photographs or in real children."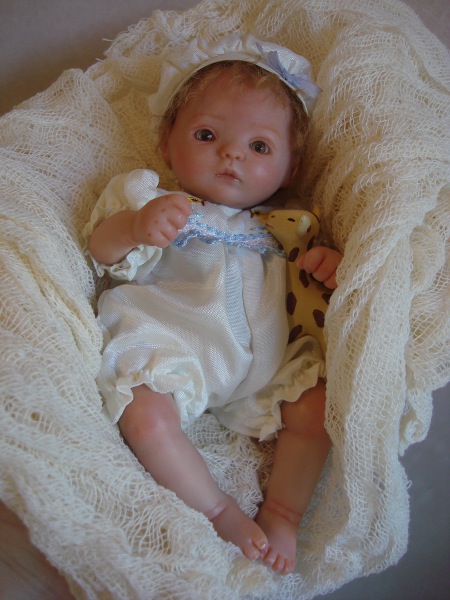 (Mom's Little Boy, 8 inches)
Garza also has the photo albums of her own family to use for reference and to spark her always-expanding creativity. She is the proud mother of three daughters — Sofia, Mariana, and Marcela — and each of her children inhabits a personality trait that defines and describes her. "Sofia is an architect with a master's degree in marketing. She is the one in my family who loves art, ballet, and museums — the same as me. Mariana is an industrial engineer. She is very bright and good at anything related to computers and numbers. She is the one who helps me with my website and everything technical related," Garza shared. "The youngest is Marcela. She likes dolls and has the talent for sculpting. She is currently devoted to her career." (At the time of our correspondence, Marcela was in medical school, striving toward her degree and earning high marks.)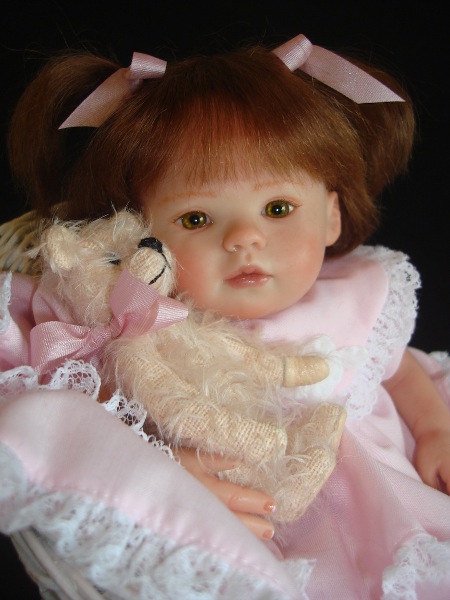 (Irene, 12 inches)
Just as her trio of children have all toiled hard to become standouts in their chosen fields, Garza has labored to ensure that her child dolls are as perfect as they can be: "What many of my collectors have told me about my work is that when they see their new dolls in person, their expectations are surpassed. I think that it is because I do not overlook any detail. I would describe my dolls as tenderness and sweetness."
Her handiwork has been applauded by collectors and by companies alike. She has done sculpting for Paradise Galleries and Ashton Drake, among other well-known doll manufacturers. She has also created one-of-a-kinds and original designs for collectors who commission her abilities. "Most of my works are commissions. I have a great communication with many of my collectors, mainly through e-mail or Facebook. I love to be in touch with them. I enjoy reading their e-mails and I always respond to all of them. When I think about if they have inspired me, then, yes, how couldn´t they? They are very important to me," Garza confided.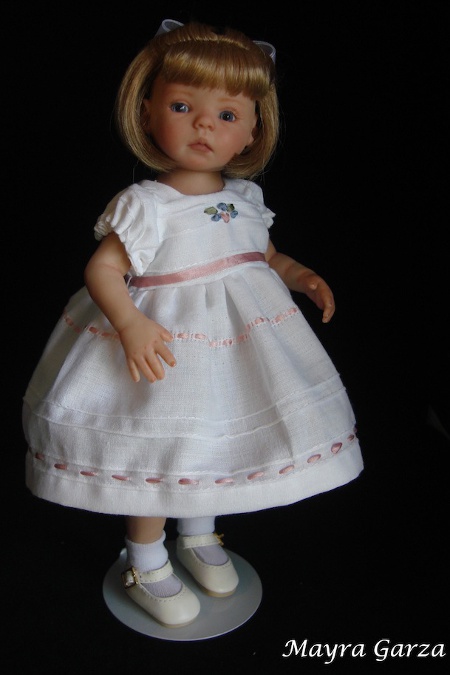 (Hope, 9 inches)
Her achievements in the doll world have endured and evolved for more than 20 years. "First I started collecting dolls and upgrading some of them. Later I learned the art of porcelain doll making. But it was not enough for me, so it was about 10 or 11 years ago, when I started sculpting my own dolls, reproducing some of them and decided to expand my horizons selling them internationally," Garza observed.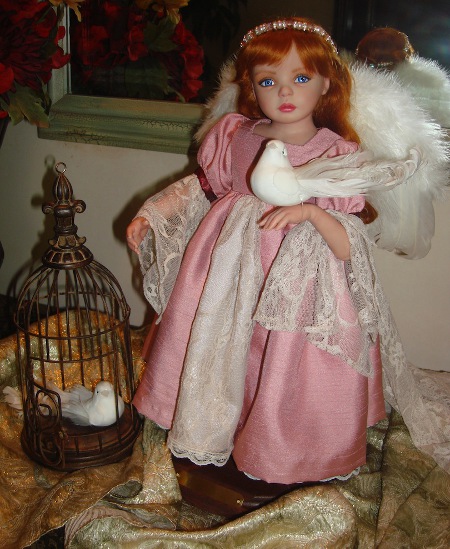 (Angel of Hope, 16 inches)
Discovering her path has been a godsend for the doll artist. As she designs, sculpts, and creates, she knows he has found her true place. The dolls are windows into her own soul: "I have learned that I can tell more about myself through a doll created by me than with many words. Faith is quite important to me. I believe in God and I love Him. I truly believe that He guides my path and all that I have is a thank-you to Him. For that reason besides sculpting dolls, I also sculpt Baby Jesus. It is the way I have to give Him something in return for the gift of sculpting that I received from Above."

(Baby Jesus, 10 inches)
When one of her collectors received Mayra Garza's rendering of the infant Jesus, Garza was touched by the customer's heartfelt response. It remains among her most treasured memories. "All the compliments that I receive mean a lot to me, but I can give you an example that is really special," Garza affirmed. "It was when one of my collectors contacted me to tell me that when she opened the box and held her Baby Jesus in her hands, the feelings that my doll inspired in her were so nice that she started to cry of happiness. That is so meaningful to me. That touches me deeply."