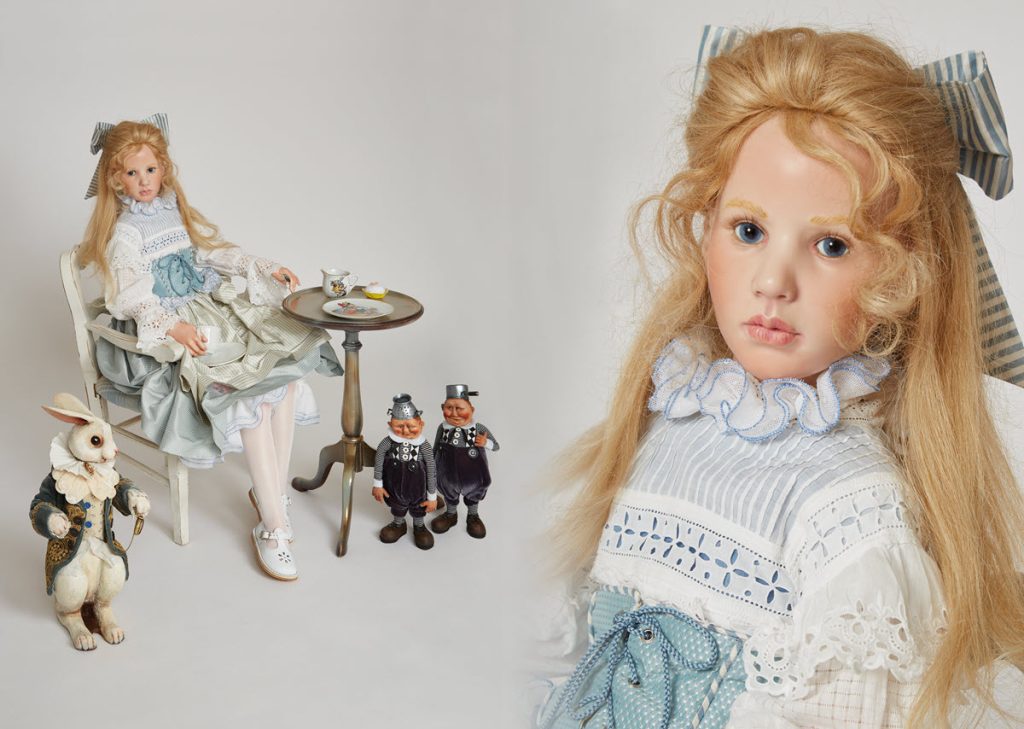 By Karin Schrey
With more than 200 award-winning designs and four lifetime awards (in­cluding DOLLS magazine's Lifetime Achievement Award) for her work, it's no wonder that Hildegard Günzel's dollmaking career has passed the half-century mark. In her new book Magic World — Kunstform Puppe, she relates some of her personal stories about her experiences in the course of her 50-year doll journey. But this is not the end of her story, because her new doll collection for 2023 is on the way! Günzel's experiences reflect how exciting and thrilling the early 1980s was for the doll world — the spirit of optimism and how affirmative and enthusiastic the first collectors were about artist dolls. Author, editor, and exhibition organizer Karin Schrey shares her perspective on this legendary doll artist:
A Landmark Anniversary
Fifty years of Hildegard Günzel dolls! This is an anniversary to rejoice and one that deserves respect. One day at the beginning of the 1970s, I had been standing somewhere in Dusseldorf, in front of an obviously artist-made doll that fasci­nated me. At that time, I did not yet know that it was one of the first Günzel dolls — and that many years later I would have the pleasure to write for this artist. The first catalog copy emerged for her collection Romance — Anoushka the doll fairy, coming from the sky in an artistically painted matryoshka to give a lonely little girl great pleasure. Now the circle is complete …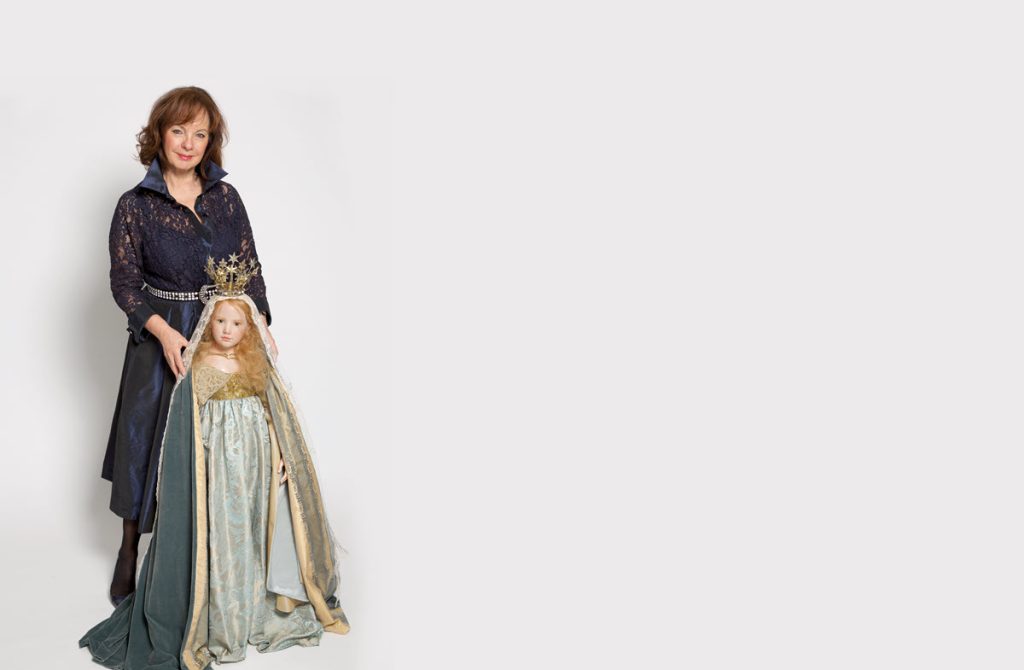 Artist dolls were still strange to me at that time. I collected — to a modest extent — antique porcelain-head dolls, teddy bears, and old toys, and for many years, I had been supervising the collection of antique toys of the Museum Ratin­gen. In addition, I wrote articles for magazines as well as advertising copy, and my first books were published in Frank Wohlfarth's publishing house in Duisburg.
Nevertheless I was surprised when I received the call: "This is the Hildegard Günzel doll studio. Would you write a catalog for us?"
Tentatively, I entered the newly built studio, of which I had heard a lot, for the first time. I remember how amazed I was about the elegance, the well-thought-out principle for the exhibitions — and that on top it was so extremely cozy!
The process was always the same: Sometime at the begin­ning of the year, or maybe at the end of the previous year, the idea and most of the accompanying dolls had been born. Then my phone would ring. Hildegard Günzel welcomed me, and we walked along a meandering, mysterious path leading to the scene in which she had set the dolls of her new collection. I don't want to repeat what I have written for the copy in her many catalogs, but it had always been overwhelming to see how dolls created from precious materials could appear so alive.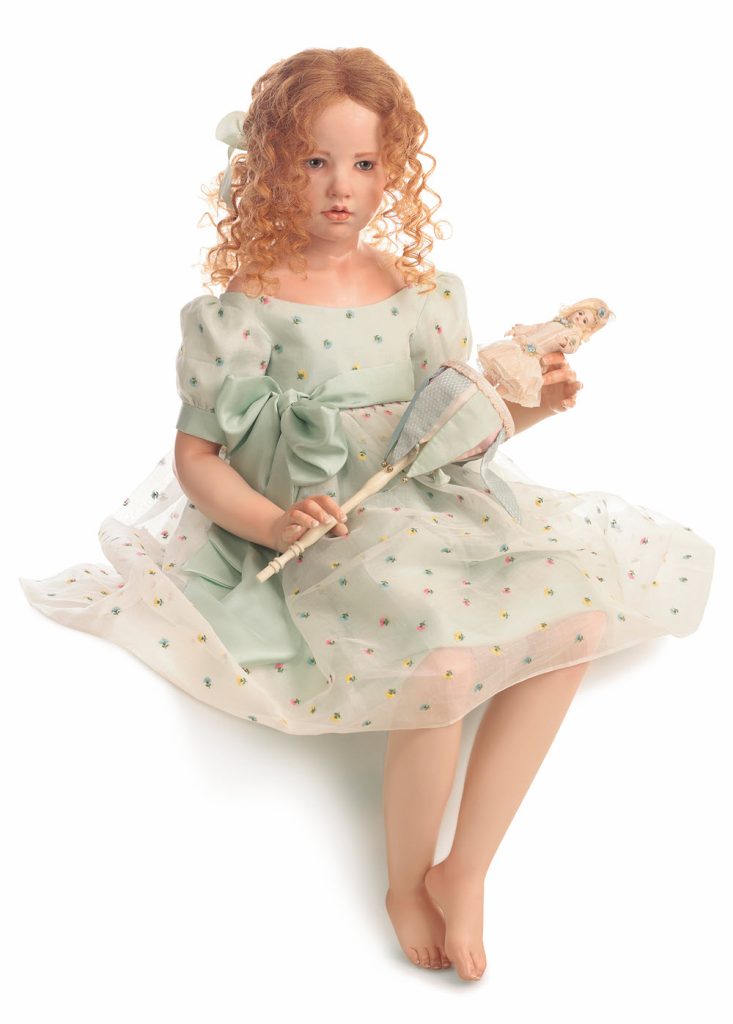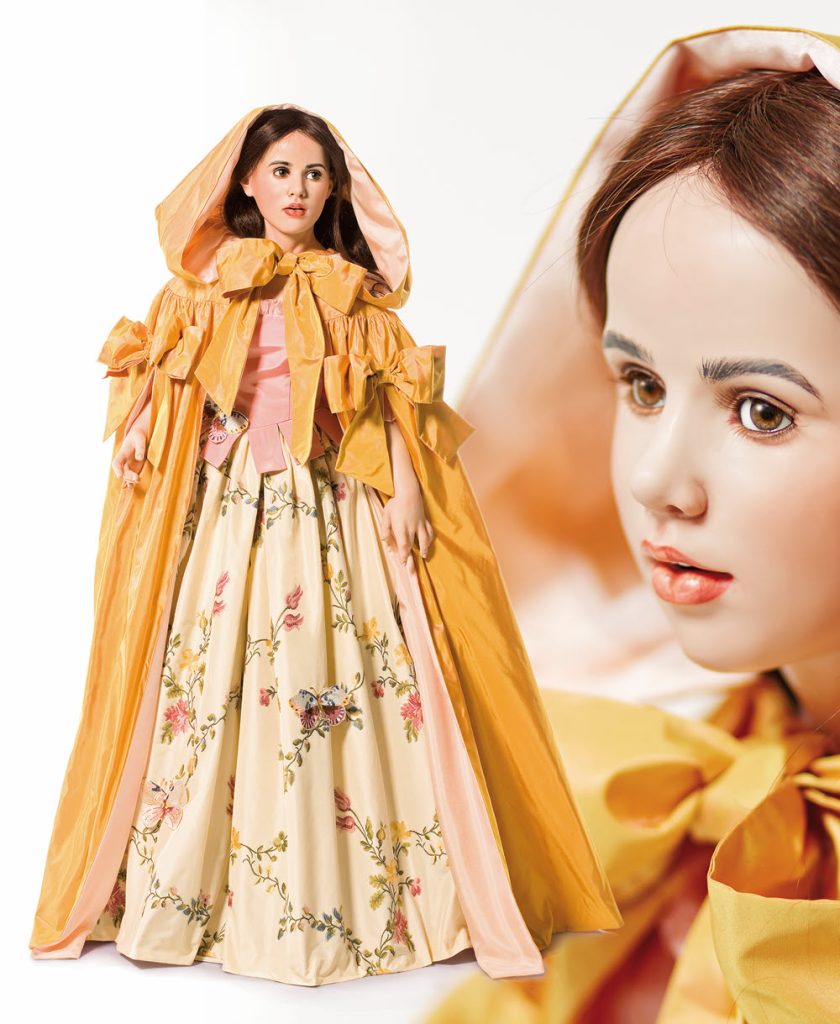 In the beginning, Hildegard Günzel and I sat silently in front of the scene, letting it make an impact on us. Then the artist began to tell me about her thoughts, feelings, and ideas in a low voice. It sometimes became philosophical. I let my own thoughts and feelings have an effect and looked at the dolls. And then the reversal process took place: Following the idea that had inspired Hildegard Günzel in creating her dolls, it was a long, sometimes difficult, and perhaps even painful process to let these ideas take shape so that they became dolls at last. For me it was the other way round: At some point, I felt the dolls lose their stiffness, like in a ballet — in the beginning the dancers remain motionless as the curtain is drawn up, then the music begins, the rigidity loosens, and the dance begins. In my mind's eye, a story with children in their surroundings arose, fitting to the given subject. I was watching, as with a film, and only needed to take notes.
It is characteristic for Hildegard Günzel as an artist that she recognizes and respects this creative process in others. During all those years, she never intervened in my work or told me what to do. I was completely free in writing the stories about her doll col­lections as they seemed right to me. I thank her for that. The cata­logs that were created at that time are beautiful; still today I browse through them now and then and rejoice in the related memories.
Quality persists. Should persist. As a museum person, I appre­ciate the work of museums that make sure that it stays like this. Hildegard Günzel's creatures now are where they belong: in the memory of people.
I wish the artist Hildegard Günzel and the museum in which her wonderful dolls have found a home much success!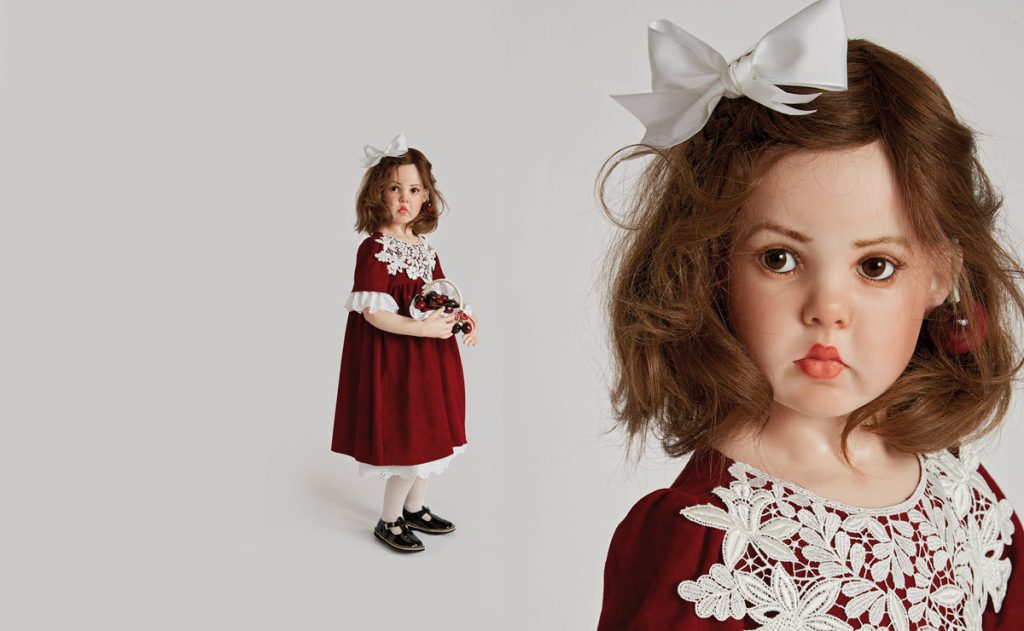 Creating a New Collection
Each collection begins with a concept from which the theme develops. This concept becomes visible and concrete in the dolls of the collection. Everything — the portrayed doll type, posture and gesture, cut and colors of the clothing, accessories, names of the dolls, text and layout for the catalog — is subordinate to this theme. This is surely one of the reasons why Hildegard Günzel's dolls ap­pear to be so lifelike. As if in a delicate, dazzling cocoon, they are enclosed by their own particular aura, from within which they seem to communicate. It is a sensitive moment when Hildegard Günzel adds the finishing touches to her new collection. A head is slightly turned, a leg put forward, a dress otherwise draped — and already a story begins.
The characters are built on the basis of detailed sketches that comprise not only the doll type itself but also the clothing. Colors are very important. Each of Hildegard Günzel's collections is a com­position of color, in which harmony and contrast play a charming game with each other. Her designs would do any couturier proud.
From head to toe, the artist personally designs the clothing for her dolls. The clothes have to fit with the character of the doll, must emphasize her personality, and — however exquisite they may be — must never be the center of attention; the doll and clothing have to form an integrated whole. Hildegard Günzel devotes much time to the selection of the right fabrics; she is only content when cut and material really go together perfectly. Sometimes she has to search for a long time until she finds the materials she had in mind for a dress when sculpting the doll. Should the international market not offer the right things, she orders them to her own specifications.
Precious fabrics show to their fullest advantage in a fashionable but nevertheless timeless cut. One can mostly do without addition­al embellishments. The matching colors are of great importance. When selecting the fabric for her dolls' clothing, Hildegard Gün­zel therefore always pays attention to fashion trends. Sometimes the designer is even one step ahead of the trend — which makes her especially proud. Dolls dressed this way adapt themselves to every furnishing style. They form a charming contrast or, as an eye-catcher, take the coldness and strength from a room furnished in such a way. The important thing in living with dolls is not to own as many dolls as possible but to rejoice in them, as in a precious painting or a sculpture that one enjoys looking at again and again.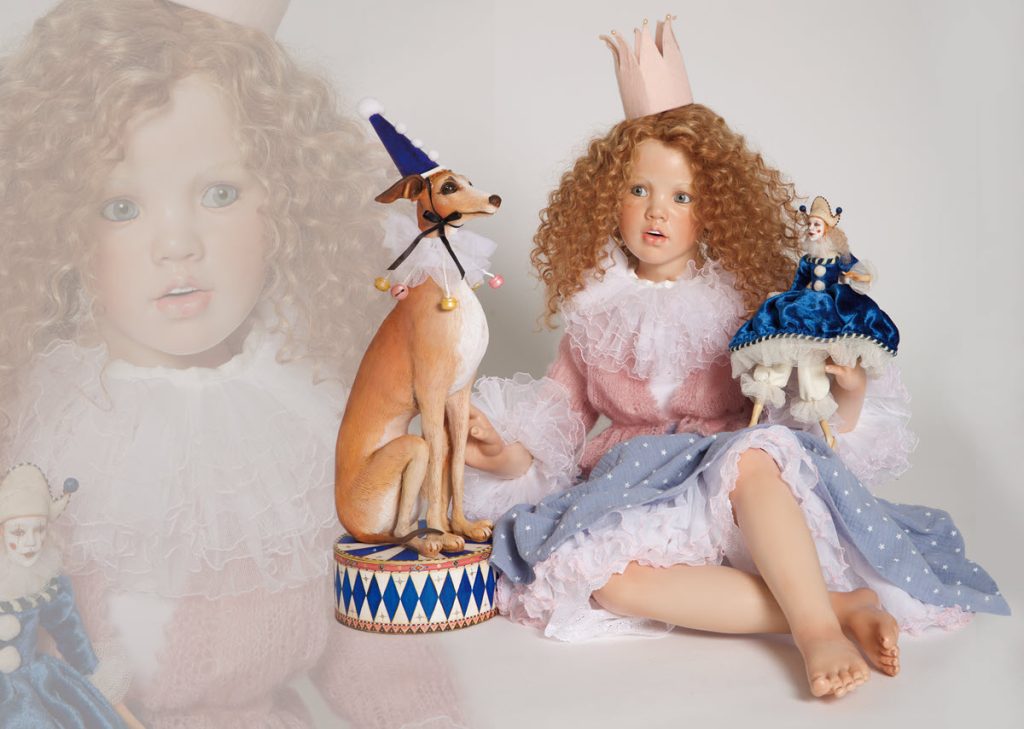 So, too, the accessories, which Hildegard Günzel gives to her dolls, assist in making them tell a story. If the artist does not manu­facture them herself, she entrusts other acknowledged doll or ted­dy makers with the production. These accessories are precious and stand by themselves as collectors' items, but you will only find them as part of the Hildegard Günzel collections.
It is the uncompromising striving for perfection that, apart from pure artistic demand, distinguishes Hildegard Günzel's work. Moreover she has an excellent feeling for the spirit of the times, for what people are longing for. In fact, the worlds of dolls and of people are not necessar­ily compatible with each other, but she succeeds again and again in establishing a connection. Her dolls — ideal children — are walking on a bridge between these two worlds, neither completely here nor there; they are telling about today as authentically as telling about yesterday and — possibly — about tomorrow. Expressions of life that, as Morgenstern said, "work on."
Hildegard Günzel never wanted to make dolls that endure for only a short time. In the 1980s, during the boom of doll collecting, one could read in the specialized literature that artist dolls would be the dolls of the future. Hildegard Günzel is of the same opinion. This means for her, she must take the work of her dolls seriously, to give of her best, because only the best outlasts the times. Part of this is to docu­ment her career and development, as well as the dolls created by her, in order to meet the expec­tations of a future collectors' scene that will have a right and a need for information as much as the contemporary one has. Every collector wants to know as much as pos­sible about what they possess and is happy to have more information.
Hildegard Günzel knows this. Her dolls might appear alive, but they are not. They are mute contemporary witnesses who cannot provide information about themselves. Books, magazines, and catalogs reporting on them, can contribute to the fact that the contemporary dolls will keep their value for the foreseeable future genera­tions of collectors.