New from Maggie Made Dolls, Satine is part of a 60-piece limited edition and priced at $950.
Maggie Made's latest creative project started out on a small scale … literally.
Maggie Iacono—always searching for new ways to delight her collectors—designed five tiny doll dresses, only 2 inches in size.
"She added all her touches, in miniature of course," relates Tony Iacono, Maggie's husband, business partner and chief doer of whatever needs doing. "Dyed the felt all the right shades. Had me cut out the thousands of little pieces that went on them and then it was off to the seamstresses. Maggie added a pin on the back so they could be worn as a pin. Then she added a silk rope so it could be worn as a necklace as well. A lovely gift box and voila—a Maggie Made 'Clothes Pin.'"
Collectors scooped them up at the 2008 shows and they quickly sold out. And here it would have ended—except for the wistful comment of one collector. "Wouldn't it be lovely to have a little doll that could wear this dress?"
Lovely indeed. The little remark sparked an idea in Maggie's brain. At first it was a modest one—producing a very simplistic miniature felt doll—but the more Maggie thought about it, the more intricate and elaborate it grew. Before she knew it, the "miniature" project was taking on monumental proportions.
The Toy Cottage (below) is priced at $2,895 and available in an edition of 40 pieces.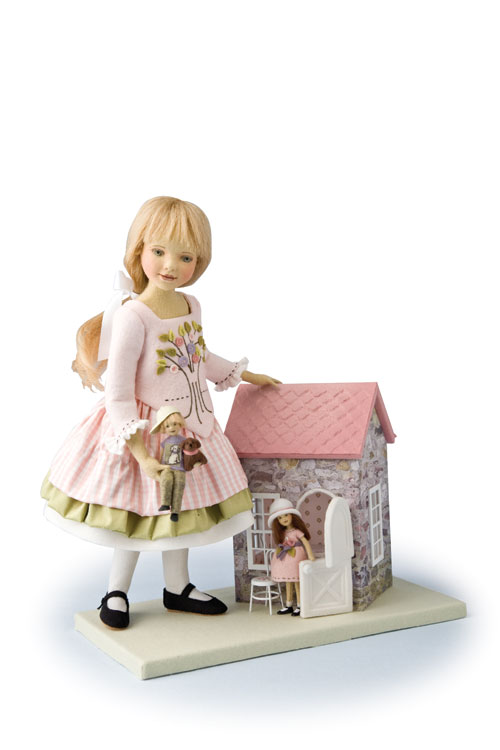 "I thought it would just be a little manikin, possibly without a face or hair, and just bare felt feet. I came up with the body and decided to put some features on her face with a needle and thread. Then I realized I'd never be happy with such a silly simplistic face. It was the same feeling I'd had 25 years ago when I stopped making rag dolls and knew I had to have the sculpted three-dimensional felt-faced doll. Just for fun, I decided to see if I could sculpt a face that small. This worked, so the next hurdle became seeing if the features would come out when pressed in felt. Oh, great! This worked also. As the little doll continued to evolve—and metamorphed into anything but simplistic—I realized she would be really cute as a toy for my larger 16½-inch doll."
Maggie's ideas didn't stop there. How about a toy box in the shape of a house? And wouldn't it be cool if the larger doll had some things to play with? Well, the box turned into a playhouse. The house then had to have windows. Then, wouldn't it be great to have a shingled roof? The roof then had to be assembled and a mold poured. …
When one question was answered another question—and another challenge—came to replace it. With every question, Maggie turned to Tony. "He's the one who had to go back to his workroom to see if it was possible to make my newest desire a reality," Maggie notes. "It partly became a joke for me to suggest improvements, but as I was saying them, they turned into genuine wishes. This was particularly true of the light-inside-the-cottage-so-you-can-see-the-things-inside idea.Yes, we did add a light. And, yes, my husband is a saint. This piece was true teamwork."
The project has involved challenges the Iaconos have never tackled before during Maggie's 25-year dollmaking career and Tony's 20 years as Maggie's fulltime go-to doll guy. But creativity and resourcefulness—not to mention a touch of the obsessive—are things that neither Maggie nor Tony lack.
"I decided to make two little dolls to put into the cottage because one wasn't enough," Maggie explains with a laugh. "I thought it might be fun to make one of them a boy, seeing as I hadn't made a boy in years.
"It just got bigger and bigger as we went along," Maggie continues. "I frequently went to bed thinking I had the design just right, only to wake the next day with improvements that I had to try. You push and push until you feel comfortable knowing it's complete."
While Maggie molded and painted the ½-inch faces, Tony was busy inventing patterns and coming up with new methods for creating things they'd never done before. There were many questions and no set answers, so it was a matter of devising them as they came along. How is this tiny thing going to pose and stand? What will it wear on its feet? ("The shoes are so tiny I have trouble picking them up!" Tony exclaims.)
The toy box, originally envisioned as a simple wood box with a lid, turned into an elaborate playhouse with Maggie-decorated touches, such as custom wallpaper.
The outside walls of the cottage were inspired by stone structures near the couple's Pennsylvania home and workshop. "Tony went out to photograph one of them, and I played with it in Photoshop to give it just the right color and artistic feel," Maggie relates. "It was then printed on the fabric that is applied to the underlying structure."
"There are so many parts in creating this illusion… or delusion. I am so lost right now in little parts! Help! I'm trapped in the studio of a doll artist. Wait till I see that collector who suggested a doll for her pin," quips Tony, coping with all the mini madness with his customary humor.
Yet all the effort has been worth it. The "kill to have it" result is "The Toy Cottage." It consists of a 16½-inch blond beauty dressed in a felt top appliquéd with a flowering tree motif and a skirt comprised of two layers of silk over another layer of felt. Her playmates are a sister and brother pair. Both 4 inches tall, their bodies and heads are made of felt, their faces are molded and their bodies are totally wired to be fully posable. She's lovely in a pink felt dress with felt flowers cascading down her waist, white lace socks, with molded resin attached shoes, and a felt hat atop her mohair wig. He's boyishly beguiling in his felt outfit and black molded resin shoes, and comes with a 1-inch-by-1¼-inch toy puppy.
The cottage—made of wood and covered in either a cotton self-printed fabric or felt—features a pink molded felt roof made to resemble shingles. Other special touches include fabric printed (computer generated) stone walls, pink-and-white checked fabric over the wood floor, a molded felt door and, on the ceiling, a small battery-operated light, which can be switched on and off to make the cottage's interior glow invitingly. Inside, you'll find a table and two chairs painted in a floral design.
"I'm very proud of this piece," Maggie says. "I have accomplished what I thought couldn't be done and that gives me great satisfaction. I really love creating this kind of set. Having so much to go around the doll gives her such play possibilities for the collector."
Joining Maggie Made's two other dolls in the 2010 collection, "The Toy Cottage" debuts at IDEX this January. At the time of this writing, the piece was a big secret but anticipation and expectations ran high. "IDEX is always the highlight of my year as both a collector and shop owner. Maggie and Tony's booth is the first one we dash to see. I love seeing the dolls 'in person', taking in the colors, touching the fabrics and finding those little Maggie Made details in the works," shares Ed Ferry of Happily Ever After in Philadelphia, Penn.
"Whether it is a complete puppet show, as in the 2004 'Tale of Red Riding Hood'; a stunning fashion doll 'Olivia' in 2006; or the jaw-dropping play set of 2009's 'Polly's Tea Time,' I believe the collectors have come to expect at least one new Maggie Made piece that blows their collective minds," comments Glenn Lash, also of Happily Ever After.
So collectors, be forewarned—order early or risk losing out on what undoubtedly will be another highly lusted after piece. "During IDEX in 2008, I recall Tony Iacono running up to me in the sales room to tell me how fast the new line was selling out and that we better get our order in," Lash explains. "Haste in this case does not make waste!"
"I always recommend to our customers to act as soon as possible," Ferry encourages. "When dolls sell out that quickly to stores, they also move fast to the collectors. If a doll sweeps you with emotion, go with your soul."
"We've represented Maggie's dolls for more years than I can recall and we have never been disappointed. Neither have our collectors," states Barrie Shapiro, who along with her husband, Danny, co-owns The Toy Shoppe in Richmond, Va. "Maggie's dolls have great presence. They are approachable yet elegant. It's very evident that she takes tremendous pride and care in all of her designs, which are always refreshing."
"Maggie and Tony always take the extra steps," Danny Shapiro notes. "In the past, their creations have combined emotional appeal with first-quality materials and craftsmanship. The posable bodies … the delicate designs … all the hand-done work … the meticulous details … everything adds up to excellent work and value."
"Their magnificent attention to detail, unique medium of hand-painted felt and small editions continue to thrill collectors and sell out consistently year after year. We have carried their work for more than 15 years and they are more popular than ever," says Kim Malone of The Dollery in Whitman, Mass. "We specialize in high-end, one-of-a-kind (OOAK) dolls and small limited-edition dolls in OOAK costuming. However, we continue to carry Iacono's work and recommend it to our sophisticated, well-educated buyers as an edition doll that will stand the test of time in value and quality. We cannot wait to see what is next for 2010!"