I cannot recall the exact age when I received my first adult-figured, 11-1/2 inch Barbie®, but it was probably May or December of 1965 at age 10.  The doll and accessories were either a birthday or Christmas gift.   My mother, a high-fashion aficionado who always "dressed to the nines," made certain that I owned Barbie® and her friends.  She also ensured that they were properly dressed in the current haute couture fashions.
I do recall enjoying several hours of play for at least three years with my inanimate friend, Barbie®, and her host of friends and accessories.  Hours of doll play were spent in the bedroom of hot pink and orange décor that I shared with my younger sister, Robin.  Being six years my junior, Robin played with baby dolls and I played alone with my more mature girls and one male, Ken®.
I enjoyed redressing the dolls in their trendy outfits, mixing and matching their clothing, popping heads on and off; and after play concluded, I made certain that each doll and accessory was properly stored in my baby blue, double-sided Barbie® case.  I can still visualize the graphics on that patent-leather doll case, those that were on the rectangular-shaped doll boxes, the fashion packs, and the miniature brochures that advertised additional fashions and accessories.  Those were the good old days when doll play was truly enjoyable and I acted and thought like a child.
At age 12 or 13, things drastically changed.  Brunette bubble cut Barbie® and the host of other Barbies that I owned along with her boyfriend, Ken®; Midge®, Talking Barbie®, Francie®; little sis, Skipper®, and littlest sis, Tutti® were no longer my inanimate friends.   As a result of my juvenile belief that I was too old to play with dolls, I abandoned my former companions.
Before adopting the too-old-to-play-with dolls attitude, I had been mesmerized by a younger neighborhood friend's Barbie® collection, which put mine to shame.  Her family's dining area had been converted to what looked like a Barbie® museum.  I was speechless the first time I saw all of her dolls, clothing, accessories – cars, townhouse, you name it, Rochelle had it.  Soon after, without my mother's knowledge and certainly without her permission, I packed up my meager Barbie® collection and gave everything to Rochelle.  "After all," I thought, "she's just a kid and she still likes to play with dolls."
That gesture, in approximately 1968, ended my Barbie® and other doll-play era.
In 1991 a fluke incident prompted my interest in collecting all types of Black dolls, Barbie® and friends included.   At this time, however, I was only interested in acquiring vintage Black Barbie® and friends because none of these dolls had been included in my doll play as a child.  I conducted a mad search for the very first Black doll given the name Barbie® who made her debut 20 years after #1 Barbie®.  My doll search and ultimate acquisition included many of the 1960s and 1970s Christie® dolls. (Live-Action Christie® and Malibu® Christie® are still two of my favorites from the vintage era.)  Cara® and Curtis®, and any other doll in the vintage Barbie® family that looked like me were included in my list of must-haves.  The 1981 "afro" Ken® (SunsationalTM Malibu® Ken®) and Steven® (the most handsome male friend of Barbie®/Christie® in my opinion) were also must-haves as was Talking Brad®, another hunk of dark chocolate vinyl!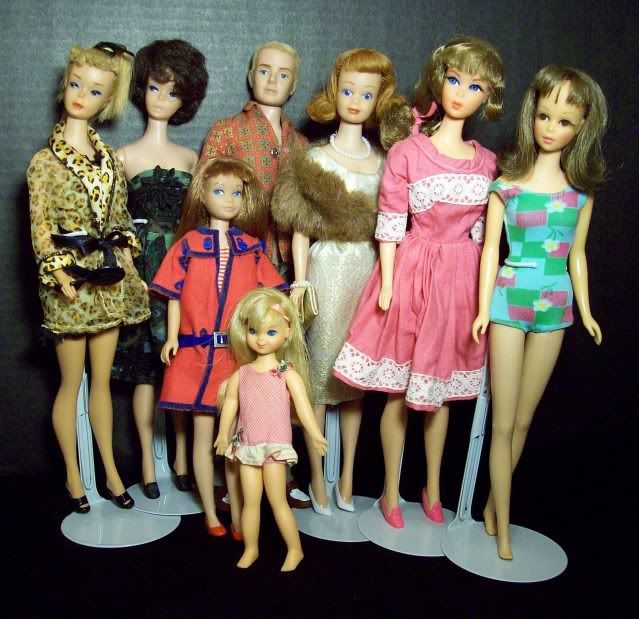 L-R: #3 Barbie®, brunette bubble cut Barbie®, Ken®, Midge®, Talking Barbie®, Francie®, Skipper®, Tutti® – the #3 Barbie® was a 1990's gift from my niece; all others are from my childhood.
In approximately December 1995, during a Christmas Eve gift exchange held at my home, my mother presented me with two beautifully wrapped Christmas presents.  As she handed them to me, pointing to one of the boxes, she said, "You're going to really love this one."  After explaining her attempt to retrieve a box in her garage labeled Christmas decorations, another box fell from a shelf into her arms.  The contents of the beautifully wrapped package that she knew I was going to love had been in that garaged box.  Naturally, I opened that present first.  My niece and her family were approaching our front door during the time I unwrapped and opened that box.  After I calmed down and answered the doorbell to invite them in, my niece commented, "I heard you outside… why were you screaming?"  I showed her the contents of the unwrapped gift.  Inside was the remainder of my Barbie® collection, just as I had left them approximately 27 years prior!  I had no idea that I had not given all of my Barbie® collection to my childhood friend.
Even though they still do not look like me, I was overjoyed by my reunion with brunette bubble cut Barbie®, her boyfriend, Ken®; Midge®, Talking Barbie®, Francie®; little sis, Skipper®, and littlest sis, Tutti®.  I fondly recalled the many hours of doll play spent with my inanimate vinyl friends.  It was indeed a joyous reunion!
After the excitement in the room settled that Christmas Eve in 1995, my mother said, "I wonder what happened to all of your other dolls."  I looked at her with the complete innocence of a 12 year old and did not mumble one word.  I will never admit and she will never know (unless she reads this) that I gave the dolls away!
(Below is a slideshow of my remaining childhood dolls and a few initial dolls acquired as an adult collector.)