By A. Glenn Mandeville
In the mid-1950s, little girls were enjoying beautiful dolls that were made with them in mind by many competing manufacturers. The average age span for a child to be interested in dolls was roughly ages 8 to 14.
However, the older portion of that age group was becoming less and less interested in baby dolls and more and more noticing the dolls that resembled young adults, which were just starting to appear. In 1955, Madame Alexander took a chance on this emerging new market and introduced Cissy, a glamorous 21-inch doll with an adult body and feet sculpted for high heels.
The doll featured the head sculpt of a child doll previously used on other Madame Alexander dolls with a new adult body and a hefty price tag to match. This doll was criticized when first introduced at Toy Fair, but Madame Alexander explained multiple times to the press that many little girls wanted to play with a doll that represented them in the future and that would speak to the magical world of being a teenager.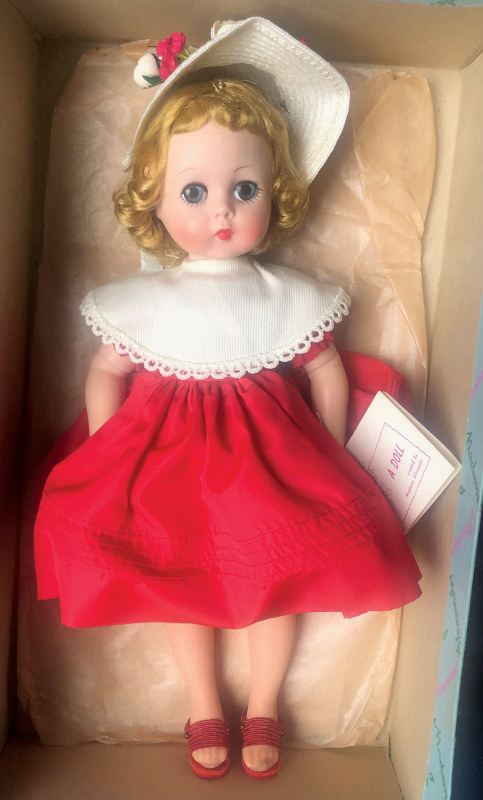 Cissy was widely embraced due to Madame Alexander's smart way of handling the launch. However, like many Madame Alexander dolls, Cissy had a high price tag — not only for the doll but for the exquisite extra fashions that were available. Gorgeous, yes, but out of reach for many parents.
None of this was wasted on other manufacturers, who soon jumped in with cheaper versions of an adult-bodied, high-heeled fashion doll. The most notable of these was Ideal's Revlon doll, which used a well-known cosmetic brand name and hair play to sell the doll.
Madame Alexander found this frustrating, as she shared with me in an interview at an event. Her dolls were always aimed at, as she put it, the carriage trade — meaning the affluent buyer. She also told me that she had come up with a solution! In 1956, Madame Alexander issued Lissy, a 12-inch doll with a stunning face and sleep eyes. Her body was jointed at the elbows and knees. Her age was not precisely defined.
Lissy was a perfect fashion doll for a lower price than the 21-inch Cissy. The basic doll introduced in 1956 was available in 11 different styles, as well as a staggering nine-piece trousseau set. Lissy was issued as a bride, a ballerina, and in numerous beautiful coat and hat set travel outfits, along with stunning party dresses.
The doll featured a slightly low-heeled foot to fit a small-heeled shoe — these shoes are very hard to find today. The fashions were all sold separately and had the Alexander touch. One has to always keep in mind that Madame Alexander was not herself a doll artist but a clothing designer, and her finest work could be seen modeled by her new favorite, Lissy!
Though the doll was only marketed as Lissy from 1956 to 1958, the charming face mold would be around for quite some time. This adorable face would be used on some of the rarest Madame Alexander dolls ever made during the late 1950s into the 1960s.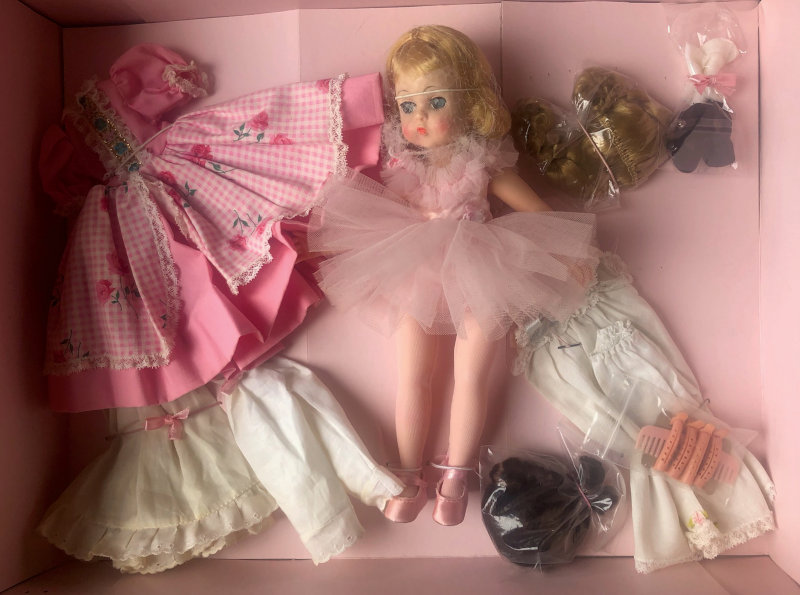 Perhaps most notable of these would be the Little Women dolls, where the Lissy mold was used through 1967. And one of the finest examples of the Lissy face was the 1959 Kelly, which was so successful that a matching doll was issued in two larger sizes to accompany the 12-inch version.
In 1962, the body was changed to straight arms and legs, but the same staggering Lissy face appeared in the Pamela gift set. Pamela featured a strip of Velcro on the head that would allow her owner to easily switch between the different wigs included in the gift set, as well as offering a variety of stunning outfits.
The basic doll in the original gift set was a ballerina. Another gift set in 1963 offered the basic doll in baby blue pajamas wearing a brunette wig. Both sets are very hard to find today and command top prices.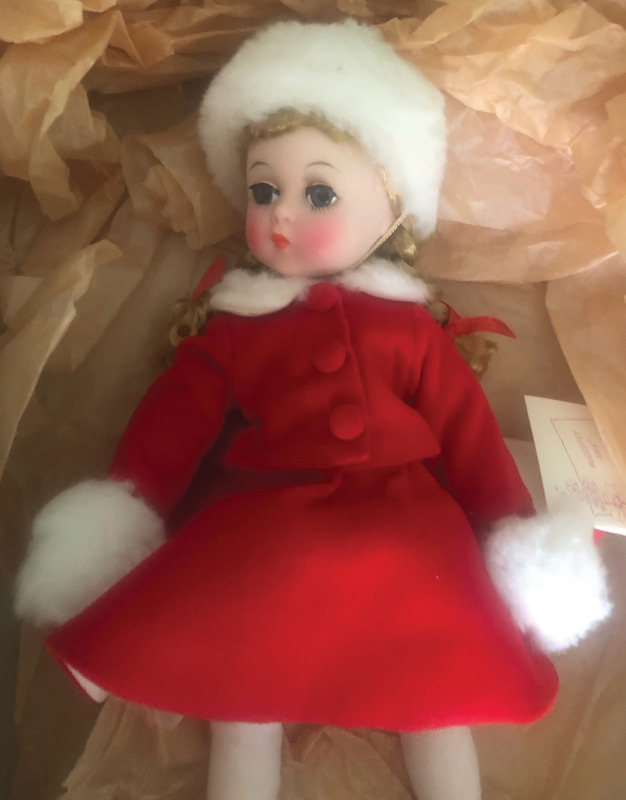 However, it's safe to say that the crown jewel among dolls using the Lissy mold would be the now very rare and expensive McGuffey Ana. It was only made in 1963, and today the doll is seldom found for less than $1,000. Wearing a gorgeous red velveteen outfit, this elusive doll has the gorgeous facial coloring used on the dolls from the early 1960s.
As the 1960s drew to a close, the hard plastic Lissy head would be replaced with a vinyl head with rooted hair. The 12-inch body with straight arms and legs continued to be used through the 1980s on a whole host of characters, including such diverse characters as Little Lord Fauntleroy and Cleopatra!
There is no doubt that the introduction of Lissy in 1956 helped the Alexander Doll Company continue to be a huge success for the decades that followed. Today, collectors still love all the different dolls using the Lissy face — the doll was and will always be a collector favorite!