Imagine you're a fly on the wall at the ultimate tea party—VID (very important dolls) only, of course. A certain 11½-inch So Cal blonde is networking center stage; the American Girls have formed a circle and are working at various arts and crafts projects, while the Bratz pack are text messaging their boyfriends.
But you can't help staring at the doe-eyed redhead in the corner, trying to commune with the spiders (yeah, the party's that boring…). She sighs, turns and pirouettes on her totally rockin' peep-toe heels. And that was Miss Ellowyne Wilde. If you're thinking this doll is quite unlike any you've seen before, that's exactly what her creators at the Mullica Hill, NJ-based Wilde Imagination are hoping. "We wanted to bring something different to the doll world," says Debra DeForte, the newly formed company's marketing and sales director. The company also wanted a doll who is of the moment, and definitely in touch with the times. "Ellowyne was inspired by Japanese anime, the fashion illustrations of Ruben Toledo, Steve Madden shoe ads in which models had digitally enhanced heads and feet, and any number of other pop culture references," DeForte explains .A promising provenance, indeed. And it never hurts if you've engaged one of the doll world's brightest stars to design your first line.
Supporting Cast
When it came to finding the creative force behind Ellowyne, looking to award-winning Robert Tonner, known for dolls that embody endless charm and chic, was a no-brainer. "Wilde Imagination wants to work with the best in the business, which naturally led us to Robert," DeForte notes. "We asked him to develop the line and present it when it was finished. We totally trusted him to develop something special. It's a great way to work with an artist."
Tonner concurs, completely. "It was a dream come true," says the designer. "Complete artistic control!" Although, as it turns out, there was indeed someone other than Tonner pulling the strings.
A Star Is Born (hmmm…better make that A Star is Bored)
You know a Robert Tonner doll when you see one—and that's a good thing. But when the artist set out to design his first creation for Wilde Imagination, he had to find a balance between his signature style and ensuring that Ellowyne remains "her own doll." "I knew I wanted a totally different look, but at the same time, this was a doll that I wanted to sculpt myself, rather than hire another sculptor to do her, based on my design," Tonner says.
During the sculpting process, Tonner kept reference materials around all the time—fashion design illustrations, ro­mantic references, looks from movies and magazines, with a little current Goth—to keep himself on the right track. "But the more I developed the woman she was becoming," he says, "the more her looks designed themselves.  She more or less directed her own look."
As Ellowyne began to emerge, Tonner found his own personality giving way to his "inner Ellowyne." "When I sculpt a doll, I try to 'feel' the mood," he tells us. "Ellowyne was slouching the whole time I sculpted her—and her hands, for example, became especially expressive. This doll, more than any other, truly has a personality, and it made her very interesting for me to create."
21st Century Fox
According to her accompanying biography, Ellowyne's not quite depressed, but suffers from eternal boredom. She loves antiques and old clocks, hunting in thrift shops for cool clothes and dines on whipped cream and edible flowers. She's all about lots of sighing, pouting and not quite fitting in. We couldn't help but ask her creator what he really thought about Ellowyne—and if he'd like to hang out with her. "I think I'd like her, but at the same time, I'd feel a little sorry for her," Tonner muses. "I doubt if we'd have much in common. I'm personally pretty upbeat about things, and Ello­wyne is definitely not!"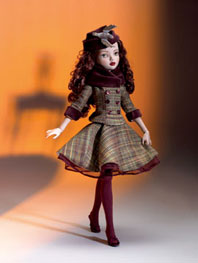 "Well, she's definitely not a perfect fashion diva," DeForte chimes in, "and although her story is a bit dark, it's also funny, mysterious and very intriguing."
Just ask the more than 200 collectors on hand for our heroine's unveiling at the Third annual Tonner Doll Convention in Denver this past August. The first doll in the line, "Ellowyne Wilde: Her Reluctant Debut," a limited edition of 350, sold out in just 24 hours. The reception was equally warm at the Doll & Teddy Expo later that month. "Collectors loved her beautiful face, and the amazing details in her outfits—and, of course, her storyline," DeForte reports.
The company is betting that it's not just doll aficionados who'll fall in love with this truly unique character. "Ello­wyne's story will bring her to a broader audience; perhaps anime collectors and younger collectors who love fashion and can relate to her sullen personality," continues Deforte, adding that the company plans on selling the line direct to consumers via mailings and an e-commerce website (www.wildeimagina tion.com). Collectors can join the company's mailing list via the website or find her at FAO Schwarz, the only re­tailer to carry the line.
"My hope is that Ellowyne will appeal to all those people out there who, at one time or another, didn't understand the world and didn't feel that they fit in," Tonner notes.
Besides, when you look that good, how bad can perpetual boredom and endless sighing possibly be?