Ripley, Ohio, is best known for its historic role in the Underground Railroad. Each year, thousands of visitors climb the steep steps to the Rankin House State Memorial, which gave safe harbor to slaves crossing the Ohio River from the south and to freedom.
Visitors also have found the Kinkead Ridge Winery, an estate winery with a rich spread of 5,000 vines growing fruit for its internationally recognized wines, including Cabernet Sauvignon, Syrah and Viognier/Roussanne. The Ohio Tobacco Museum draws its share of visitors who come to learn the story of Ripley's unique agricultural history and the impact of tobacco—a huge crop and one Thomas Jefferson himself grew—including its role in farming during the Civil War era.
Further down the list of things to see and do is the Eliese Stivers Doll Collection housed in the Children's Room of the Ripley Museum. It should be moved up a few notches on any doll lover's itinerary that includes a stop in this tiny river town founded in 1812. The 55-acre historic district, perched on the shores of the Ohio River, is a one-hour's drive from Cincinnati and about half that time by way of one of two bridges from Maysville, Ky.
Two hundred-plus dolls reside at the museum, a Federal-style home dating to the 1850s whose ten rooms are stuffed with collectibles that span the late-18th century through the mid-20th century, including a Valley Gem piano manufactured in town in the 1870s. On the second floor, at the top of a gently curving staircase, are the dolls.
The dolls are displayed lovingly in a room that once was the bedroom of the two daughters of the collector; this was the private residence of the Stivers family until Mrs. Stivers' death in 1974. Two years later, Miriam Stivers Zachman and her sister, Jane Stivers Dyruff, turned the  property over to Ripley Heritage Inc. to be used as a museum.
"She loved dolls so much and wanted others to be able to enjoy them," said Carol Stivers, Eliese's daughter-in-law, of the collection, an international celebration of type, technique, taste and trends. "Whenever someone she knew was traveling, she would ask them to bring a doll back."
"Each doll was specially requested by Mrs. Stivers for her collection," noted Lee Edwards, curator of the Ripley Mu­seum. "She gave anyone going out of the country money and instructions on what type she wanted."
The collection began long before Stivers had established her international theme, though, with the childhood dolls of her daughters.
"She just kept adding to the collection after they left home," Carol said.
Other dolls made their way into the collection by way of members of Ripley Heritage Inc. and represent their childhoods. Edwards recounted how one member visits the museum annually just to see her circa 1930s baby doll.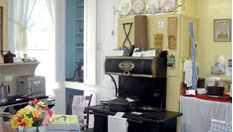 Dolls from Ireland, Germany, Austria, France, Holland, Sicily, the former U.S.S.R., Thailand, Canada, and South and Central America are gently tucked into glass-fronted display cabinets, which Eliese Stivers had custom-made by a local carpenter. A sub-collection of about two dozen Oriental dolls pose in a well-lit nook and reveal some of the collector's favorite pieces. The dolls were obtained through Col. Robert Stivers (a second cousin of A.J. Stivers, Eliese's husband), a career officer who was stationed in Shanghai, China, in the late 1930s. Stivers' other favorites? A trio of fur-clad Eskimo dolls.
You name them, Stivers seemed to have it—cornhusk dolls, straw ladies, cloth babies and buckeye figures. Wooden puppets, dollhouse families, a choir of angels, a pianist, cotton pickers, checkers players, Spanish dancers, William Shakespeare and dolls representing characters from The Phantom of the Opera.
Two dollhouses, handmade over a period of ten years, plus old-fashioned toys, storybooks and family photographs add a cozy charm to the room. Nearby, a beloved baby doll dating back to 1870 lies in her Victorian-era walnut bed, her cheeks, nose and chin nearly kissed away by her owner.
"The significance of the doll collection is that it represents Mrs. Stivers' interest in collecting the rare and unusual, which is reflected today throughout the museum," said Edwards.
"I believe that her collection remaining at the museum has inspired the many treasures that have come through the doors throughout these 30 years of operation."