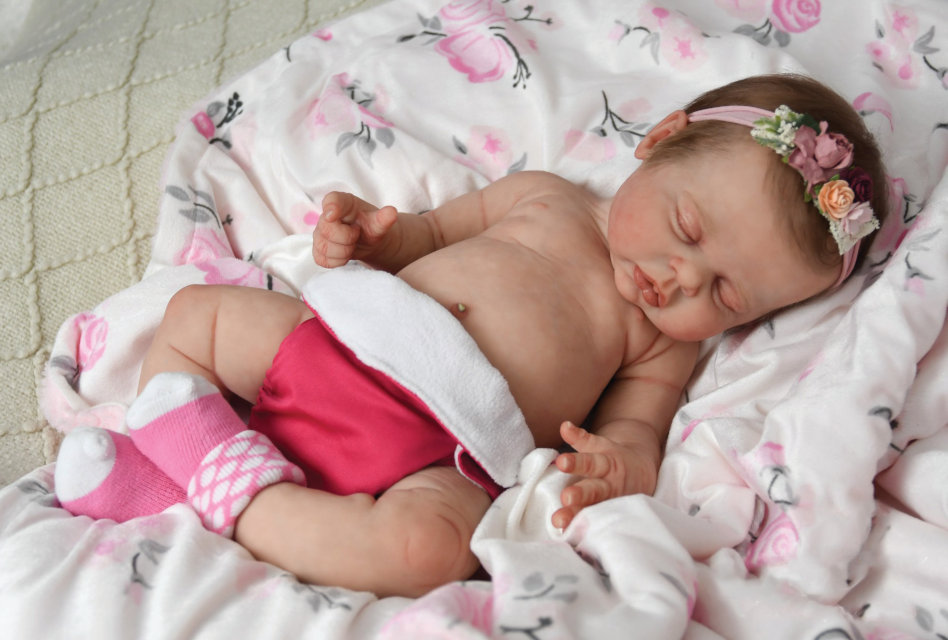 By Brenda Neufeld,
MacPherson Arts & Crafts
If you're a reborn doll artist, you will have no doubt become obsessed with every detail about the color and fine features of babies. You'll constantly use that knowledge to create color and effects that make your work look alive. The good news is that everything you've learned in making reborn dolls is transferable — it will help make you a great silicone artist, too! The tough news is that Silicone painting is a more challenging medium.
If you make a mistake, it will be difficult or even impossible to undo. The materials are more expensive, as are the kits. But what you create will be more cuddly, with velvety-soft like-real skin, sell for a higher price, can move in a more lifelike way, take a real pacifier, and you can be even more creative in customizing a doll, making it truly individual for your collector.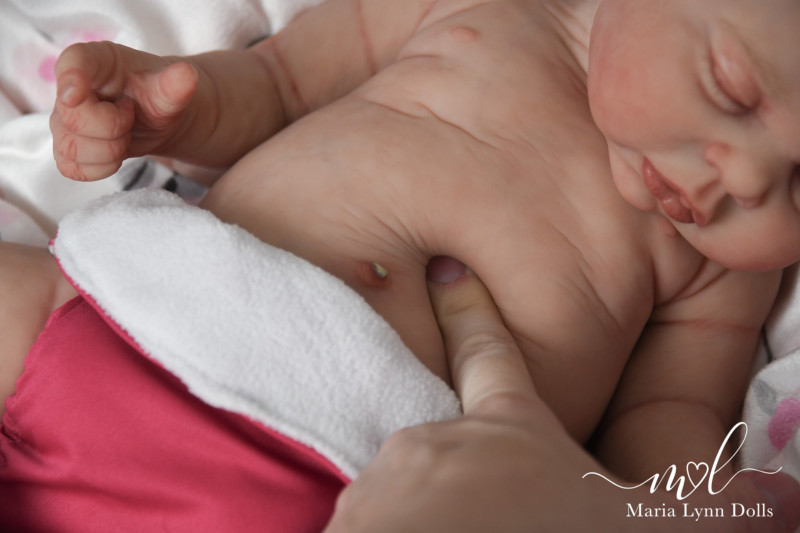 While you can make a silicone doll completely from scratch, sculpting it from clay and casting it yourself in silicone, this article focuses on creating a silicone baby from a kit, as you would with a vinyl reborn. It's a jump that many reborn artists are wanting to try, and this is a good place to dip your toe in the water without having to invest too heavily.
In addition to your silicone baby kit, you'll need different paints — you cannot use your reborning paints on silicone. You'll also need a completely separate set of brushes and tools, which you'll need to store separately. Thinners (solvents) can be shared between vinyl and silicone, but the specialist silicone solvents are superior if you really get into silicone art.
Silicone doll kits
Very limited edition silicone kits generally come directly from sculpting artists or casting companies working in partnership with them. However, many sculpting artists are now having their kits reproduced in silicone. These include such well-known artists as Cassie Brace, Natalie Scholl, Marita Winters, and many more. A kit previously produced in vinyl may be made available in silicone, thanks to partnerships between the original artists and an online store.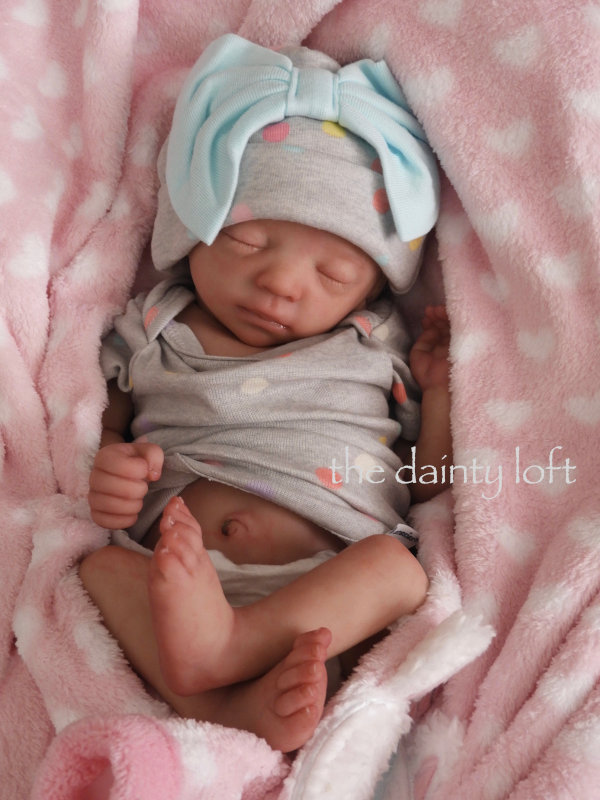 For instance, MacPherson Arts & Crafts is having some silicone baby kits produced with permission from the original sculpting artists. They make use of professional silicone pourers Kristie and Kelly Carwithen of The Dainty Loft Molding, as well as Maria Grover of Maria Lynn Dolls, for high-quality professional production. They can be purchased online just like any other reborn kit. To keep the cost down when you're learning to work with silicone, consider starting with a practice face or cuddle baby kit (just the silicone head). Once you've mastered the skill of painting silicone, you can move on to the five-piece kits and even the full-body solid silicones.
Silicone paints
Reborn paints cure either by air-drying or by heating. Colors come in a single jar, to which you add thinners to change the consistency. Silicone paint presents a few choices and is a little more involved. The only thing that sticks to the silicone kit parts is silicone. Other media may appear to stick at first, but will wash off. So when we paint silicones, we use liquid silicone as a base to make the paint.
The most popular clear silicone for this purpose is called Psycho Paint. It's renowned for its ability to stick to even well-aged silicone art pieces. Psycho Paint comes in two parts (A and B) in separate jars. When you want to paint, you mix equal amounts of Part A and Part B together and then apply the paint — the mixture will cure (set) in about 20 minutes. Your ratio of Parts A to B needs to be exact or it might not cure. Until you mix the parts together, they'll stay liquid.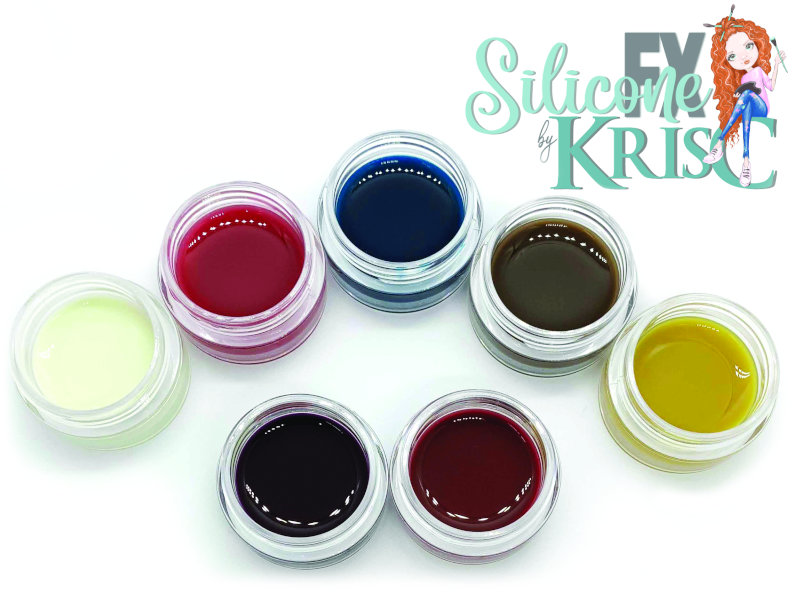 Kristie Carwithen, herself an accomplished reborn and silicone artist, has launched her own line of silicone paints, SiliconeFX. The line includes a starter set with seven custom premixed colors, enabling you to create your own masterpiece. In addition to the premixed colors (Part B), the set includes equal amounts of Part A, a practice face, brushes, sponges, tools, and a tip sheet for newcomers to silicone painting. Other sets and individual colors are available through SiliconeFX, including some for fantasy babies.
If you do not choose a premixed silicone paint, you can color the silicone mixture by adding pigment to Part B before mixing. These pigments must be specially selected to be suitable for silicone. The amount of pigment you add affects how translucent or how heavily colored your paint will be. As with reborn art, you can also use a thinner (solvent) to make the paint a suitable consistency for brushing, airbrushing, or other methods of application.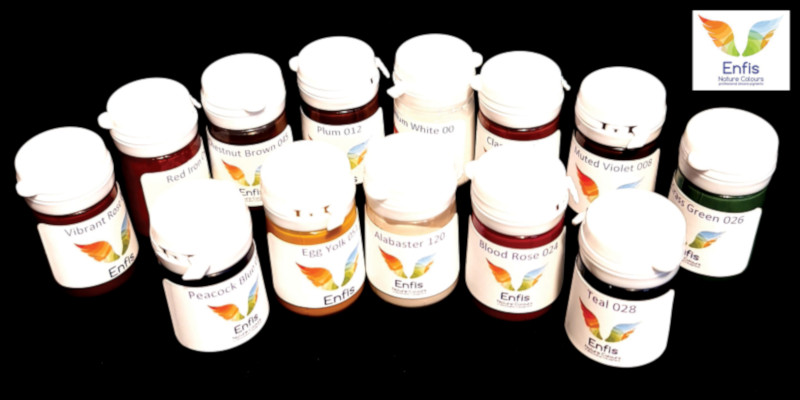 MacPherson has added the Enfis Silicone Pigments line to their silicone range for artists who prefer to mix pigments into the Part B themselves rather than using pre-mixed pigments. The company worked with both UK silicone artist Ella McK of Pixie Kissed Babies and Kristie Carwithen to select the range of colors and pigments on offer through MacPherson to ensure artists had a range of realistic, natural colors to choose from whether they preferred the convenience of the pre-mixed SilconeFX or the flexibility of the pigment-only Enfis line. Both products offer extremely good light fastness and UV resistance, which is important when creating a high-quality heirloom.
Tools & brushes
You don't need expensive tools when painting silicone, but you do need to keep your silicone tools separate from any other items. Liquid silicone (such as Psycho Paint) can be "inhibited" by a huge number of things. Exposure to anything from latex to onions can mean that the silicone just won't cure, so if any of the problem substances get on the tools or the kit, it can become almost impossible to get the paint to cure.
So working clean and only using things that you know are suitable for silicone is very important. It's easy once you've established a working system, but at first you will be testing each exciting new sponge, glove, brush, and tool unless you know you bought them pretested. Testing is simple — mix up a small amount of A and B, then use your new acquisition to apply it to your test item. If it cures, it's fine. If not, then don't use that item when working with silicone.
To get some idea of the tools available for working with silicone, go online and check out some special-effects websites. If you like using an airbrush, you can apply silicone paints with one, and the paint lines mentioned above are suitable for airbrushing. However, remember that airbrushing requires extra safety precautions such as extractors and respirators.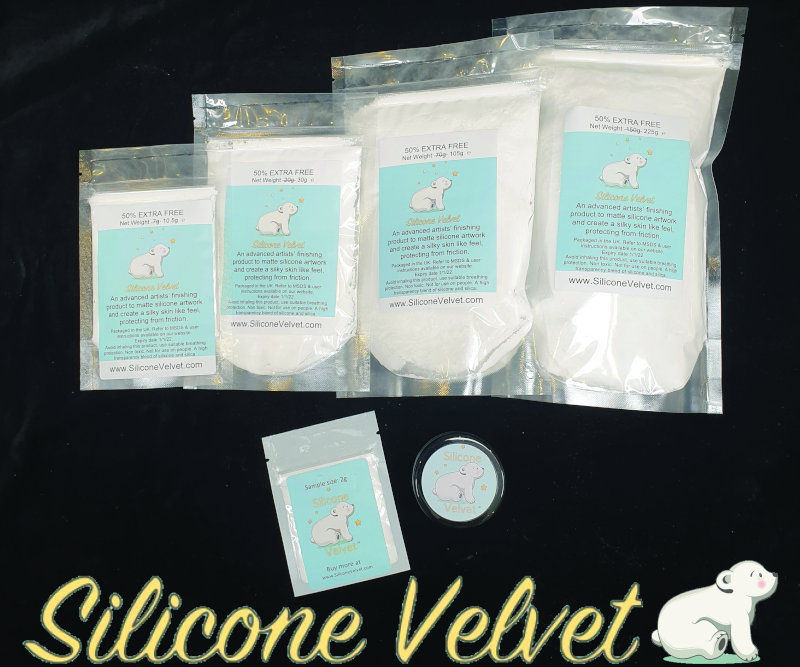 Matt finish & silky soft skin
Silicone paint cures to a glossy finish. The final step in making a silicone baby's realistic skin is to add a clear layer with a matting powder to create a finish resembling natural skin. MacPherson recommends Silicone Velvet matting powder, as it's simple to apply to a thin layer of clear, wet silicone paint. It contains a special grade of silica blended with silicone particles. This blend gives a velvety soft feel and absorbs any oils that may leech out of the silicone artwork over time, preserving the matt effect for longer.
Unlike silica-only blends, talc, or cornstarch, Silicone Velvet repels water and moisture, preventing dampness or mold. The silicone particles not only improve the bond, they make it even more translucent so that the accurate color of your paint is maintained and the finished artwork is not whitened. This is especially important for dark skin tones or fantasy colors. The same powder can be dusted on by collectors as a maintenance step to prevent damage from friction, damp, or oil.
Silicone dollmaking classes
There are many free online classes and tutorials, and artists such as Ella McK and Susan Gibbs offer small group or private classes online. McK also offers one-on-one airbrushing classes via Zoom. If you do start working on silicone without taking a class, be sure to look at the health and safety documents for the materials you are using. As with all professional dollmaking supplies, it's your responsibility to ensure that you use them safely.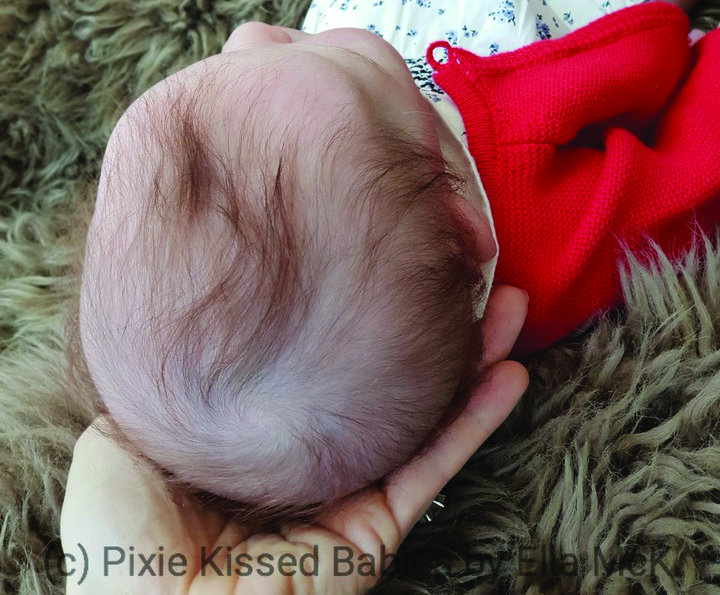 Assembling & maintenance
Assembling a cloth-body silicone kit is much the same as a reborn, but without the need to weight the limbs or head. Using plastic rings around the limbs and neck is recommended for a more secure fit. You can root hair using the same needles and mohair or alpaca fibers, but pay special attention to getting the hair in very deep, as there is no way to glue it inside the solid silicone head. Using quality hair such as HP Babylocks means you can root from the cut end – this gives the hair a little resistance to being pulled out. If you do not root from the cut end, the hair is liable to fall out very quickly
Send your finished doll to his or her new home with a set of care instructions, reminding the collector to avoid friction. Supply them with a little matting powder to help clothes slide on and off. If the doll's mouth is open, including a package of Silicone Velvet Care liquid will make it easier for your collector to slip a pacifier into the mouth without rubbing or tearing. Advise the collector not to use silicone personal lubricants, Vaseline, talc, or corn starch, as these are all harmful to the doll over prolonged periods.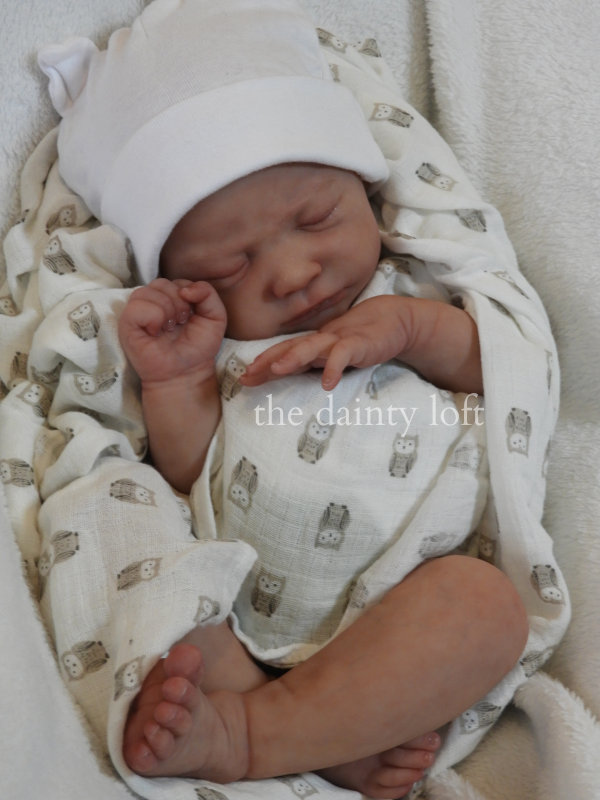 Advise your collector to avoid dark-colored clothing, as color may permanently transfer to the doll. Also let them know they should only use diapers that are free of inks, chemical gels, and latex. Anything latex will not harm a finished doll, but it will make any repairs very difficult, as even slight contact with latex inhibits silicone paint. Once your research is done and you have the proper tools to work with, you can be proud to offer top-quality dolls for the savvy collector!
Resources
Macpherson Arts & Crafts:
macphersoncrafts.com
siliconedollkits.com
Pixie Kissed Babies:
pixiekissedbabies.com
pixiekissedbabies-boutique.com