It's difficult to believe, but puppeteer Jim Henson has been gone now for more than 20 years. The versatile visionary died of organ failure back in 1990, and departed the world before the onset of CGIs and motion-capture animation ruled the movie screens. Back in Henson's heyday, snippets of felt and cleverly positioned Ping-Pong balls created quirky and endearing characters. Plus, there were the very talented men and women who manipulated the puppets, lending them movements, voices, and personalities.
I'm thinking a lot about Henson today because I just watched "The Dark Crystal" with my family over the long Memorial Day weekend. Shockingly, this all-puppet cast made its debut 30 years ago! It was 1982 when this flick played in cinemas across America and around the world. That is staggering, and makes me feel like Methuselah. I really find it hard to accept that three decades have gone by since the Henson and Brian Froud collaboration entered the marketplace.
At the time, Henson was the king of family-friendly, prime-time entertainment. "The Muppet Show" was a hit on U.S. television, and was even more beloved in Britain. The cast of cloth critters attracted big-name performers to drop by on the set and act opposite a lineup of dancing mice, singing amphibians, campy pigs, and wisecracking bears. Stars like Linda Ronstadt, Rudolf Nureyev, John Cleese, and Alice Cooper (yes, the makeup-wearing, Goth-before-it-was-Goth rock star) appeared on the weekly series.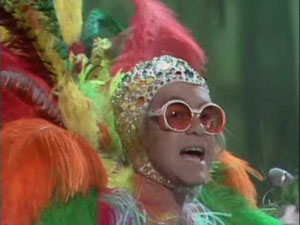 The legacy of the Muppet episodes is still being felt today: check out Cee Lo Green's homage to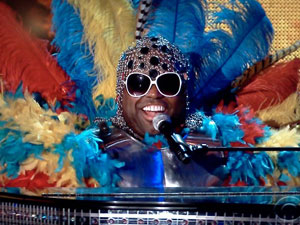 his childhood idol Elton John's "Crocodile Rock" appearance on the puppet program http://www.youtube.com/watch?v=z6-gc5rOqow. It is a cacophony of musical madness, outlandish overacting, and fabulous feathery fashions.
"The Dark Crystal" is much more sedate than this explosion of eye-popping eye candy, but it is 110% more ambitious (if that is even mathematically possible). The movie is 93 minutes long and there is nary a human in sight. Instead, the action follows otherworldly races of intelligent life-forms: the Gelflings, the Podlings, the Mystics, and the Skeksis. There are also bad critters/malleable creatures that are able to be manipulated and dominated for either good or evil purposes: Garthim, Crystal Bats, Landstriders, and Nebrie.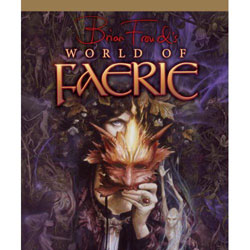 An entire alternate universe and highly functioning ecosystem is laid out in this film, and every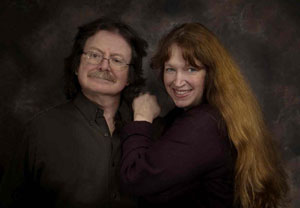 square inch of it is done through the use of fabrics, wigging, jointing, and sculpting. It is remarkable to behold, and the meticulous hierarchy of characters and their traits—all of it rich and deep and significant—is courtesy of Brian Froud, who was revered at the time as an illustrator and expert in the field of elves and fairies. He didn't just draw these sprites and pixies; he seemed to see into their anatomies and their genetic composites (http://www.worldoffroud.com).
The flick is also a celebration of the artistic abilities of Wendy Froud, Brian's wife. The American-born doll artist Wendy was also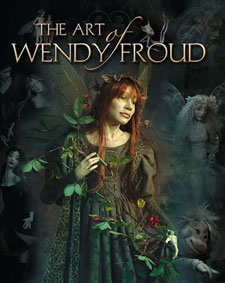 instrumental in sculpting/creating Yoda from "The Empire Strikes Back." During the 1990s, when one-of-a-kind doll art was showcased in galleries in London, Chicago, and SoHo, Wendy's fantasy-driven vignettes were hugely popular and widely sought after. So, watching the movie is also a throwback to the golden days of doll galleries and world-renowned doll exhibitions.
The plot of the fantasy tale is a story as old as time—"we have met the enemy, and it is ourselves." While journeying to fulfill a quest, the brave and earnest Jen—one of the last surviving Gelflings—discovers that much of the evil that has destroyed and compromised his world can be controlled and can be defeated. He learns to recognize who is truly villainous, and finds within himself strength and courage that he never knew he possessed.
Part "Lord of the Ring" and part "The Black Cauldron," this movie is not groundbreaking in terms of action or storyline innovation. Its plot is not anything to write home about, but the fact that the entire world is handmade and hand-controlled by puppeteers is incredible. These are not actors in electronic movement-grabbing bodysuits acting against green screens. This truly is a cast of puppets–and every expression, every emotion, and every heartbeat and eye flutter is courtesy of Henson and his colleagues.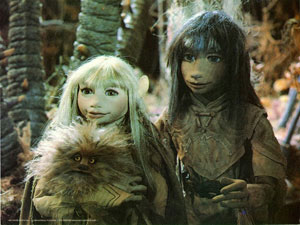 My kids were totally enthralled, and were shouting at the screen by the tale's end. They were urging the hero, Jen, and the heroine, Kira, to complete their mission—to finalize their task and save the world. Luckily, being at home in our living room, their overenthusiastic responses didn't intrude on any other moviegoer's good time. But that is the kind of film experience it is—even if it seems familiar to us old-timers, it is all new and captivating for the young'uns in our lives.
"The Dark Crystal" is not the greatest movie ever made. However, it is the most ambitious puppet movie ever mounted (and this is high praise from someone who is a "Team America" devotee).
With summer upon us—and the children in your lives able to stay up later at night—catch this on cable or rent it from Netflix. You'll be happy to have spent an hour and a half in the presence of pure, incomparable Henson imagination.