Photos courtesy of Edith's Editions
One of the interesting things I've noted in the world of doll collecting — and particularly with the advent of BJDs, and their invitation to get "up close and personal" — many women will spend a great deal of money buying ensembles and accessories for their dolls, but will shop smartly and rarely for their own wardrobes. (In other words, they will commission one-of-a-kind, bespoke fashions for their "mini me," but will hold out for the summer sale and the Kohl's bucks for their own needs.)
I suppose it makes sense, because unlike us real flesh-and-blood women, who might grow fleshier as the months and years fly by, our dolls remain evermore the same size, height, weight, and appearance. In many ways, they are the outer-body representations of how we view ourselves in our innermost, inner-child, dig-down-deep diva ways.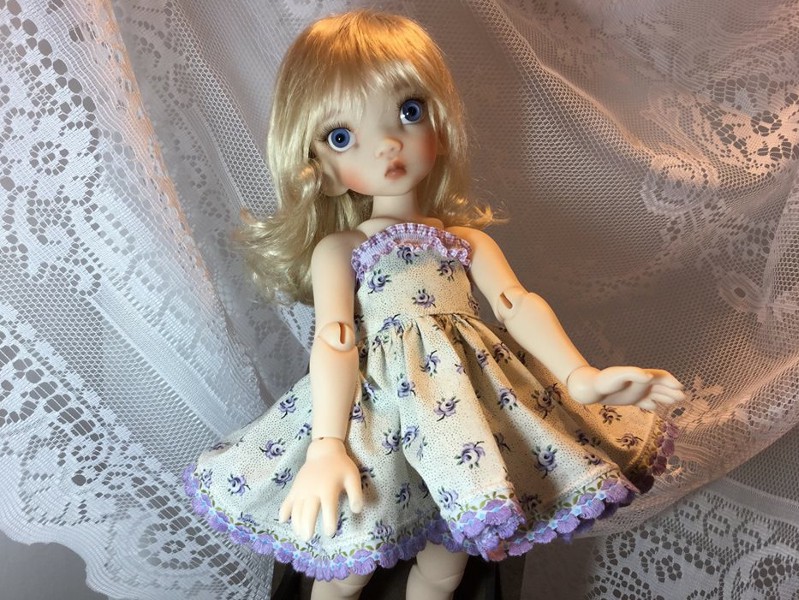 A few months back, I had the great opportunity to chat with a couture designer for doll fashions, Ms. Edith Schmidt of Edith's Editions. A creator of cloth dolls — cloth-covered ceramic head and shoulder plate — and a collector of BJDs, Edith knows and understands what collectors desire for their doll doppelgangers.
"I like to develop new ways to use fabrics, lace, and trims when making doll clothes," she shared with me. "I enjoy researching styles from various magazines, books, catalogues, and other media for new ways to create the clothes. I find inspiration and influences everywhere!"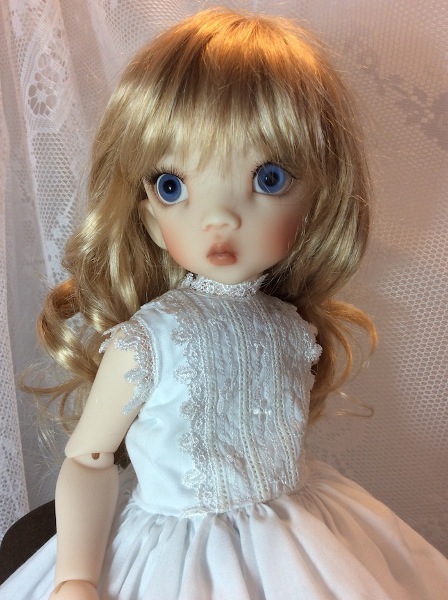 When Edith was a young child, she grew up in a neighborhood in southern Illinois devoid of children her same age. As a result, she frequently turned to her inner-world of imagination and dreams to pass the hours of her days and weekends. She was artistically inclined and flourished in crafts. Her aunt and grandmother were both talented seamstresses and they oversaw her development as a burgeoning designer and dreamer.
"I had an early introduction into the world of fabrics and patterns," Edith revealed. "Quite often, I accompanied my aunt and my mother when they would go out shopping for fabrics. I loved those trips!"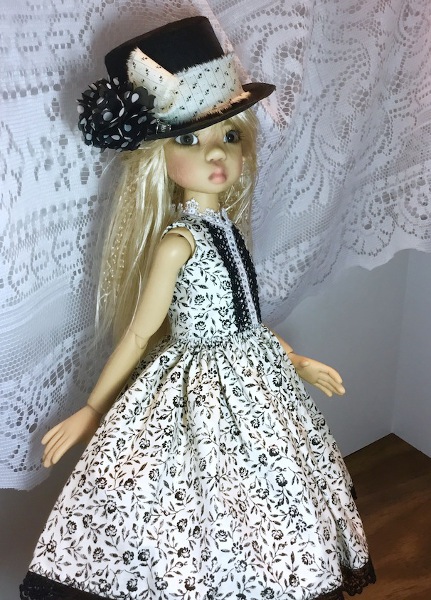 As the years have passed by, and Edith has grown older and more successful, her fascination with fabrics and textiles has not diminished: "Creating clothing for BJDs and other dolls offers me the opportunity to handle and to work with such beautiful fabrics and trims. I love the chance to take the material and to make it into such different styles."
That is one of the noticeable hallmarks of Schmidt's handiwork. The clothing does not fall into any one particular era or epoch; it doesn't belong to just a casual-clothing line or a fancy-dress fashion label. Her outfits run the gamut from sweet and wholesome summer frocks to sophisticated SteamPunk fare. If you have a doll that requires a new set of togs, Edith's Editions certainly has a head-to-toe possibility that will turn your collectible into a brand-new woman!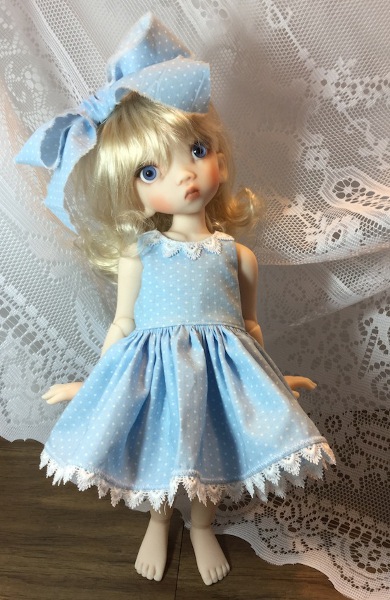 "I enjoy working with my customers, and many of them do have special requests for outfits, involving color and style," she explained. "I had the same experience when I made dolls and was occasionally asked to make a doll that could wear a grandchild's outfit or make a doll that resembled their grandchild. Special orders have always been a challenge, but they are very rewarding when the customer is happy with the final result!"
At the time of our interview, Edith was living in Peoria, Arizona, "at the base of the mountains with desert trails for walking. It has many snowbirds who leave the community in May and then return in October."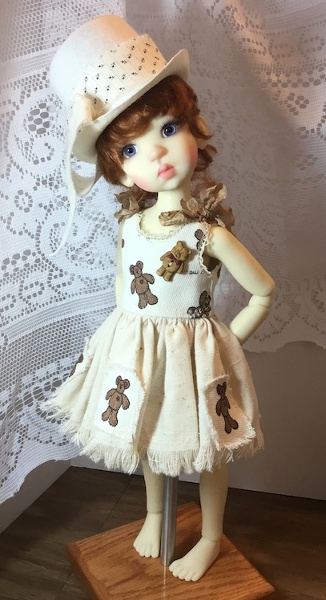 The temperatures in the summer are high, so it makes sense that many of her BJD fashions feature sleeveless bodices or short, capped sleeves. Her doll costumes look like the lovely choices that pretty, petite misses would purchase when the calendar turns to July.
In her home, Edith has a specific work area — "I have a finished basement where I do all my work, with a dedicated fabric room and sewing room." This space is stuffed with fabrics, laces, ornamentation, and sewing machines.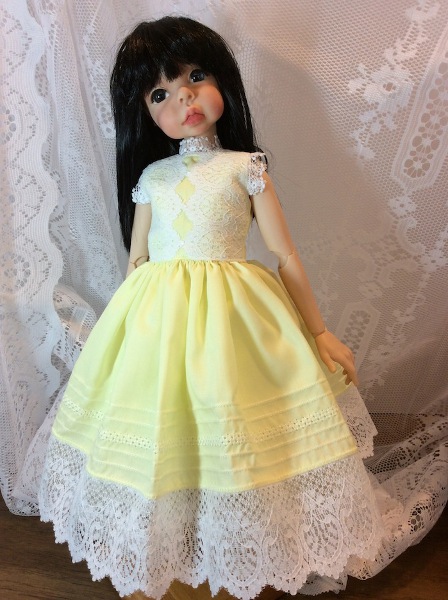 "Since I can remember, I have always had a curiosity about so many things," she recalled. "As a result, I have always loved to create new and beautiful items. Besides dolls and their dresses, I really enjoy making things for home décor, and decorating for the different seasons. I have lived in different areas of the country and always have enjoyed making my homes a pleasant and comfortable place to live and to entertain guests."
When Edith thinks back on all the avenues and paths she has traveled upon, she knows that she has arrived at the destination she was meant to reach. Working with dolls has always been a part of her character and has always flowed in her blood, even when the outcome wasn't 100 percent expected.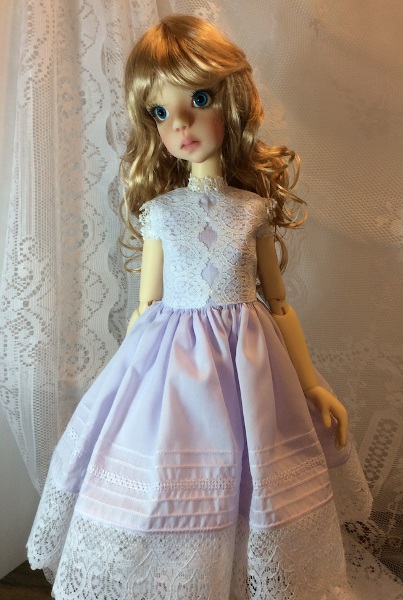 "As a child, I learned to entertain myself by reading and playing with dolls. I had a collection of Nancy Ann dolls and a Madame Alexander doll," she recounted to me. "Unfortunately, she did not fare so well. I decided to cut her hair!"
That scissor incident convinced her that becoming a beautician to the dolls was not in her future. Though she would not make her name or reputation as a Vidal Sassoon to vinyl characters, she did earn solid recognition for her cloth creations and her current lines of doll attire.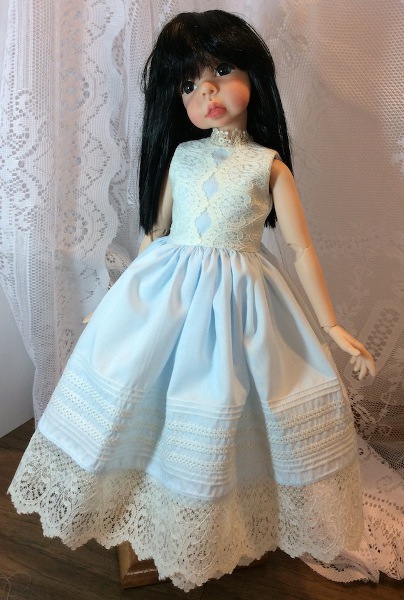 "There is a good deal of satisfaction at doll shows when customers spend time examining the creations I have brought along. They study the sewing of the heirloom dresses I am selling, and they are impressed. That makes me proud," she remarked. "Many customers are familiar with the process of creating a dress from batiste using pintucks, laces, and other techniques."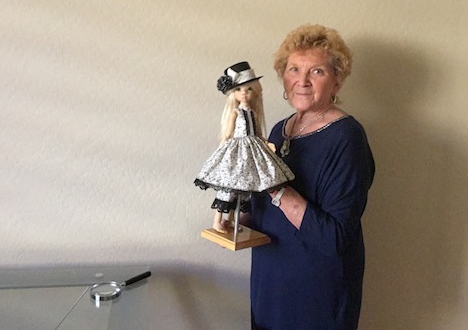 Throughout this year, and the one that follows, Edith Schmidt will continue to follow her heart and her limitless passion: "When I discovered the world of BJDs, I was immediately eager to have one. When I accomplished that goal, I decided I also needed to create clothing for them. Now it is a challenge for me — I am always surprised and excited to see how much I can do to make everything I imagine for them. It makes me very happy!"