Seldom does a day go by when Eva Helland does not have a piece of clay in her hands, mohair at her feet or paint in her hair. This deep-rooted passion to create started in childhood. "As far back as I can remember, I have always had the desire to sculpt babies from whatever materials I could find—from mud to fruit and everything else in between," Eva confides. "My grandfather was an accomplished ice sculptor and I believe this is where I inherited my love of sculpting. Following my marriage and while raising my two sons, the desire continued but at that time I concentrated my efforts on cloth dolls and teddy bears. It happened by chance. During an activity time with my boys, we decided to try using clay, and this face began to emerge within my hands. It was at that moment I knew I had found what I had been searching for since childhood. Al­though at that time I had no idea what a one-of-a-kind baby was, I began to research the subject of dolls through magazines and reference books and managed to purchase some clay locally. I have never attended a sculpting class, thus al­lowing my art to progress at a natural pace."
When Eva's babies were first offered to collectors some 20 years ago, they were greeted with gasps of delight the world over, and demand to own one has continued to grow. While the first babies were approximately 2½ inches in length, Eva soon moved to life-size versions. "Normally my babies will range from 19 to 22 inches in length, although there are variations to this when working on portrait and some edition babies," Eva notes. "For the head and limbs of my babies, I use a mix of polymer clays, which is then attached to a specially designed body. The body itself has taken many years to evolve to what you see today and al­though it may look a little strange, when baby is dressed, it's the most realistic I have been able to design in both feel and poise. Unless otherwise requested, I use crystal glass eyes for my awake babies in darkest gray shade, as I believe them to be the closest to that of a real-life child. In the early days, I would apply mohair to the scalp, but now it's baked directly in since I feel it gives the most natural appearance."
Eva also pioneered the use of solid silicone for dolls. "In early 2001, I was looking at a figure made from this medium; the texture and feel both fascinated and intrigued me," Eva recalls. "It was from this point that I decided to research the possibilities of using this medium, as I felt it would allow me to create a very realistic baby, not only in look, but also in feel. It took about two years of experimenting with the whole process of mold making, different types and grades of silicone, as well as painting until finally, in 2003, 'Nikita Helland' was born."
The collecting world had never seen a baby like Nikita before and, although realism was the main motivation behind this new method, it also allowed Eva to offer more babies to collectors at one time. Nikita has been followed by six siblings; the last baby, "William," is in the new edition size of ten. In an attempt to meet the demand and pockets of all those who want a baby doll, Eva launched a 14-inch two- baby "Tiny Footprint" series in 2006. "For a long time I have wanted to reproduce a larger edition of babies in a smaller size. To do this, I had to commission an overseas company. The babies are made from solid silicone and while they are not hand finished by me, I do oversee all aspects of production to ensure the best quality possible. The babies are painted to my own specifications and their hair is hand applied. 'Jenna,' the awake baby, and sleeping 'Daisy' go home wearing cotton onesies and diaper shirts, complete with hair bows."
January 2007 saw the dawn of a new era for Eva with the debut of "Aiko Sakura," her first limited-edition artist resin doll. "I have been asked by collectors for some time to produce a baby in this medium and I was keen to try. The medium is one that allows me to reproduce a baby extremely close to that of my original works and one whose results I love." Collectors loved it, too. The edition of ten ba­bies sold out quickly.
"We had been in business for a short time when the phone call came from Eva enquiring about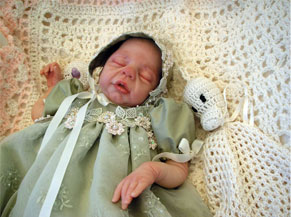 the mold-making and casting process for 'Aiko Sakura,'" says Barbara Lefler of Multiplicity Cast­ing Studios, who pour the resin for Eva's dolls. "When the baby ar­rived to the studio and we pulled her from the box, it was the first time we had seen an original piece. To say the doll was breath­taking and flawless is an understatement. We were amazed! Throughout our communication while working on this edition, we have always found Eva to be gentle and extremely modest about her work. We consider it a great honor to be working with an artist of Eva's stature."
Eva is busy producing more crowd pleasers. Babies currently in production and never before seen except in this DOLLS exclusive include the triplets "Hevinly," "Starly" and "Skyly." They will be available in both artist resin and solid silicone.
"For seven years I have wanted to offer realistic premature babies to collectors'" Eva says with a laugh. "It has been my biggest challenge to date to not only get the proportions correct, but to also enhance much of the detail of a premature baby, while allowing for the similarities in real-life triplets.
"These three babies were made using the exact measurements of a real-life, 32-week gestation baby girl and many weeks and days spent studying photographs," Eva continues. "Premature babies have a unique look; their skin hangs looser in very soft folds not only around the limbs but also along the jaw line. Their ears are softer and a bit 'squished' in the top area. It is also common for the top of the head to have a slight raised area where the skull bones have not fused yet. These are just a few of the areas I tried to re-create through the birth of the triplets who started out as twins, but I wanted to give collectors a good range of facial expression so the edition grew a little."
The babies are approximately 17½ inches in length. Each baby is available in a limited edition of ten in both mediums. They have fully sculpted arms and legs, which are affixed to a cloth body. "Starly," the awake baby, will have darkest gray crystal glass eyes. The silicone babies' hair will be rooted and collectors can select the style, color and hair amount. Since the resin does not allow for rooting, these babies will have applied hair; their new moms can chose the hair thickness and color here as well. The triplets will go to their new homes in individual-to-each-baby, custom-de­signed outfits in Eva's chosen theme of heirloom and baptismal. This consists of gown, bonnet, pants, vest, socks and boutique-purchased shoes. They will also have an exclusive variation of cotton crochet accessories color coordinated to the above items. Each baby will be wrapped in the finest soft yarn afghan blanket.
"As a special thank you to collectors of my work, I will also include either a soft knitted or crochet matinee set, so each new mommy has a full range of clothing with their new edition," Eva explains. From her home nestled in the Rocky Mountains of Colorado, Eva shares, "When I am not sculpting, I love to walk in the mountains and explore my other love—nature, especially the hummingbird whose grace and beauty holds so much wonder for me. I have not taken a vacation in years, as I don't like to be away from sculpting for very long. It's a part of me and I am of it; there is no separation of the two. In more recent years I have been able to attend some doll shows in America, including the Doll & Teddy Bear Expo in Washington, D.C., and IDEX in Orlando, Fla. It's an experience I have enjoyed so much, meeting with old friends and making new ones. I feel honored to have been able to spend my life working in my chosen field and would dearly love to express my gratitude and thanks to all the collectors for their support over the years."
With no area overlooked, the works of Eva Helland are astounding. The artist sculpts with such accuracy and precision it comes as little wonder she is critically acclaimed worldwide as one of the best in her field.
For more information, visit www.evahellandbabies.com.