DOLLS: Describe the choice of theme for this line of dolls. What drew you—a free Northern white man of the 21st century—to represent the African-American experience of pre-Civil War Southern slave laborers?
Dennis: Good question! It's about connection. All my life I have worked with my hands as a laborer. I grew up and still live in a rural part of central Pennsylvania. My first job was hooking the hay bales as they shot out of the baler in the heat of the summer. After college, I poured molten bronze and welded for 12-hour days, seven days a week at an art foundry. Later, I owned a landscape design and build company for ten years.
I feel connected to the people who do physical labor on a daily ba­sis. Instead of doing a pretty woman or a baby, I wanted to portray the common people who built and still support this country. I chose the jobs I know about from my connection to the land and living with these folks in my community.
I started with the premise of slave laborers, but they quickly outgrew this constraint. These people could be pre-Civil War slaves, 1950s sustenance farmers of my hometown or the Amish living next door today. The connection is still there. The daily wear on the mind and body is universal. As I get older and the years of physical labor take their toll on my own body, I feel a deeper connection to these people who did what they had to, even rejoiced in the daily grind of it, to feed their families in the hope that their sons and daughters would have a better life. We have all had mothers, fathers and grandparents. Some we did not know; some we know intimately. These are the people who make up my art. My hope is that each person will see beyond the skin and time to view the universal theme in each doll.
DOLLS: What was the artistic process involved in the dolls' creation?
Dennis: I start with the inspiration. It can be a pose, a face, a scrap of cloth, anything. The next step is to rough in the concept of the final doll. My years in theater come into play here as I shape the background of the doll. Will this be a male, female, old, young, pretty, not so pretty; this is where I start developing the character. It's like writing an entire play which needs to be defined in this one moment of captured time represented by the sculpt. I tend to take on the characteristics of the character as I run the action through my mind. I try poses (staging), clothing ideas (costuming), bases (set design), mood (lighting design) and dialogue, all of which help me understand the character as I sculpt. Many times I adopt the personality of the figure as I work out the turn of the head or shift of weight on the hips.
My main goal is to capture movement in my work. For instance, in "The Master's Voice," she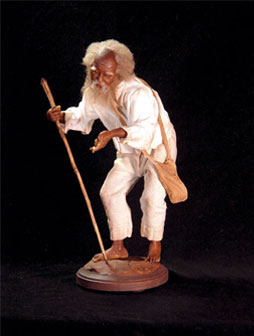 turns from her work as if she is hearing a voice above and to the side. Perhaps it is the farm owner as he rides up alongside her or it is the voice of God as she feels his presence beside her. "One at a Time" is a study of how the body ages with all the changes to posture as time and pain take their toll. Separating one kernel of corn from the next gets harder as the hands age, but he has done it for so long it is as if the kernels do it themselves. Even a doll that is standing still has potential energy or is capable of reflecting the moment of rest after exertion as with the "Washer Woman" who takes a break from cleaning floors.
DOLLS: The line is available exclusively from The Toy Shoppe in Richmond, Va. Are you planning any new exclusive lines?
Dennis: I am working on a series of female dolls representing the four seasons. This is a set I have been designing and redesigning for a few years, but I think I am ready to do it justice now. I also would like to continue the African-American line of dolls as long as the ideas keep coming. I have developed ideas for quite a few more. My hope is that The Toy Shoppe will continue to carry them. Art cannot exist in a vacuum. Artists need patrons who feel the connection and purchase the art. I am deeply grateful to shops like The Toy Shoppe who take a chance on artists and their vision. I've said this before, but without these important supporters, my art would never go beyond my own kitchen table.
DOLLS: Do you like working with a theme to create several dolls that revolve around that central concept, or do you prefer to freely create individual pieces as the artistic "whim" takes you?
Dennis: I like both the series and the single work, but I prefer to create as the muse strikes, so I do jump around from concept to concept. I also enjoy taking a moment to explore the ideas evoked as I work on some pieces. A series allows me to take a moment and explore another approach to the idea or give it another twist. Sometimes an idea inspires me to turn away from the series and a new doll is created in another genre. For me, the joy of my art is the process of creating so wherever I end up is fine with me.
For more information, visit www.mad-sculptor.com and www.thetoyshoppe.com