When doll visionary Paulette Goodreau is asked about her early, formative years, she answers with her characteristic great humor and insight. "I grew up in East Grand Rapids, Mich., a very small suburb of Grand Rapids. It was like growing up in a movie—not so much like Leave It to Beaver but more Desperate Housewives! I loved it and still go home to visit."
Born in July 1961, Goodreau and her family were "unconventional" by the times and the standards of her neighborhood. "My mother was a single mom, and our family was loud, funny and embarrassing!" she jokes. "I have two sisters and three brothers. We are all very close, and Annette, my younger sister, who is an actuary, actually owns our doll company. My sister, Mary, and my mother, Eloise, also help out."
Living in her close-knit clan, Goodreau was encouraged to develop and to explore her artistic leanings. She had discovered at an early age that she was gifted when it came to the creative arts. "I had my first painting published in the second grade. It was a Christmas card I made for my mother. It was printed in the local paper. What was funny is that it was also the first time I realized I was not the best. There were a few other artists in the class who were more talented, so I thought at the time. I started to look at my work with constructive criticism that year. I think I knew I was an artist then and would always be one," Goodreau shares. Her mother perceived that spark in her daughter and helped to light the fuse. "She gave me oil paints for my eighth Christmas, but I didn't gain the confidence needed as an artist until I was in my 30s!"
About five years ago, Goodreau began her doll journey as an amateur. She had been crafting toy animals but decided to start making little cloth dolls instead. Her life was about to take a twisty, twirly turn when she attended the Doll and Teddy Bear EXPO, headquartered in Washington, D.C.
"It all began with Discover, which was part of EXPO. I had made a cloth doll [for this event] that took second place, even though there were no other dolls in the category!" she remembers with a chuckle. "I was given a little crystal globe. Anyway, Mr. Jones, the owner of Jones Publishing, gave a speech on how we needed more doll artists. He urged that  as dollmakers, we had to start crossing market barriers and getting more people involved in collecting, mainly children. I took it to heart."
Inspired by his stump speech, Goodreau fashioned a "goofy little doll," which she nicknamed "NoNo." Nancy Shomo, of the Tonner Doll Co., ordered one with purple hair, and the rest is history. "That doll basically started our company."
These days, Goodreau Doll is a wellspring of imagination and innovation. It is constantly bubbling forth with brand-new doll designs, wardrobe choices, and quirky and creative ways to assemble and disassemble dolls.
A pioneer in the stateside ball-jointed doll (BJD) movement, Goodreau makes it seem like doll designing is a snap! It's anything but—the tireless artist confides,  "It is a job, a wonderful job, but a job all the same."
The BJD dolls had had a long and storied history in Asia, but it took Goodreau's risk-taking to convert it into an American success story. Her fans, who eagerly await her new releases in her Snappy, American BJD, and American BJC lines, are protective of their favorite dreamer. Goodreau, who is very hands-on with her collectors, mentions that there are often rumblings and grumblings in her Yahoo online group.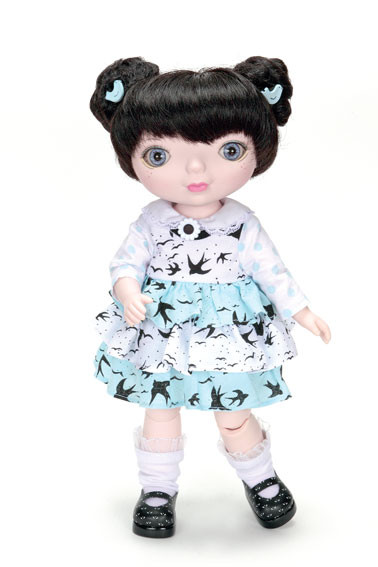 "There has been a lot of talk about people copying us and going into the BJDs. Though it's flattering that people are saying this, I think they need to understand that we are fine with this! My sister, Annette, and I don't mind that we are leading the doll world into the next generation. At first, it was daunting to be the first American company to try something so coveted in the Asian market, but now that so many established doll companies are following us, it gives us confidence that our ideas were good! These other firms are even using some of the technology that we came up with. I expect we will see some vinyl BJDs this year, but our collectors should not worry. We have many new ideas that we will bring to the doll world! My collectors are very loyal, and their concern is heartwarming. We are not upset that we are being 'copied.' Most of us in the doll world are friends, and companies need to keep up. "
One of Goodreau's new releases sure to make waves upon its unveiling is her ABC "chubby line" of  11 ½-inch dolls. These sweet, yet slightly spooky, characters emerged from Goodreau's doodling and sketching.
"I was doing Chibi drawings. A Chibi is a cute little anime character, like a "Hello Kitty." I love to draw them, and have my own style and characters. I decided to make them into dolls because I couldn't find any on the market. There are Blythe and Pullip dolls, but they are more fashion-bodied. I wanted to make a sturdy little character. And also very happy. I guess that speaks loads to who I am: sturdy and very happy!"
Involving her family in her daily business—as models, muses, and colleagues—Goodreau uses her nieces Ashlyn and Aidyn as two of her girly gamines, and her nephews were the inspiration for her "Hint" and "Schemer" dolls. Her hallmark of blending couture with quirky, eccentricity with modernity, the otherworld with the here-and-now, is what makes Goodreau's creations so in demand. Collectors have responded big-time to her blending of "fractured fairytales" with "Swinging Sixties" London sensibilities. A Goodreau doll is equal parts gothic and glamorous.
Goodreau's personal evolution as a doll artist that forges a trail has been fast and furious. "When I first started making ball-jointed dolls, I have to admit I went from buying my first one to having them made in less than six months. I did not research enough. I had the first ones in resin sculpted by someone else. Once I started researching in earnest, I sculpted all new bodies and engineered the joints much differently. I want to make dolls freestanding, and try to make them so balanced that they can stand on one foot. Luckily, I have the best finishing artists in Hong Kong, and they have been a great help to me."
Waiting to see how her new 5-inch dolls fare, the mini Critters of Whisker Woods, Goodreau is already busy engineering and mapping out other future endeavors. However, she has to keep her next launches "top secret."
"Our new line is really large, and it's been a year just in the layout. I can't give any hints, but people will love it. New collectors will like it as well. We really love to cross demographic barriers!"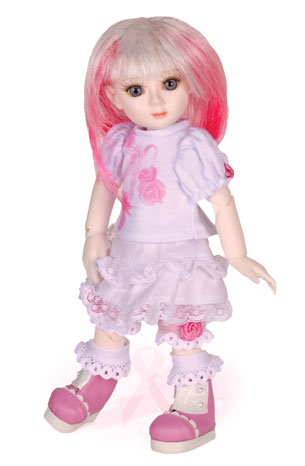 In the meantime, Goodreau is proud of the company she has built, along with sister Annette, and is able to feel that her productivity is both monetarily and emotionally profitable. Many of her pieces are designed to raise funds for charities near and dear to her heart (such as animal welfare, spina bifida and breast cancer research, among others). She knows her offerings are oftentimes eerie and ethereal, but they are also socially relevant and responsible.
"My ideal collector is someone who is tired of buying the same doll just in different war­drobes. Instead, he or she wants to buy one doll that can change into many characters. For our economic times and our environmental 'green' times, the American BJDs, or any other BJDs, are a great solution. They are the doll you only need one of."
Pragmatic but still a Pollyanna, Goodreau hopes her ABC line will hit a chord with collectors of all ages and her streak of hits will continue to blaze. "I still in my heart make all my dolls with the thought of a kid out there wanting it. I have a group of young collectors that all sew for their dolls. I just love to get e-mails from the kids that collect my dolls and play with them. Every kid wants a doll. That's the truth, and I've been giving my Snappy line away like that. I made the American BJDs so I could offset the Snappy giveaways. I've lived my life pursuing my dreams but never jeopardizing my family or my home. In other words, nothing is worthwhile if you go home at the end of the day and you're all alone, and it's not by choice. Or worse yet, you've no home to go to at night."
Turning contemplative for a moment, Goodreau reflects on what her personal mantra has been: "My philosophy has nothing to do with dolls, really. It has everything to do with humanity. Cause no intentional harm."
Living that way might be difficult for some, but for Goodreau, it's a belief system that is as simple as ABC.