A huge collection of antique and vintage toys, amassed over almost 25 years, will be sold by auction in the Cotswolds in England this fall.
Until June, thousands of individual teddy bears, dolls, puppets, train sets, model cars, and tin soldiers — some rare and valuable, many very common and familiar to visitors as toys from their own childhoods — were on public display at the Park House Toy and Collectors Museum in Stow-on-the-Wold. The museum was founded by George and Barbara Sutton in 1987, originally as an extension to their antiques business.
But as the collection grew, the museum became their core activity. Wide-eyed children and nostalgic grown-ups could spend a few pounds to browse cabinets packed with toys dating back well over 100 years. The couple, who are retiring to Berkshire, explained how the collection started: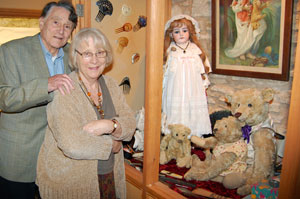 "We had three boys and no girls," said Barbara Sutton, "so George bought this life-sized doll who we called Henrietta. Years later we promised Henrietta to our first granddaughter; so when two more granddaughters were born we had to buy two more dolls."
"Henrietta," a Simon and Halbig doll dating from 1880, is one of the few toys not up for sale at the auction, along with "Wellington," a 1908 Steiff bear bought by George Sutton in the Somerset town of the same name.
The Suttons caught the toy bug soon after opening their antiques shop. "We had a teddy bear in the window during Cheltenham Races week," Barbara recalled. "We put a pair of binoculars round his neck and called him Racing Sam. "A woman came in from New Zealand. Her house had burned down and she had lost all her teddies, and she told us she couldn't go back home without one, so she bought Racing Sam.
"After that we started dealing and collecting. Perhaps because we didn't have toys growing up during the war, we were buying to collect, rather than to sell. In the end it seemed sensible to open a museum. We got a lot of pleasure out of our collection, and lots of other people have too."
Although the purpose-built display cabinets are now empty, the museum's walls are still lined with letters of thanks and drawings from children, some addressed "Dear Mr and Mrs Toy Museum."
"We went all over the country, to auctions and toy fairs," said George Sutton. "Sometimes we went for a specific toy, but often we would go just to see what came up."
"The toys we bought were rarely in perfect condition," Barbara Sutton added. "Toys are supposed to be played with and we bought them in that condition — they brought their own magic with them."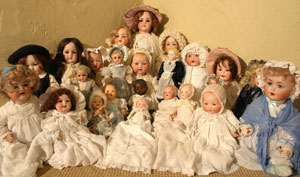 The couple admitted they were sad to see the collection go. "It's heart-breaking to see the empty rooms; our collection was nearly 25 years in the making," said Barbara Sutton.
The collection will be sold by Cirencester auctioneers Moore Allen & Innocent Thursday, Sept. 29, 2011. Auctioneer Philip Allwood said: "This is the biggest single collection of toys I've ever seen, let alone sold. It's an eclectic, all-encompassing collection totaling thousands of individual items. The auction will include the largest single collection of antique and modern Steiff teddy bears I've ever come across, and more Pelham Puppets than I've ever seen together. All the big names are here, covering every genre of toys. There are antique bisque head dolls by Armand Marseille, Simon & Halbig, and Schutzmeister & Quendt; cloth dolls by Norah Wellings; clockwork and battery-operated tinplate toys by Lehmann and Triang; soldiers and farm animals by Britains; Hornby railway sets; and Corgi and Dinky vehicles, many boxed."
The collection also includes stuffed toys, including dozens of gollies, Smurfs, Paddingtons, Poohs, Yogis and characters from television shows including The Wombles and the Magic Roundabout. There are Barbies and Sindys, Action Men, Cabbage Patch Kids, Airfix models and posable figures including a wide range of Star Wars characters.
Victorian prams, high chairs and babies clothes, jigsaw puzzles and board games, and ride-on toys are also well-represented in the collection.
Among the highlights are four cased Pelham Puppets theatres, with automated mechanisms to make the puppets dance on their strings, which are expected to achieve up to £800 or £900.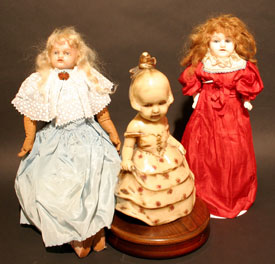 A wax doll from the mid to late 1800s — pre-dating porcelain dolls — carries an auctioneer's estimate of £300 to £500, and a "true to life" grizzly bear from the early 20th century with molded leather paws, could fetch £400 to £600.
"We are anticipating interest from serious collectors from around the world for a number of the lots," said Philip, "but many of the items will be well within the reach of casual collectors looking to relive childhood memories or parents buying toys for their kids."
A full auction catalogue will be available online Sept. 5, 2011, and a special pre-sale viewing event will take place at the salerooms at Norcote, Cirencester, Wednesday, Sept. 28, 2011. For more information about the sale or about bidding by phone or mail, log on to www.mooreallen.co.uk.