Everyone loves Lucy, but especially now, during her centennial year. The "wacky redhead," as she was often billed, was born in Jamestown, New York, on August 6, 1911, so August is the 100th anniversary of her birth. Over the years, doll companies have issued some stunning renderings of her best-loved, funny bits, and this year, as well, more are on hand to commemorate the celebration. I know that I shall be picking up one—or maybe two, perhaps three? (I must confess, I feel like I'm on the chocolate-factory assembly line here. I'd just love to grab hold of all the great products as they come down the manufacturing conveyor belt, a Lucy fan let loose in the proverbial candy store!)
America's sweetheart was born Lucille Désirée Ball, and that fancy-schmancy–sounding name is out of character for the comedienne who earned her reputation by taking pies in the face, executing pirouette-worthy pratfalls, and donning disguises that made her look like a wicked, cackling witch to a stylish bearded Southern gentleman. Lucy was never one to let her actual model-worthy looks stand in the way of a big laugh. (Can you imagine Heidi Klum purposely taking a nose-dive off her "Project Runway" stage or Claudia Schiffer executing a perfect spit-take? Just not gonna happen.)
Lucy is figuring big in my house this month because my children just discovered her—Scout's honor, this is true. My kids, aged 6 and 8,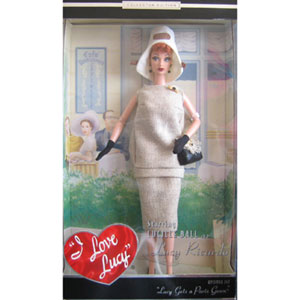 have just found out about Lucy and we're taping her "I Love Lucy" half-hour sitcoms from the Hallmark Channel each morning. At night, before they go to bed, we watch two back-to-back episodes, and the giggling is intense.
After watching her for two weeks now, my first-grade daughter already knows enough to shake her head and declare, "What trouble is she going to get into this time?!"
It's funny watching someone react to Lucy's physical manipulations for the first time. I know that when I saw "Pretty Woman," starring Julia Roberts and Richard Gere, I couldn't believe the Roberts character was guffawing so loudly at an old Lucy rerun. I wondered if perhaps there was a secret twist to this date-night flick: maybe Julia wasn't just a novice streetwalker but also a visitor from another planet who had never heard of or seen Lucy before? But then I realized, that scenario would be absolutely impossible. "I Love Lucy" reruns (well, their TV signals, at any rate) have been emanating out into the solar system for decades now. So if aliens have a sense of humor, they are currently watching and ROTFLing from the mishaps Lucy and Ethel are embroiled in.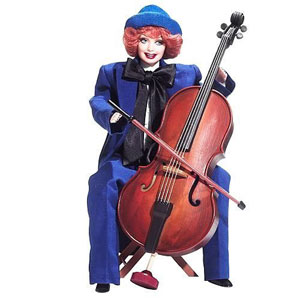 At times like this, I am so happy to have little children, because they allow me to see something that is so familiar with a pair of bright, brand-new eyes.
This evening we are going to watch the classic "Harpo Marx mirror" episode—they just discovered "Duck Soup" and "Animal Crackers" this year too—and I am already feeling my mood lighten as I anticipate their gales of laughter.
When I pick out my Lucy dolls, I'll do so with a nod toward my children. Ideally, I'll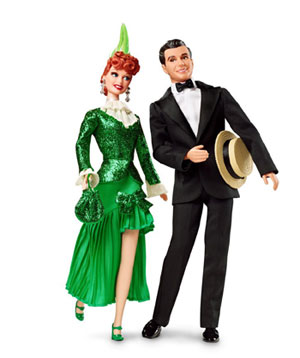 be able to locate a set that features Lucy and Ricky, so the kids can actually act out the scenes of her begging to be allowed into the show. And immovable, unyielding Ricky always stood firm—denying her the chance to be solo in the spotlight—and always she managed to find a way to crash through the walls and turn the Club Babalu upside down.
And I imagine that's really the secret for Lucy's longevity as a performer and for her legacy as an American treasure. Lucy always looked to become a part of the show—she always wanted to take that one step out of the shadows, putting herself front and center, and letting the audience instantly tell her what they thought. There was no cowering, no polling, no spin doctoring, no Q ratings feedbacks.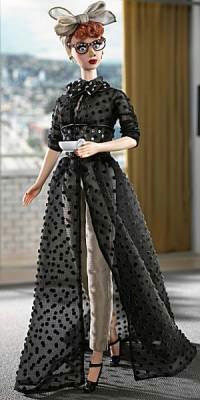 Lucy taped the shows live; instantly heard the roars of laughter and the outbursts of applause; and knew in her heart that she had done well.
We should all be like Lucy: always looking to get into the show and trying our best—even if we're not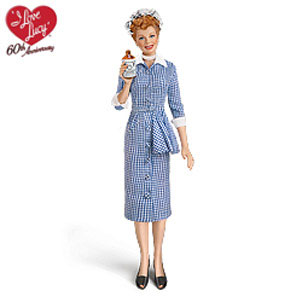 certain our best is good enough. What's the worst that can happen? You set your wax nose on fire while trying to impress William Holden? The Club Babalu or the Tropicana might get a bit messy when Lucy seizes center-stage, but the delight she leaves behind has transcended seven decades.
My kids love Lucy. And you know what?
I do too.
What about you? Do you have a favorite Lucy episode? If so, please share with us which one.What about a side-splitting moment? Is there a particular scrape that you'd like to see immortalized as a doll? Please share your thoughts: we Lucy fans truly have a lot of 'splaining to do!