(Claire Randall is the newest romance heroine from Monica Reo.)
Photos Courtesy of Creations in Porcelain
One of the greatest joys of penning a doll blog is the chance to see so many lovely dolls visiting in my in-box. It's always a delight when I get a note from an artist acquaintance — my far-off, faraway friends — and they are eager to share a brand-new design or theme with me. Just recently, I got a very upbeat, happy e-mail from an artist that I have always admired. I've seen her work over the years, and what always impresses me is how cinematic and literary her creations are. When Monica Reo sits down to coax a doll out of porcelain, she is channeling fantastic film directors, romance-novel authors and all of us ladies who love to read, watch and swoon!
Reo, who works under the name of Creations in Porcelain, is true to that description. All of her work is meticulously crafted in porcelain, which ties in beautifully with her bygone beauties and delicate doyennes from past centuries and long-ago eras. A true old-film fan — we have a shared passion for Turner Classic Movie fare — Reo just sent me her absolutely fabulous rendering of "Claire Randall," the heroine of the steamy, best-selling Outlander books by Diana Gabaldon.
In case you've been residing in a cave — maybe in a "man cave," where only sports and Baywatch reruns are allowed — the Outlander series is a sci-fi/fantasy epic that involves a 20th-century nurse who is magically transported back into 18th-century Scotland, and into the arms of a kilt-wearing hunk. Yep, that's the dilemma and unfortunate fate that befalls the Randall character.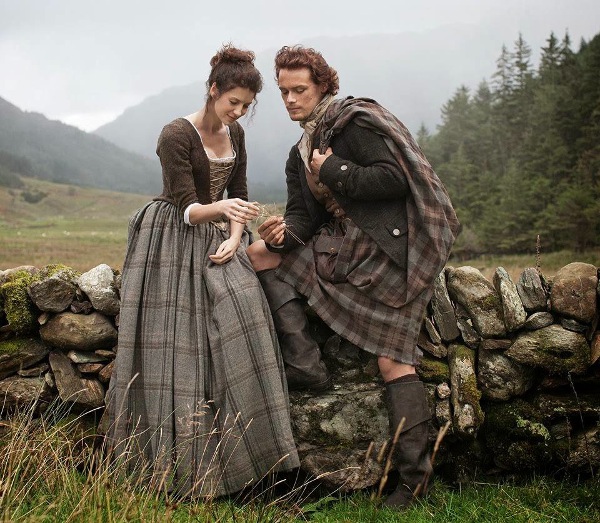 (Claire meets her soulmate, who lives 200 years in the past.)
Because Randall was living in post-World War II England, and had just been reunited with her husband, her unanticipated transportation back to the Highlands, even with a manly and virtuous new spouse, is not something she was prepared for. Reo gets that this heady dream — this secret longing for many romance readers — is an actual problem and challenge for Claire.
"Her life in 18th-century Scotland is truly bittersweet," Reo acknowledges. "Judging from the expression of sadness, yet quiet joy, on her lovely face, she seems to be pondering how her life is going to unravel."
It's that empathy for a person — even a fictional one — that so informs Reo's work: "Overlooking the Scottish Moors, she contemplates if she will ever return to modern-day England. Possibly, she worries, she may even change the course of family history."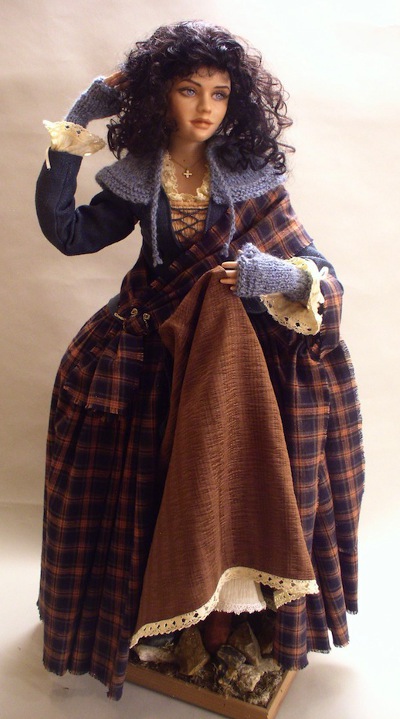 (The Claire doll is every inch a homage to the Outlander character. Each element is carefully fashioned.)
As with all her work, Reo pays careful attention to how she replicated Claire Randall's appearance, wardrobe, and setting. Reo made sure that her doll version of the character is defined by cascading, long, black hair. She describes it as "soft raven." Her eyes are a painted blue, and her costuming is an exquisite rendering of Scottish realism: "I have her wearing the traditional Scottish dress of the clanswoman in 18th-century Scotland. It is done in shades of blue and umber wool. It is completed by copper suede high-top boots."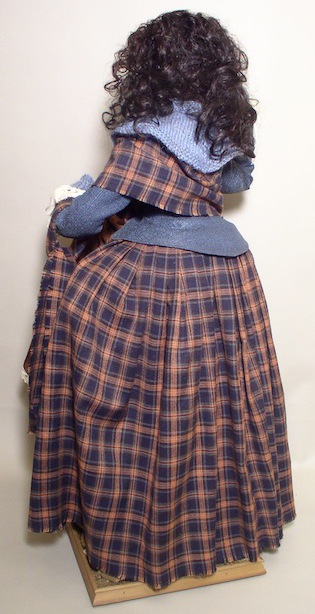 Continuing her pursuit of bringing the imaginary world into clear and understandable actuality, Reo has constructed an ideal backdrop for the woeful and soulful heroine. "She stands on a custom inlaid stone base, trimmed in wood, designed especially for her," the artist explains. "I encourage everyone to watch the series or read the book! It will be an amazing adventure . . . albeit quite graphic!"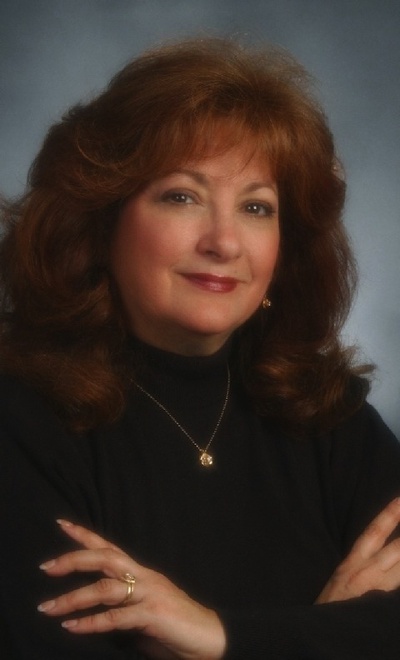 (Monica Reo)
Reo, who is a sucker for happy endings and gentle screenplays of yore, has a special secret formula for watching the STARZ-cable program. "I hide behind pillows during the graphic parts!" she reveals with a hearty "LOL"!