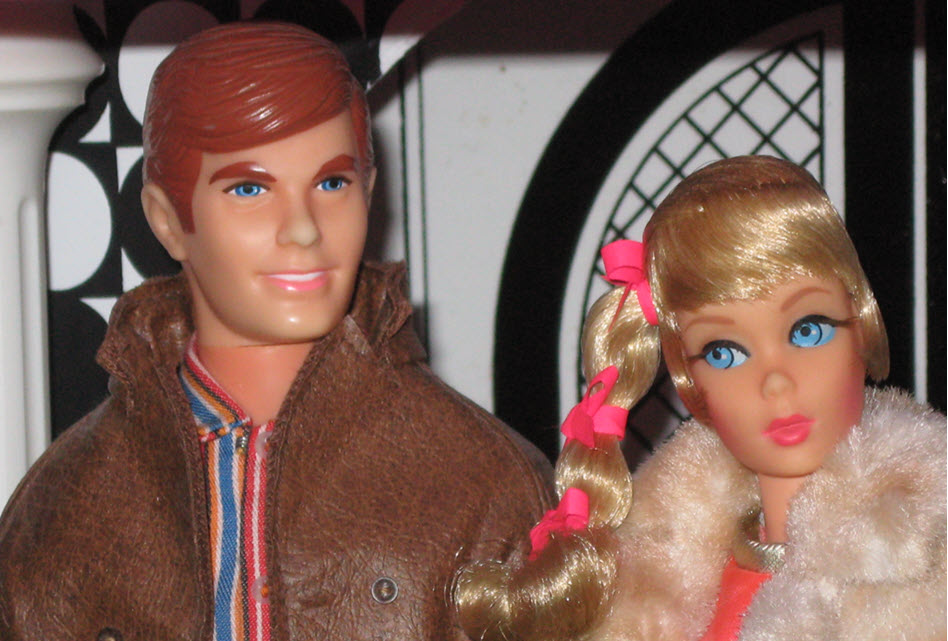 By A. Glenn Mandeville 
The big news in toys back in 1968 was the release of a talking Barbie! This had been on the drawing board for several years — Mattel's 20-inch Chatty Cathy from the early '60s could say several different phrases. But it was hard to adapt the talking mechanism — a miniature record player, complete with speaker — to fit inside Barbie's 11.5-inch body.
A pull string activated the device, which spun the plastic record. Each phrase on the record could be as long as 2 seconds or as short as 1.6 seconds. The emphasis would be on the pronunciation of consonants and vowels. The actual phrases were carefully selected to be in keeping with the personality of Barbie, as well as mentioning current trends.
It's important to remember that when the Barbie doll was first on the market, the target audience was 9 to 12 years old. Today the play line dolls are aimed at 3- to 6-year-olds. Vintage Barbie dolls, like those made from 1959 until 1972, were part of a high-quality and imaginative storyline that made Barbie, her family, and her friends more than just props to learn about the magic years of teendom, but actual friends living in the exciting yet turbulent 1960s.
Finding a voice for the talking Barbie wasn't easy. Mattel auditioned dozens of voice artists and actresses, but the team assigned to create the voice of Barbie weren't satisfied. Finally, a young woman who was part of the team and had worked with the demo records was chosen. Her name was Gwen Florea Duhaime, and with her voice, more than five million talking Barbie dolls were sold by 1971. Talking Barbie was issued not only in English but in Spanish, Japanese, and Swahili! Virtually every culture on the planet would have a Barbie that talked in their language. It was a real coup for Mattel's management, who as usual had their finger on the pulse of the period.
The first dolls in 1968 had new arms and hands with undivided fingers. Barbie's hairstyle was bangs with a side ponytail held by three ribbons. She came dressed in a top and shorts over a two-piece swimsuit. Such cute phrases as, "I love being a fashion model" and "I have a date tonight" told of a beautiful young woman's beautiful life. Another phrase, "Stacey and I are having tea" would introduce Barbie's British friend, Stacey, also a talking doll with a proper English accent. Stacey could say phrases such as "What's playing at the cinema?"
The talking version of Barbie's friend Christie, an African American beauty, said she too would like to be a fashion model. Race relations were important in the world of Barbie, and in 1968 Mattel also introduced Talking Julia, with the voice of actress Diahann Carroll. Another African American character, Talking Brad, was very popular but difficult to find.
One of Mattel's early celebrity Barbie dolls, Truly Scrumptious from the movie "Chitty Chitty Bang Bang," was released in both standard and talking forms. She was available late in 1968 but was primarily a 1969 release.
In 1969, Talking Barbie's swimsuit would change to a knit fabric instead of vinyl, but with the same hairstyle. Absent in all versions in 1967 (to avoid media questions regarding his feelings on the Vietnam conflict), Ken returned in '69 with a Talking Ken that said, among other things, "What are you doing next weekend?"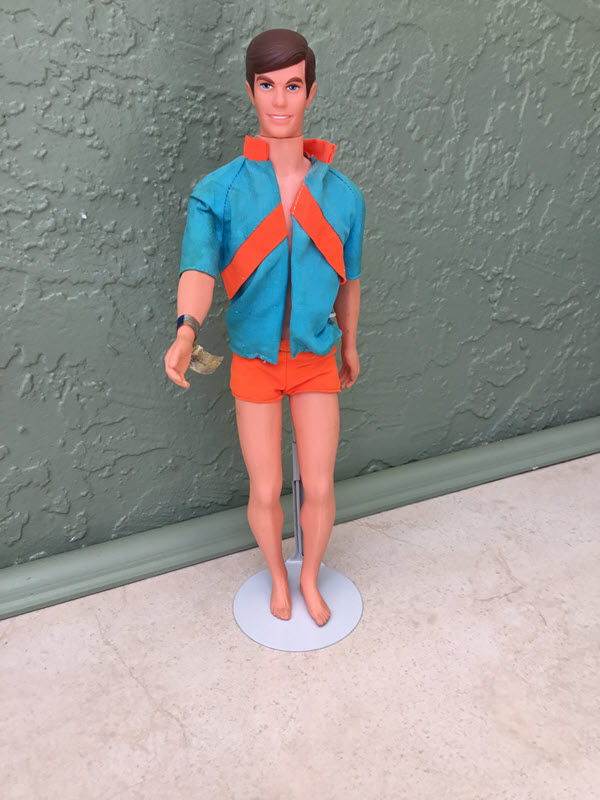 By 1970, Talking Barbie had her most famous hairstyle, a pulled-back style with a cluster of curls. A spit curl in the front softened the look. The talking dolls were now available in gift sets for stores such as Sears, J.C. Penney, and Montgomery Ward. Each of these sets included the basic Barbie in her swimsuit, but with exclusive outfits. These sets are highly collectible today.
Also available was Talking P.J., which used the older Midge mold. No mention was made of her relationship to Barbie, but later catalogs revealed that she was Barbie's cousin.
The world of Talking Barbie is a fascinating one — why not join in the chat today!
Dolls shown are from the collection of Sherry and Ron Springsteen 
Photos by Sherry and Ron Springsteen
Technical assistance by Richard Chapman 
A. Glenn Mandeville is the author of numerous books on dolls and doll collecting and writes his Curious Collector column for each issue of DOLLS magazine. Send your queries about vintage and modern dolls, with photos, to Curious Collector.